A cute soap dish made from sea shells.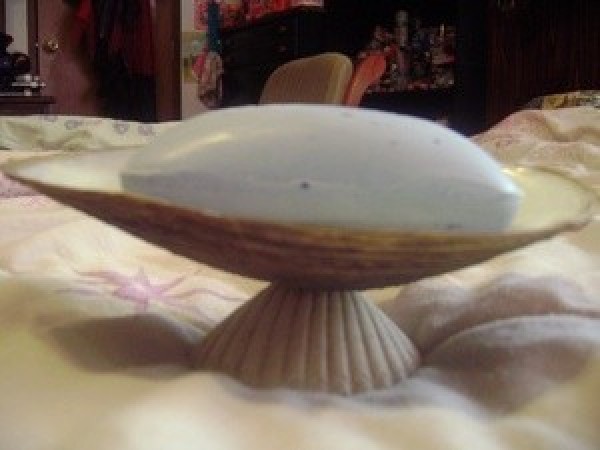 Supplies:
big sea shell
small sea shell
hot glue and gun
Instructions:
All you have to do is take the big shell and glue onto the little shell as in picture. Then put your soap in and enjoy or you can use for decorative purposes.
By Sandy from Bluff City, TN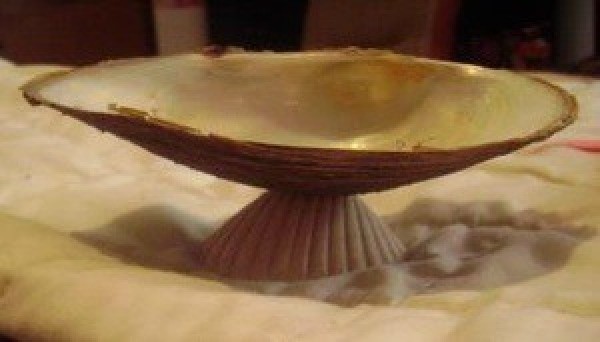 Read More

Comments

You could do a lot of different things to make this craft your own. Make a 3-D thank you note, make a journal entry about a vacation or the beach, or just make it decorative. Use seashells and other items you may see along the seaside.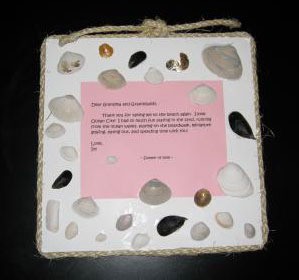 Read More...

My 5 year old son picked up a ton of seashells while we were at the coast this past summer and I need Ideas of how to use the sea shells in a crafts. I've decorated a picture frame but there are bunch more and he enjoys crafting. Any ideas?
Christy from El Paso, Texas
Answers
By Linda (Guest Post)
February 2, 2007
1

found this helpful
How about gluing them on flower pots for planters, onto a bulletin board frame, drill some holes and string them and make a wind chime (add some driftwood pieces to this if you have them,) Glue onto a soap dispenser for an ocean theme bathroom.

February 3, 2007
1

found this helpful
here are so many things you can do but a couple are as follows:
Glue them around a peice of plastic or plexi-glass that is the size of a large candle you like to use to make a candle ring.
You can glue them around a mirror the size needed to make a perfume or makeup tray.
Glue them around a flower pot to make it decorative.
I hope this gives you some ideas to go from.
Have fun.

February 3, 2007
0

found this helpful
What i did with my shells was i made a wind chime to hang outside & my sister made a wreath out of them.
By Beth (Guest Post)
February 3, 2007
1

found this helpful
I have some beautiful sea shells displayed:
Filled a large urn from the garden store w/sand.
Placed the shells on the sand and covered w/a
large clear glass top from the hobbie store. Makes a
really cute "table". This one is sitting on our
patio.

Coreen Hart
Bronze Feedback Medal for All Time! 153 Feedbacks
February 3, 2007
0

found this helpful
I once made a necklace out of bean clams and one scallop. The scallop was the pendant. Most of the shells already had a hole drilled in the right place, and those that didn't have one, I used a hammer, small nail, and positioned the shell on a piece of 2'x4' to poke the hole. I made it about 30 years ago, and I was getting compliments on it up until a few months ago when I dropped it and my husband stepped on it. I just strung shells on white crochet cotton and started crocheting.
Every so often I crocheted a stitch over a shell to hold it where I wanted it, then crocheted a little more. I tied it at the back of the neck with a bow, but it was long enough to slip over my head. Wish I had some more of those cute little bean clam shells! You could also string beads inbetween the shells and then you wouldn't have to crochet. The beads would hold the shells in place.
By Eletha (Guest Post)
February 4, 2007
0

found this helpful
I bought a white 1" dia. rope at the hardware store and i tacked it around the mirror in my bathroom. Then hot glued the shells on it. I had a lot more shells, so bought more rope and put it in the shower on the top of the tile ledge and around the window in the shower and repeated the procedure.
I taped the ends of the rope while working on it and then tied fishing line around the end and frayed the ends.

suzanne
Silver Post Medal for All Time! 277 Posts
February 8, 2007
0

found this helpful
SHELL DUDE..
JUST CHECKED OUT YOUR WEB PAGE
I LOVE IT !!!!!!!!!!

February 8, 2007
0

found this helpful
Well thank you very much :-) ... in the future I hope to expand the site with more craft ideas using shells, but one thing for sure... The Shell People are just plain FUN !!!
Read More

Answers
This is a page about making birds out of seashells. Because of their unique shapes, textures, and colors seashells have many craft uses, including using them to create decorations in the shape of birds.