Craft Ideas Using Natural Materials
Solutions
Share on ThriftyFunThis guide contains the following solutions. Have something to add? Please share your solution!
August 15, 2007
1

found this helpful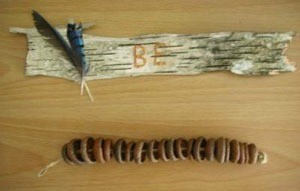 After a long drive (sadly enough it wasn't within reasonable biking distance) to Walden Pond and back, I created a hemp strung bracelet using acorns along with a piece of bark accented with blue jay feathers and the carving of "BE". BEing at Walden was a phenomenal experience; to stand in the same woods where Thoreau once lived, laughed, saw, ate, and of course, wrote. I hope you enjoy the crafts.
Approximate Time 30 minutes
Supplies:
hemp
acorns
bark
feathers
knife
glue
Instructions:
Bracelet:
Explore the woods and collect acorns, bark, and bluejay feathers.
Pierce a hole in the center of all acorn tops.
Measure the hemp to fit wrist.
Tie a loop at the end of the hemp strand.
String the acorns on the hemp strand through the pierced holes.
Create a large knot to fit snugly into the loop at the other end of the hemp strand.
Place glue on loop and knot for sturdiness.
And there you have a glorious acorn bracelet.
Wall Hang:
Flatten out bark and blue jay feathers.
Place glue on feathers and fix them on the bark as desired.
Using the knife, carve "BE" into the bark.
And there you have a delightful wall hang.
By Lori from NY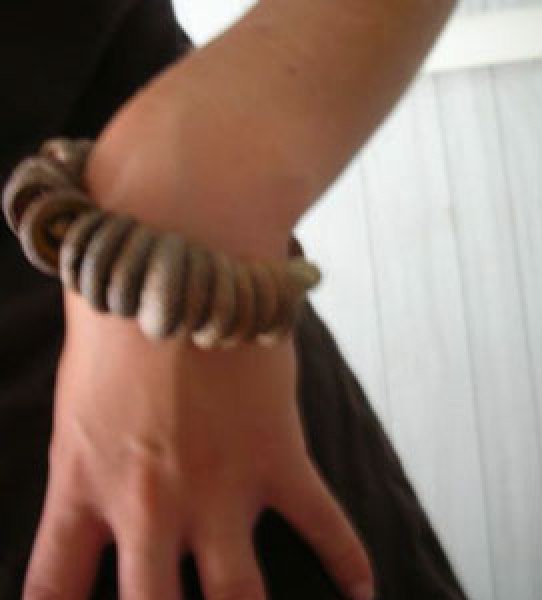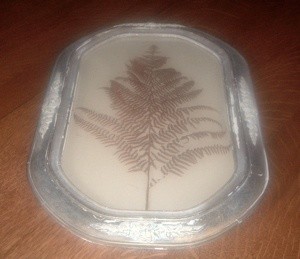 I bought this old frame at a garage sale several years ago for $1 and then I pressed a fern between several pages of newspaper and weighted it with books. When completely dry, I mounted it with sewing thread onto some mat board and inserted in frame. This particular frame has a convex glass but you would not need that because the fern lies flat. Makes a very inexpensive addition to an arrangement.
By Laniegirl from IA
Approximate Time:
30 minutes after collecting sticks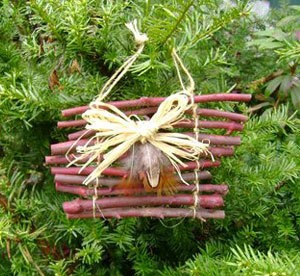 Supplies:
sticks collected on a walk that measure 1/4 to 1/2 inch in diameter (approximately 10 for each ornament)
aerosol hair spray
large plastic bag
gardening shears
red spray paint
twine
hot glue gun and glue sticks
feathers in your choice of color approximately 2 inches long
raffia
scissors
Directions:
Go on a walk and collect sticks. Put them in a plastic bag and spray with hair spray this will help get rid of any bugs. Tie the bag closed and let sit overnight.
Cut ten sticks approximately 8 inches long for each ornament. Place the cut sticks on a plastic bag and spray lightly with the red spray paint, moving the sticks around on the bag to cover all sides of the stick with the spray paint. It is alright if some of the stick shows though. Let dry.
Cut two strands of twine approximately 45 inches long, fold both strand of twine in half to find the center. Then take one end of the stick and slide it into the one folded strand of twine and tie a knot around the stick approximately 1 inch in on the stick. Then with the other strand of twine repeat on the opposite end of the stick tying a knot. Place another stick on top of the first one and tie that stick into place on both ends. Continue to add the remaining sticks in the same way until all 10 sticks are tied into place. Then bring all four strands of the twine together and tie a knot for a hanger. Trim off the excess twine approximately 1 inch from the knot.
Take approximately 10 strands of raffia approximately 20 inches long and tie a bow, the way you would tie a shoe with two loops. Glue the bow in the center of the 3rd sick down.
Glue the three feathers just under the bow with the two on the outside facing slightly out and one in the middle.
By Catherine from Livingston Manor, NY
Use Rit dye to paint the board, then embellish with pumpkin seeds, twine and ribbon.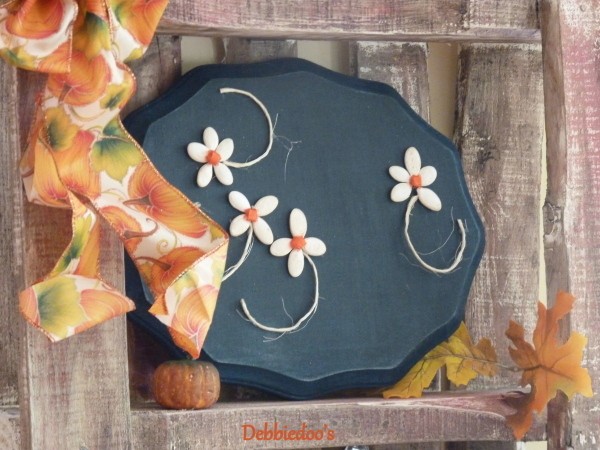 Approximate Time: 1 hour
Supplies:
Rit dye
pumpkin seeds
twine
ribbon
hot glue
wood plaque
Instructions:
Paint the board with Rit dye. I did not water it down, just used it straight out of the bottle.
After it dried, I assembled pumpkin seeds shaped like flowers. Used twine as the stem, and ribbon for the center. Source:
By micmanno from Tega Cay, SC
This is a quick and fun way to liven up any room with dried, mature wheat stalks.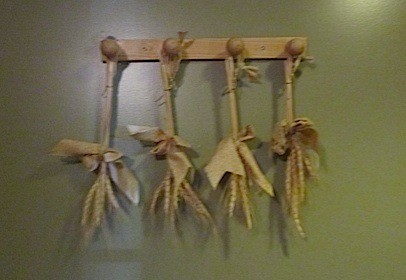 Read More...
December 22, 2004
0

found this helpful
Go to a local park where the pine cone droppings are yours for free. Bring a basket and fill it up. Bring them home and hot glue them on a wreath or spray them with gold or silver paint. Your choices of what to do with them are endless. By joesgirl
Read More...
December 10, 2013
0

found this helpful
This page contains crafts using acorns. These interesting, naturally occurring tree nuts can be incorporated in a number of craft projects.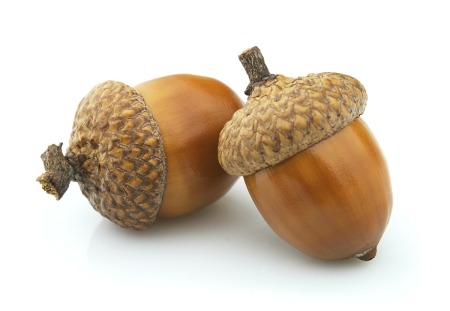 Related Content