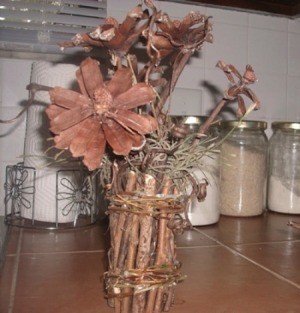 I make flowers from acorns and twigs found in my yard.
Approximate Time: 1 hour
Supplies:
glue gun
pine cones
small plastic jar
wild moss
mini acorns
about 14 small branches
wild ivy
rubber band or ribbon
about 4 long branches
Instructions:
Collect about 14 small branches. Cut to same length or longer than jar. Collect about 3 pine cones, and some ivy. Strip ivy of all leaves, this will be wrapped around jar of branches.
Trim branches to same length, lay across side by side. Intertwine ribbon then tie ends around jar. Glue each branch.
With the last 4 branches, make stems. Cut across tips. Measure the length desired then cut floral tips off pine cones, these will be the petals. Glue pine cone tips then with mini acorns, cut in half and placed in the middle of the petals. Arrange flowers in vase. Use twine to wrap around jars. I use wild moss for filling.
By Belen from Jacksoville, FL
Comments
August 28, 2010
0

found this helpful
Top Comment
I actually find this very cool! Well done. I can see where this would be a great foraging and creating project with a wide varied age-group of kids, get them appreciating making new from what is provided, and oh yeah! The imagination they have lost while watching aimless hours of t.v. and video games.
August 26, 2010
0

found this helpful
What most would consider the unlovely to work with, you have made a beautiful display! Thumbs up!