This page contains thrifty, do it yourself, wall decor projects and tips.
Browse
Featured
Recent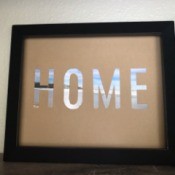 Stencil "Home" ArtDo you subscribe to any magazines? I received a San Diego Home/Garden Lifestyle magazine and they have beautiful photos in it. The front and back cover of this magazine is printed on quality glossy paper. I wanted to recycle the back photo, so I turned this into wall art for display. I like to switch up my home decor and this is my current piece I have on the wall.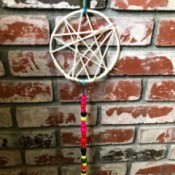 Dreamcatcher with Wooden BeadsAdd a nice decor touch to you room/home with a custom dreamcatcher. Don't have an embroidery hoop on hand? No problem, you can use plant wire or any sturdy gauge wire and then hand form the wire into a circular shape.


Fun Mirror with BarrettesThis is a fun craft to do with the kids, as long as an adult supervises the hot glue gun! With a round mirror and 3.00 in barrettes, you too can have this cute mirror.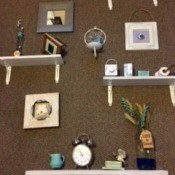 Inspiration Wall ArrangementMy husband made the shelves. I put together the items to decorate on the shelves, some I made or did floral arranging for some I purchased at Goodwill.


Advertisement