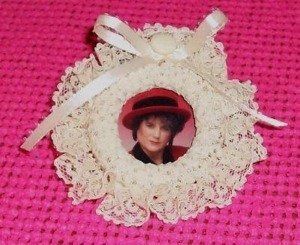 With a drapery ring, some scrap lace and some time on your hands, you can make this pretty little frame for yourself or a gift. Mothers Day is coming, and everyone has birthdays.
Approximate Time: 1 Hour
Supplies:
2 inch wooden drapery ring
8-12 inch scrap lace, no more than 1/2 inch wide
matching (or not) lace for ruffle at 16 inches
hot glue gun set at cool (if dual)
scrap ribbon
scrap clear plastic like from a sheet protector
photo you measure before you cut
pretty button or flower
small butter knife or fingernail file
scrap felt
Instructions:
With the file or knife, put a small dot of cool glue and the lace end at an angle on wooden ring and hold down the glue with the metal.
Remember! Even cool glue is 270 degrees F and can burn your finger.
Wind the lace around the ring, hot gluing in the back every 3rd or 4th wind. Secure the end in the back.
I didn't have any gathered lace so I did my own. If you have pre-gathered, use it. It's much easier and lays down flatter.
Whichever lace you use, glue it to the back so just the ruffles show. Glue from top back to top again and trim any excess.
Note: If you do your own, make sure the gathered length is the same as the ring, or you might find you are 1/2 inch short when you get back to the beginning.
Make a nice single or double bow and hot glue that and the button or flower to cover the metal ring.
Cut a circle the same size of the felt, photo, and plastic, making sure they are big enough to go across the ring without showing in the front. Glue the clear plastic all around to the back of the frame, then your photo to the plastic and the felt with a glue ring around the whole thing to the photo.
This will make sure your photo is completely sealed.
Variations On A Theme If you prefer a country look, use ripped fabric, a button, and raffia for the blow. You can also use ribbon to wrap it for a fancier, more elegant look.
N-JOY
By Sandi (Poor But Proud) from Yorktown, VA
Comments
May 5, 2010
0

found this helpful
Top Comment
This would make a nice anytime gift that you need in a hurry. Love the concept and it is very pretty also.
June 15, 2016
0

found this helpful
Have you got books on lacy and material cardboard frames.