My mom's vintage circle skirt paired up with two of my old fringed Ts that were destined for the ragbag. This was a fun project! Not long ago, there was another similar ThriftyFun post with the cloth in the embroidery hoop for adding a little life to a bare wall. This print was so awesome I couldn't resist making it into an "eye catcher" to add some "punch" to my wall!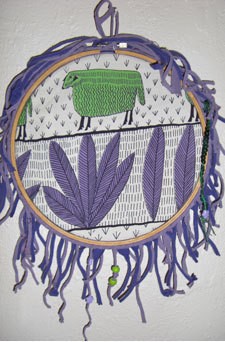 Mom was so thrifty, a lot of her other circle skirts were made into big dish towels or pillow cases. This one she made into a dust cover for a coat of mine. The fringe was recycled from T-shirts I fringed, but were too stained to deal with. All 3 layers of cloth were a very tight fit in the hoop, it almost didn't fit! I threaded a few beads onto thinner pieces of fringe and added a little green and purple sequin trim and each end has a purple star.
I made the braid from one strip of t-shirt cloth (not sure where the "how to" is right now, (I checked Instructables, eHow and wikiHow) and glued it to the outside of the hoop, using school glue. The little bit of extra fabric is secured in the back (for now) with shipping tape. As long as it's holding, I have no problem with it!
My mom had great taste in clothes.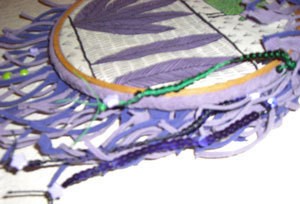 By melody_yesterday