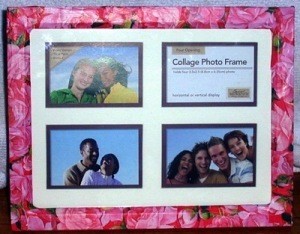 Transform an inexpensive picture frame into a beautiful handmade frame for a personal gift that is sure to please everyone.
Approximate Time: 1 hour plus drying time.
Supplies:
30 x 6 inch flowered wrapping paper
wooden picture frame
white glue
varnish (gloss or matte)
scissors
medium sized foam brush
Instructions:
Take the frame apart and set the glass where it won't get broken. Cut out small sections of the wrapping paper trying to capture each individual flower. Place all in a pile.
Put some white glue on a newspaper, paper plate, or palette. With the foam brush dip into it and lightly cover the back of one of the cut out roses. I started with larger ones and filled the spaces with smaller ones. Begin to fill the front of the frame with the roses. Miter the edges of the frame so that it looks like one continuous piece. Add roses as described above until the whole front is covered.
Move to the inside and the outside of the frame next. Lastly cover the back of the frame. If you have an area that needs a strip cut a small strip to put there and glue into place. Be sure you do not have any air bubbles under the roses. After the whole frame is covered allow to dry overnight.
Be sure to wash your foam brush completely so you can use it with the varnish. Check the frame and see if any areas need extra glue. Add it now if they do. Check the varnish to see if it needs to be shaken or stirred. If so you will need to do this. Gently add the varnish to the front of the frame with small amounts on the foam brush. Cover the entire front and sides and allow to dry.
After it has dried cover the back and allow to dry.
Add your favorite picture, artwork, hand work, or leave for the new owner to add their picture. Put the glass back into the frame and viola you have a very inexpensive handmade frame for a wonderful gift.
By Glenda from VA