Holiday Hazards for Pets
Solutions
Share on ThriftyFunThis guide contains the following solutions. Have something to add? Please share your solution!
December 6, 2010
10

found this helpful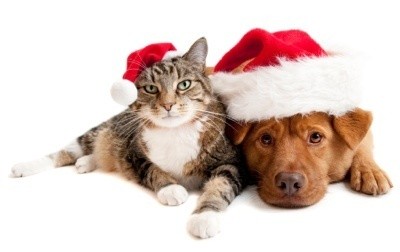 Poisonous holiday plants include holly, mistletoe, poinsettias, and lilies and can cause vomiting and diarrhea or even organ failure and death. Please keep holiday plants out of the reach of your pets!
Please don't use tinsel or angel hair on your trees or use for other decorations. Don't use ribbons or string to wrap packages because cats and dogs are attracted to eating them and this can cause intestinal blockages.
Keep burning candles, other than flameless, and potpourri pots up high and out of the reach of your pets to avoid possible burn hazards or a fire if they are knocked down.
Chocolate, alcohol, rich fatty foods, uncooked dough, fruits, nuts, and other known toxins like onions, garlic, etc. should be kept out of your pet's reach during the holiday season. Keep your countertops clean and your trash securely locked to avoid their inquisitive searching. Feed your pets pet food before any parties or gatherings so they are less likely to beg or steal food from your guests. Inform all friends and family that your pet's are not to be fed any food treats.
Most of all use common sense for the safety of your beloved furry friends. Happy Holidays!
By Ann from Richland, WA
April 5, 2007
0

found this helpful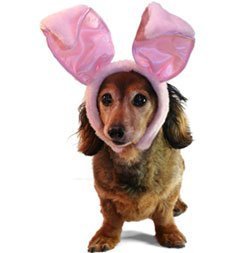 Here's a list of Easter items that may be harmful to your pets.
Chocolate: It contains theobromine. The theobromine in chocolate can cause vomiting, diarrhea, hyperactivity, irregular heartbeat, seizures and, in some cases, death to cats, dogs and other small pets. Make sure Easter baskets are inaccessible to pets.
Easter Grass: If eaten, this can cause intestinal blockage. Cat especially love to play with anything like this. Make sure to keep this out of their reach and clean any up that may get on the floor after children open their baskets. Using shredded newspaper may be the safest option.
Easter Lilies: Lilies are poisonous to cats and can be deadly. Some common poisonous plants include: Easter lily, tiger lily, rubrum, Japanese show lily, some species of day lily, and certain other members of the Liliaceous family. If eaten, these can cause kidney failure in cats.
Small Toys: Small toys can be choking hazards and any candy, even if it is not chocolate, is not good for you pets.
Just some words of warning. Have a safe and Happy Easter.
December 31, 2004
0

found this helpful
Cats will eat the darndest things, including Christmas tinsel and ribbon. This could necessitate surgical removal, so be kind and careful with your cat.
By Linda
Related Content