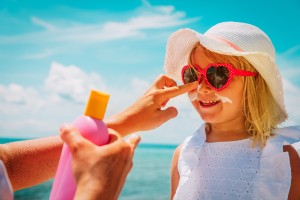 The Environmental Working Group (EWG) puts out a list each year of the safest sunscreens. They rate the sunscreens on five factors: health hazards, UVB protection, UVA protection, balance of UVA/UVB protection and sunscreen stability. From these analyses they give each sunscreen a score, the lower the score the better.
I have been using the EWG, Healthy Living (aka Skin Deep) app for many years and use it to help me choose sunscreens as well as cosmetics. Since cosmetics are relatively unregulated many unsafe things can end up in the products you put on your body everyday. For example, some lipsticks have been found to contain lead or other heavy metals! Eeek!
You can get the list of sunscreens on their website or on the Healthy Living app: 2019 Guide to Sunscreens
Since my family and I have been spending a lot more time outdoors recently, I realized I need to replenish my sunscreen supply for my kids. This year, I am glad to see that some of the big name brands have made their way on the EWG sunscreen list, in the past the most common brands had really bad scores. The list for kids' sunscreens has 27 brands from that I narrowed it down to six. Hopefully this helps you find a good sunscreen. If you have a favorite sunscreen, please let me know in the comments below.
Here are my top 6 picks for the best sunscreen for kids:
1 — Thinkbaby (Affiliate Link)
2 — Aveeno Baby (Affiliate Link)
3 — SunBum BabyBum (Affiliate Link)
4 — Blue Lizard Australian Sunscreen (Affiliate Link)
5 — Coppertone Pure and Simple Kids (Affiliate Link)
6 — Neutrogena Pure & Free Baby (Affiliate Link)