Catherine Forman
3

found this helpful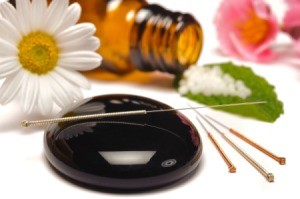 If alternative medicine like acupuncture and aromatherapy can help humans, why can't they help your pets, too? Many types of alternative medicine are perfectly safe and beneficial for your four-legged friends.

Please note that alternative medicine is not always the best treatment for people OR pets. If, for example, your dog is suffering from an infection, a course of antibiotics prescribed by your veterinarian will be the most helpful treatment. Please talk to your veterinarian before beginning any sort of alternative medicine or therapy for your pets. Your vet can help you find a trusted, licensed practitioner to help care for your pets.

Alternative medicine may be best and most useful for pets with chronic conditions. The pain of arthritis, for example, may be relieved with acupuncture, acupressure, or even gentle massage. Some horses feel the benefits of sports massage! Hydrotherapy can be beneficial for animals who have suffered an injury or undergone surgery.
A dog with severe separation anxiety may benefit from the calming effects of aromatherapy; the same chamomile scent that can ease human nerves can help relax your pets. Keep in mind that animal noses are MUCH more sensitive than human noses; be sparing with your scents. Too much of a scent can do much more harm than good.
If you are planning to practice alternative medicine on your pets, please do your research. Know what you are doing before you try anything. You could unintentionally do more harm than good. Your vet, groomer, local shelter, or breeders association may be able to point you to a licensed practitioner to help teach you what you need to know.
Most often, a combination of conventional medicine, alternative therapies, and tender, loving care from family members will be the most effective treatment for a sick or injured pet. Sometimes, knowing that you are loved, valued, and wanted is the best medicine of all.
I keep a spray bottle of white vinegar, and apple cider vinegar. I also keep oil, veg oil or mineral oil for their ears. I clean their ears out softly every day with a piece of cloth and oil. Then I spray their ears with the white vinegar if they are having ear problems, such as my Cocker Spaniel. If they are having much of a problem with yeast infections in the ears, I give them yogurt twice a week. If there is a bad yeast infection, I put Monostat 7 in the ear once a day for seven days.
The apple cider vinegar and the white vinegar work as a flea repellant on dogs and cats. I spray them with it and work into their fur. The fleas will start hopping off about an hour later. They hate the smell.
The apple cider or white vinegar also work on hot spots as an antibacterial agent, as does Listerine mouthwash.
Tiny Vaseline balls rolled in sugar and frozen acts as a laxative for constipation. This is for extreme cases of constipation.
I sprinkle garlic on food occasionally, but it is better on the coat.
Editor's Note: Please check with your vet before feeding your dog garlic. There are some serious health issue concerns with adding garlic to pet food.
Use Skin so Soft and water in a spray bottle for insect on the coat. I like to make sure what they use I would use on my own self.
Bitter apple can be put on hot spots to keep them from chewing, but it is better to put vinegar on there first or triple antibiotic to treat the spot.
Feed the dog yogurt about 4 times a week if it is having allergy problems or flea sensitivity.
Decrease yogurt until stool is normal and keep that a normal amount. Yogurt also feels good on hot spots!
By Racer