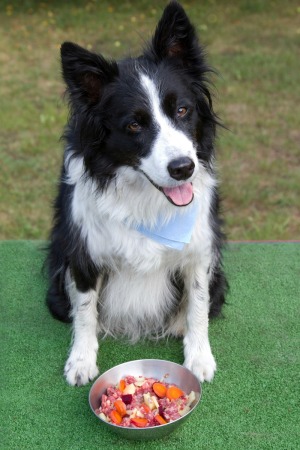 I have a 4 year old American Bulldog and he's been losing weight for the past 3-4 weeks. I have taken him to the vet and he says Dot (my dog) is in kidney failure. I am desperate to find food that he will eat. If anyone knows of recipes I can make or food I can buy that he will eat please let me know. I am desperate to help my baby. Please help!
By LEIGH ANN
Answers
This site talks about kidney disease in dogs and also has a recipe. The recipe makes a lot. If too much, maybe you could cut it in half.
greytarticles.wordpress.com/.../

vicki hood
Bronze Feedback Medal for All Time! 102 Feedbacks
July 7, 2010
1

found this helpful
Be sure and get the recipe from the vet with the salt substitute (nu salt). My dog pulled out of it after being poisoned by a neighbor. I used holistic care and the vets recipe. Every day use all cautions--you cannot vary from the diet until the kidneys are well.

July 7, 2010
0

found this helpful
Our local vet stocks Hill`s special diet for kidney failure.Once the animal is used to it they stay on it.It has given better quality of life to many animals that I know. It works out no more expensive than ordinary food although you buy in bulk.It is important that you do not give any treats or tidbits.
All vets will stock some type of food for dogs with kidney failure, at least they do in the UK.

Holly
Silver Post Medal for All Time! 364 Posts
August 2, 2010
0

found this helpful
Hill's has a kidney disease pet food. Buy it from the vet, as it is not available at the pet store. It's called Hill's KD.
It contains extra nutrition. We are now having to feed it to our pooch. He likes it a lot as did two other dogs we took care of for a few days.

September 28, 2015
0

found this helpful
Linda,
I am searching for recipes as well. Our 4 year old American Bulldog started doing the exact same thing. He lost 20 pounds in less than one month. Started him on Hills KD diet, he loves it but he's so hungry I want to make him food as well. He may actually have an autoimmune disease with kidney disease. We don't know.
If you don't mind me asking, did they ever find out what caused Dot's kidney failure?? We are worried this is genetic within the breed. You're the first person I've come across with the same issues.

March 20, 2017
0

found this helpful
My girl has recenrecently loss 7 lbs and lots of muscle...i can see and feel her bones. I bought vet miracle ...it puts weight on dogs and she has gained 2 lbs in a week and a half. She loves the taste too.

January 31, 2018
0

found this helpful
What is vet miracle? Also where do you but it, I live in Wisconsin near Green Bay My dog who is 15 yrs old and has kidney diease and eat's the k/d canned food and hate's it. She is skin and bones and very, very worried about her she's like my kid and I'll do whatever I can so please tell me where I can get this?

February 18, 2018
0

found this helpful
I make my own dog food suitable for kidney disease. It takes a while to make a big batch, but then you can freeze portions for about a week or so.

March 4, 2018
0

found this helpful
I make my own dog food suitable for kidney disease. It takes a while to make a big batch, but then you can freeze portions for about a week or so.

April 8, 2018
1

found this helpful
Do you have a homeade receipe? My dog was just diagnosed a week ago. He dosent like the science diet kd.
April 9, 2018
0

found this helpful
My dog of 18 years had renal failure too, and I'm so sorry yours does.
I use to feed my girl either ground turkey, ground beef, or chicken ground up, then I mixed the ground meat with fresh cooked veggies, carrots, green beans and rice, and a little water, and made that into (meat-veggie-balls) then I'd freeze many of them at once, and in the evenings, I'd put a couple of the veggie meat balls into the frig to thaw for the next day meals for her.
When she completely lost her appetite, and wouldn't eat anything, the vet then told me I needed to puree' her food into practically a liquid, so I got a special syringe from the vets office, and used that to carefully, and slowly syringe food into the side of her mouth.
Only a tiny bit at a time, as their body has a very difficult time processing food when renal failure gets bad, but, they must
eat, as nothing can survive without nutrition.
Little small feedings like that throughout the day and night is what helped her survive longer.
I wish you the very best.
May 30, 2018
0

found this helpful
Leigh Ann, maybe try dave's restricted diet farmyard blend, mine seems to like that but I also cook for her, she loves her morning eggs but I just stick with the egg whites, just a suggestion, good luck
Read More

Answers
My dog has stage 4 kidney disease and has to be on a special diet. She does not like the KD diet canned dog food. I want to cook her food and need a good recipe in beef or chicken flavor. Please, I need help soon.
By Susan
Answers

November 9, 2013
3

found this helpful
I used to make my old dog a big pot of stew, with beef or chicken, potatoes, carrots, and peas...no spices, onions, or garlic. Before serving, I would add 1/4 can of gluten free dog food to about 1 cup stew.
She got this three times a day and loved it. You can keep it in the fridge and warm it up before serving. My dog was a shepherd, lab cross, so adjust feedings to the size of your dog.
Read More

Answers

The vet told me that my 9 pound Poodle has the onset of kidney disease and recommended Hills prescription K/D food. My dog doesn't like that food and in fact will eat very little of anything. Does anyone have suggestions of what she may like to eat that will not be harmful? This K/D food states that it has reduced amounts of protein, phosphorus, and sodium. She has lost one pound already.
By Elayne C
Answers
August 29, 2012
0

found this helpful
You can probably cook his own food like chicken with no salt or fat rice and carrots see if that helps you can mix it with his dog food too.

August 29, 2012
0

found this helpful
Why don't you research Halo Pet Food, you can check the labels online. If you ever watch Ellen on TV, she is co-founder of this food. My cats love it, and there is dog food also.
otherwise, I would really start looking at many different web sites for help. There have to be answers somewhere. Good luck and don't get discouraged!
August 29, 2012
0

found this helpful
Cooking your dogs diet can be dangerous to its health & very expensive. I have a soon to be 6 yo Mini Schnauzer who has had bladder stones & surgery x 2, First time she was put on Hills SD. she wouldn't eat it well and less than a year later she had a huge stone. This vet put her on a Royal Cainin diet, canned & Dry and she is allowed to have 1 greenie, per day, some apple slices also baby carrots, been over a year and have to watch her weight as hubby over feeds.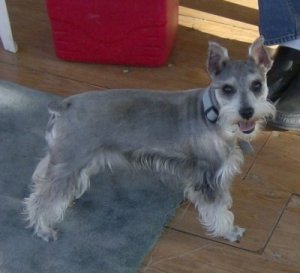 Read More

Answers