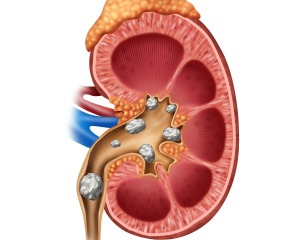 I am 18 year old and I am suffering from a kidney stone for the 3rd time. Now I am having 2 stones, 16.5 mm and 6.5 mm. Kindly give me some solution for this, please.
By Nitesh
Answers

January 10, 2013
0

found this helpful
Check out this link from earthclinic.com
I go here frequently to check out new things to do for different ailments. Use your judgement to decide if any of them are safe and for you to use.
www.earthclinic.com/.../kidney_stones.html
Also don't eat Mexican food and drink lots of water and lots of real lemonade, not the fake kind, but real lemonade with bunches of lemons in it!

January 10, 2013
0

found this helpful
What did your doctor say?
What are your kidney stones made of?
They would be mineral based. Usually it means your body is either getting too much of a mineral, or is unable to beak it down.
Medical questions need to be asked to the doctor or a medical community - not lay people. As an EMT I can tell you asking friends, peers, coworkers and such often leads to misdignoses that cause more harm than good and can actually delay helping a serious problem.

January 10, 2013
0

found this helpful
No sodas at all - ever for you. Look for home cure of lemon and olive oil. It works.

January 11, 2013
0

found this helpful
I wish we could 'thumbs up/down' replies to questions-Mom From Missouri would win my up!
She is absolutely right-the best (read only) person to ask for this serious a bit of medical advice is your health care professional.
My brother had 'stag-horn' stones so profound in one kidney that after lipotripsy treatment failed to break up the stone, his doctor decided to remove the kidney. I was tested for compatibility as a donor because they thought the other one might have to be removed as well. I was a 'perfect' match so they had me prepped and waiting whilst they did the surgery-luckily they were able to save the remaining kidney.
The upshot of it all was that the doctors told us kidney stones, gout, and related illness run in families, and usually begin to appear in the middle-aged years. At the time my brother was in his mid-forties, so he was right on schedule.
My point is-you write that you are very young, only 18, and have a history of stones already. That's extremely shocking. You MUST be under the care of a competent medical professional as there is clearly something out of the ordinary happening with you. He/she will advise you on proper diet, medications, lifestyle changes to make, etc, to keep you from losing a kidney. You will also be given genetic advisements as to the potential for passing whatever is going on with you onto future offspring.
Please. Go to the doctor. Now.

January 13, 2013
0

found this helpful
You can ask your doctor to recommend a dietician who will be able advise you on the proper diet to help prevent this from re-occurring.

July 29, 2018
0

found this helpful
Two ideas I've heard over the years that may help - (1) avoid drinking sodas and (2) try a roller coaster ride (which supposedly dislodges the stones). Be well soon!
Answer

this Question

How could I get rid of my granular size stones in my kidney? My doctor told me that it's okay, however I feel a recurring back pain and leg pain that I suspect to be results of those granular stones in my kidneys as the medical scan shows.
By gap from Manila, Philippines
Answers

Marjorie
Silver Feedback Medal for All Time! 290 Feedbacks
June 18, 2010
0

found this helpful
My husband had his first kidney stone attack last year and he said the pain was unbearable.
What has worked for my husband is that he drinks a lot of lemonade made from bottled lemon juice, sugar and water. What works for one person, may not work for someone else. He also has low blood sugar so the lemonade helps with his low blood sugar and also breaks down the sizes of the kidney stones so they are easier to pass.
DH has to avoid ice cream since it can cause kidney stone formation.
kidney.niddk.nih.gov/.../
If you suffer from kidney stones the following foods should be avoided or eaten in moderation.
Foods and Drinks Containing Oxalate
People prone to forming calcium oxalate stones may be asked by their doctor to limit or avoid certain foods if their urine contains an excess of oxalate.
High-oxalate foods higher to lower:
rhubarb
spinach
beets
Swiss chard
wheat germ
soybean crackers
peanuts
okra
chocolate
black Indian tea
sweet potatoes
Foods that have medium amounts of oxalate may be eaten in limited amounts.
Medium-oxalate foods higher to lower:
grits
grapes
celery
green pepper
red raspberries
fruit cake
strawberries
marmalade
liver
Source: The Oxalosis and Hyperoxaluria Foundation.

June 22, 2010
1

found this helpful
My urologist suggested that I drink plenty of lemonade and/or Crystal Light. He said that the citric acid in these drinks can help to break down stones that have formed.
I hope that this helps and that you get some relief.

June 22, 2010
1

found this helpful
Juice fresh lemons and freeze it in ice trays. Store the cubes in a zip lock bag in the freezer. Put a cube of lemon juice in an insulated mug and fill with ice cubes and water. You'll have lemon water to sip on for several hours. Just keep adding water as you drink it until the cube of lemon juice is melted.

June 22, 2010
0

found this helpful
There are a lot of good advice on here. My daughter has kidney stones too. They started when she was 16. Her doctor recommended the lemon water. He also recommmended no dark sodas unless you drink the equal amount of water after. Another friend said that his doctor recommmended apple cider. You are suppose to drink a glass and follow by equal amount of water. He said if you have an attack, don't eat and start this flush and it will relieve the pain. We haven't tried that but he said it worked for him. He also added that it has to be apple cider and not apple juice. Good luck with this very painful condition.

Teresa Tart
Bronze Feedback Medal for All Time! 213 Feedbacks
June 22, 2010
0

found this helpful
I was told to drink lots of water. This helps flush the kidneys.

Grandma J
Silver Feedback Medal for All Time! 270 Feedbacks
July 4, 2010
0

found this helpful
Depending on the origin source. Some is calcium some is phosphates. Phosphates come from soda pop consumption. A friend of mine had them up the yin yang, and when he finally quit the pop (as his doctor had said) his kidney stones stopped. My husband gets them too, but does not plan to give up 2 pop a day. I don't buy it, will not serve it, he is on his own without sympathy when he gets an attack. Heads for the clinic, a hypo, an IV to push fluids and waits there till it moves.
The pain of the kidney stone is when it is moving scraping the inside little tubeways. When it stops hurting it is in a pocket or moves on out. This is why straining urine is important to know where it is. A CT will show where it is, but that is pricey if you have no insurance.
Answer

this Question