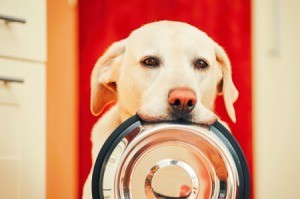 This is for dogs. It's a liver cake they will love.
Ingredients
2 lbs. of liver
1/2 cup of corn meal
2 cups of flour
1 Tbsp. garlic powder
water
Directions
Put liver in blender till it turns to liquid. Add garlic and blend some more. Put cornmeal into mixing bowl. Put liver mixture into the cornmeal, stir. Add flour and stir. Should be pourable, add water 1 Tbsp at a time. Pour liquid mixture on a greased cookie sheet and spread. Bake at 325 degrees F for 22 minutes. Should be slightly pink in the middle when done. Let cool then cut into squares.
Source: came from a breeder friend of ours.
By Chandra from Greenwood, NS
Editor's Note: This recipe contains garlic, which can be left out at your preference. Most veterinarians recommend avoiding garlic for dogs. There is a vocal minority that supports the health benefits of garlic and recommend it in small amounts. Please consult with your vet or other pet professional regarding garlic to make your own opinion. Also note that many pets have corn allergies, so you may wish to use a substitute for the corn meal.
Comments
Read More

Comments