Homemade Scented Candle-in-a-Jar Decoration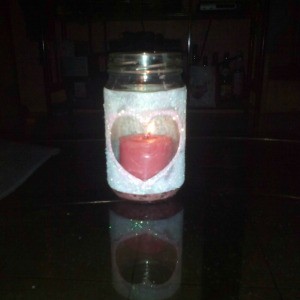 In every home we can always find scraps that are still very useful. Find some empty jars, whether it's a baby food jar, a mayonnaise jar, or a jam container. Turn it into a simple but impressive decoration.
Jars can be used as containers for candles, just like in this project. To add some light to a dry empty jar, I used scrap candle wax from the altar and decorated it.

Total Time: 30 minutes - 1 hour
Supplies:
empty jar
piece of paper
candle wax, candle wick, or simply use a vigil candle
cylinder shaped mold
essential oil
scissors
glue
glitters (optional)
yarn/string
Steps:
Clean the jar. Get a piece of paper and measure the length of the body of the jar. Cut the paper with the exact measurement. Make a window by cutting a shape in the middle of the paper.

Get some glue and spread it all over the paper and sprinkle glitters all over it. If you don't have glitters, just draw around it to make a beautiful design.

Put some glue on the other side of the paper and wrap it around the jar.


Get a piece of cylinder shaped plastic or a tissue core will do. In this project I used acetate, formed it in a cylinder. It will serve as a mold. If you have silicone or any cylinder shaped mold, the process will be faster. Insert the cylinder and see if it fits the jar.
Gather the candle wax and put it in a metal container. If you don't have scrap candle wax, you can just use a piece of vigil candle (wick removed, set aside).

Melt the candle in low heat. When it's melted, remove from heat and add a drop of essential oil. If you don't have this essential oil you can just add some body perfume just to add some scent to the candle.

Get a flat surface and stick the candle wick. Position the cylinder mold.

When the candle is cool enough, pour some into the mold. Be careful because when it's too hot the mold will melt as it is just plastic. Also, don't let it cool for a long time for it will harden.

Put some ice around the first part to create a hard base. When the base is hardened, pour the remaining melted wax. Place it in the fridge to make it set faster. Wait for 5 minutes and you have successfully created a homemade scented candle!

Now you have a useful decoration,a homemade scented candle in a jar. All materials used are just scraps found inside the house. :-)
Place the candle inside the jar. Get a piece of paper and a string to create a lid. I found a piece of pink toll cloth so I covered the paper with it and it looked even more presentable.
Add your voice! Click below to comment. ThriftyFun is powered by your wisdom!