Glass Jar Candle Holder Ideas
Solutions
Share on ThriftyFunThis guide contains the following solutions. Have something to add? Please share your solution!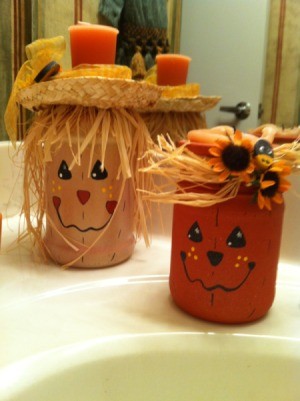 Recycle jars into scarecrow candle holders.
Approximate Time: less than 1 hour, excluding drying time
Supplies:
jars with lids - assorted and clean
spray paint
paint or permanent markers for face
scraps of fabric
artificial flowers
straw hat (hole in top)
raffia, yarn, or paper for hair
glue
Instructions:
Spray paint a clean jar and the lid with a flesh colored paint (or orange for pumpkin) and allow to dry.
Glue the lid on to the top of the jar, upside down. This will hold your votive candle.
Draw or paint a face on the jar and allow to dry. Triangles work for eyes and a squiggly line is perfect for the mouth.
Spray with clear spray paint to prevent chipping when you store this for the season.
Glue hair to the jar just below the lid. Use a rubber band to hold in place and allow to dry.
Decorate the straw hat using artificial flowers, ribbon, or a tiny crow.
Affix the hat to your jar, hiding the hair line.
Add a scented candle.
Be Careful! This is very flammable, so do not leave candle unattended. Or you can use a battery operated candle.
By Diana from Prospect, KY
In every home we can always find scraps that are still very useful. Find some empty jars, whether it's a baby food jar, a mayonnaise jar, or a jam container. Turn it into a simple but impressive decoration.
Jars can be used as containers for candles, just like in this project. To add some light to a dry empty jar, I used scrap candle wax from the altar and decorated it.

Total Time: 30 minutes - 1 hour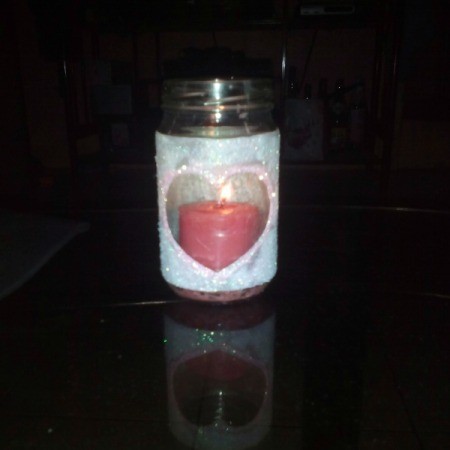 Supplies:
empty jar
piece of paper
candle wax, candle wick, or simply use a vigil candle
cylinder shaped mold
essential oil
scissors
glue
glitters (optional)
yarn/string
Steps:
Clean the jar. Get a piece of paper and measure the length of the body of the jar. Cut the paper with the exact measurement. Make a window by cutting a shape in the middle of the paper.

Get some glue and spread it all over the paper and sprinkle glitters all over it. If you don't have glitters, just draw around it to make a beautiful design.

Put some glue on the other side of the paper and wrap it around the jar.



Get a piece of cylinder shaped plastic or a tissue core will do. In this project I used acetate, formed it in a cylinder. It will serve as a mold. If you have silicone or any cylinder shaped mold, the process will be faster. Insert the cylinder and see if it fits the jar.

Gather the candle wax and put it in a metal container. If you don't have scrap candle wax, you can just use a piece of vigil candle (wick removed, set aside).

Melt the candle in low heat. When it's melted, remove from heat and add a drop of essential oil. If you don't have this essential oil you can just add some body perfume just to add some scent to the candle.

Get a flat surface and stick the candle wick. Position the cylinder mold.

When the candle is cool enough, pour some into the mold. Be careful because when it's too hot the mold will melt as it is just plastic. Also, don't let it cool for a long time for it will harden.

Put some ice around the first part to create a hard base. When the base is hardened, pour the remaining melted wax. Place it in the fridge to make it set faster. Wait for 5 minutes and you have successfully created a homemade scented candle!

Now you have a useful decoration,a homemade scented candle in a jar. All materials used are just scraps found inside the house. :-)

Place the candle inside the jar. Get a piece of paper and a string to create a lid. I found a piece of pink toll cloth so I covered the paper with it and it looked even more presentable.
This is an easy way to have candlelight in your home. It's fun and affordable to make so that you can save your money instead of buying a new one at the store. This is a wise idea for mommies out there and everyone!
Total Time: 30 mins.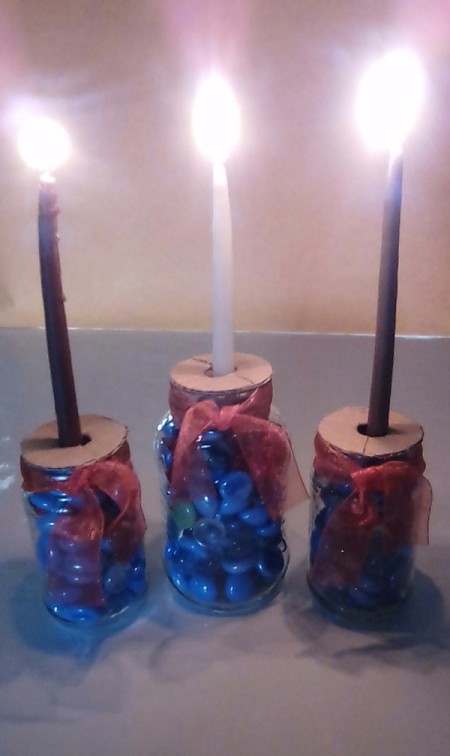 Supplies:
glass jars
glue stick
decorative stones
ribbon
scissors
cardboard
candles
Steps:
Trace a circle on a piece of cardboard or any used hard paper, the size of the mouth of the glass jar and cut out.
When you're done with your circles, trace another small circle at the center. It should be the size of your candle. Cut it out to make a hole.
Set aside your cardboard circles. Grab your glass jar and put some decorative stones into it with your candle to make it stand.
Place your cardboard circle over your candle covering the jar top. Use the glue stick to attach the circle to the mouth of the glass jar.
Get the ribbon and glue it at the neck of the glass jar.
You are done!
December 21, 2016
0

found this helpful
This is a guide about making a dried banana leaves candleholder. Dried banana leaves can be used in a number of craft projects.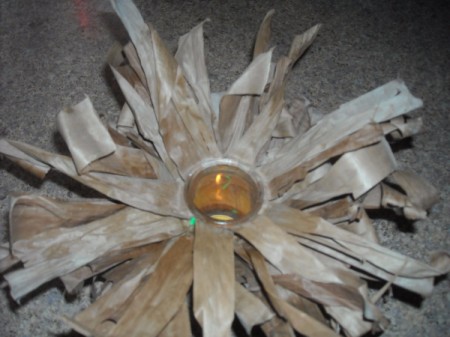 December 4, 2015
0

found this helpful
Make a lovely autumn candle holder from a recycled jar to decorate for the season. This is a guide about making an autumn leaves jar candle holder.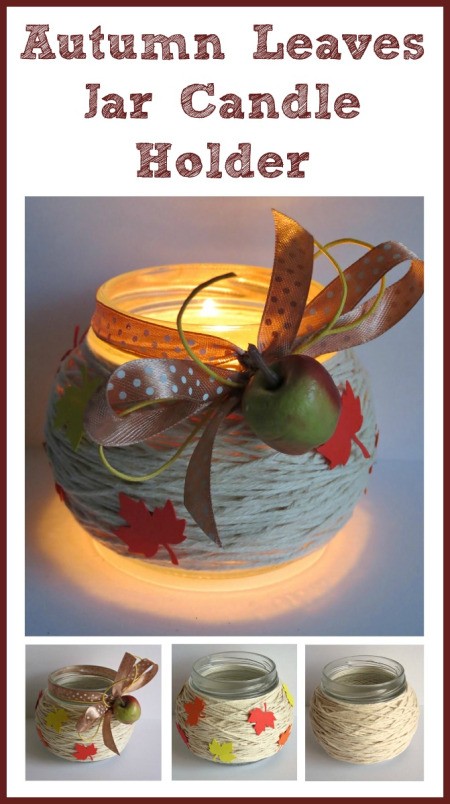 Related Content
In This Guide
Categories
Guides
More
Categories