Homemade Stovetop Yogurt Recipe

Judy
Gold Post Medal for All Time! 677 Posts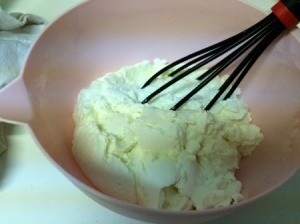 You can make yogurt without a yogurt maker. You are in control of the amount of tartness, sweetness, and the flavor.

Prep Time: 40 min prep
Cook Time: 8 hours incubation, 1-2 hours chilling, 3 hours or so straining
Total Time: About 12 hours
Yield: 1/2 gallon unstrained, less if strained
Ingredients:
1/2 gal whole or 2% milk
plain yogurt with live cultures
honey, sugar, or stevia, if desired
vanilla and other spices, if desired
fruit or jam, if desired
Steps:
Put 1 Tbsp. of live yogurt in a small bowl. Bring to room temperature.
Fill a 5-quart pot 1/4 of the way with water.

In a 4 quart pot, put your milk.

Fit the 4-quart pot in the 5 quart pot, to make a double boiler. This will prevent you from scorching the milk, which will ruin the yogurt.

Heat the milk to 180 degrees F. I partially covered the pot to speed up the process. Whisk with a non-metal whisk to avoid hot spots and a metallic taste. Don't scrape the bottom to avoid milk solids from getting into the yogurt. A good digital thermometer reads the temperature quickly and accurately. It took almost 30 minutes to get to this temperature. NOTE: If you are not interested in the custard-style or Greek yogurt, the temperature does not have to reach 180 degrees.
Put your hot milk on a cold burner. Dump the hot water from the 5-quart pot. Refill the pot with fresh water and 2 trays full of ice.
Put the hot milk into this ice-water bath. Whisk a few times until the temperature reaches 110 degrees F. Don't scrape the bottom.

Cooling the milk took about 20 minutes. Skim off any skin that has formed, for a smooth yogurt.

Scoop 1 cup of the cooled milk into the bowl with the 1 Tbsp. yogurt. Whisk until smooth. Whisk back into the rest of the milk.

You now need a reliable heat source to incubate the milk. I covered my pot with a thermal fleece blanket, put it on my cable box, and covered it with the largest pot I had. You may leave the yogurt for as little as 6 hours or as long as 10. Start with 8 hours. The longer you leave it, the tangier it gets.

Freeze the container of yogurt you bought in 1 Tbsp. portions. I put each Tbsp. on a piece of plastic wrap and put all the Tbsp. in a ziplock baggie. This will be good for a few months. The next time you make yogurt, bring a Tbsp. to room temperature.

When you are finished incubating, you have your yogurt.

For Greek-style yogurt, you have to strain it. Chill it in the refrigerator until cooled down. Then line a strainer with a clean white T-shirt or coffee filters. Put a large bowl under the strainer. Put your yogurt in the strainer. Cover the yogurt with a dinner plate or plastic wrap and strain for 3-4 hours in the refrigerator. If the material is woven tightly enough, which it should be, your whey will be clear.

Whisk your yogurt for added smoothness. You may flavor right away or leave it alone until you are ready to eat. Plain yogurt is a great substitute for sour cream.

You may use the diluted whey to water plants, or use full-strength for baking.
Published by ThriftyFun.
© 1997-2022 by Cumuli, Inc. All Rights Reserved.
https://www.thriftyfun.com/Homemade-Stovetop-Yogurt-Recipe.html