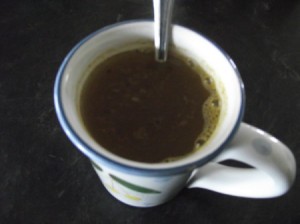 Fresh vegetables sometimes get soft or soggy before we use them, right? Spinach always does and bell peppers often do. Even celery gets limp after a while, particularly for those of us who buy it by the bunch. What to do so as not to waste hard-earned money? Freeze those veggies. Chop them up to save time later, remove cores (but not necessarily seeds) from peppers, cut off any small discoloured bits, put them in a bag and stick 'em in the freezer. Tough stems of broccoli and asparagus, even the cores of cauliflower and cabbage. Chop and freeze. Leftover veg after dinner? Not enough for another serving? Bag and freeze. Even a bit of leftover cooked rice needn't be thrown away. Bag and freeze.
"Past prime" doesn't mean "without nutritive value." It only means those lovely vegetables aren't as pretty as when we bought them.
A terrific option is to make your own bouillon. This may be particularly appealing to anyone who, like me, is fed up with seeing high fructose corn syrup (or re-named derivatives) on prepared food labels. Bouillon for cooking and making an instant mug of soup is very handy to have, however, so why not make your own? The process is amazingly simple, and doesn't take much time at all. Best of all, you know precisely what's in the mix!
Ingredients:
Any frozen extra vegetables
Steps:
Thaw those vegetables and use the pulse setting on your food processor to chop them into a fairly fine consistency. I've gone overboard a couple of times and pureed by accident, but it wasn't a problem. The first time doing this, I used my dehydrator, but what a mess. Using a silicone mat on a baking sheet works just as well and cleanup is far easier.

Spread chopped veg evenly on the baking sheet and pop into a 200°F oven for 2 - 3 hours. Turn the oven off and allow to cool. Check the consistency. If still a bit damp or soft, turn oven to 170° for another hour or two until everything is dried. Break the pieces apart a bit and use a small food processor or grinder to chop everything to a coarse powder.

Place a small sieve or colander in a bowl or large mug and pour the contents of the grinder into the sieve. Stir to separate: the powder falls through and the larger bits easily go back into the grinder. Process again until everything is ground up.

Funnel into an air-tight jar for storage.

Add a tablespoon to a mug of boiling water for instant soup.
This also works great on other frozen leftovers, particularly those we somehow forgot at the bottom or back of the freezer.
To avoid the little bags getting lost in the freezer, particularly if you have a big deep freeze in addition to the one in your refrigerator, designate an area or plastic container for just vegetables. When that container gets full, you know it's time to make something.
To use, simply add to soup or stew. If you took the time to chop before freezing, simply dump the frozen vegetables into the pot.

February 14, 2018
0

found this helpful
Thanks, Darlin! I've been playing around, doing the same thing with a few leftovers ... some nice flavours!