Hot Chocolate on a Stick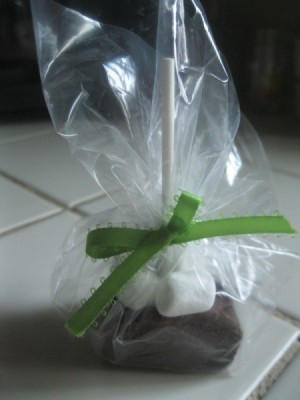 While perusing Pinterest, I kept coming across "Hot Chocolate on a Stick". I had never heard of such a thing, but I am so glad I found it. It makes a delicious cup of hot chocolate. We are really enjoying these. They would make a nice gift for someone... if they make it out of the house!
Total Time: 20 minutes, plus 12 hours for hardening.
Yield: About 24 servings
Source: adapted from Juanita's Cocina recipe
Ingredients:
1/2 cup heavy cream
1 can (14 oz) sweetened condensed milk
3 cups semi-sweet chocolate chips
4 oz unsweetened chocolate
pinch of salt
1 Tbsp vanilla extract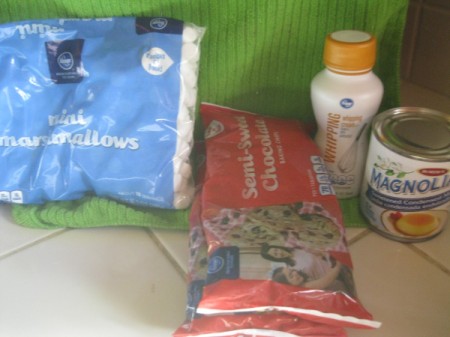 Steps:
Heat cream and condensed milk in medium sized saucepan over medium heat. Bring to a slight boil.
Remove from heat and add chocolate chips and unsweetened chocolate. Stir just until mixture begins to come together.
Let mixture sit for 5 to 10 minutes.
Add pinch of salt and vanilla. Stir until the mixture is completely melted and shiny. It will be fudge-like.
Line a 8x8 inch pan lined with parchment paper. I used a 6x10 inch pan because it was comparable in size.
Pour the mixture into the lined baking pan.
You can top with additions at this point. I topped it with mini marshmallows and pressed them down a bit to stick. You could also add them after you have cut the squares. The marshmallows got a little chocolatey when I cut into them. Let mixture in pan sit for 12 hours.
Remove chocolate from pan. Cut into squares. The original recipe says to cut into 36 squares. I wanted mine richer, so I cut them into 24 squares.
Add a lollipop stick in each one. You could also use a popsicle stick.
If giving as a gift, wrap each one individually.
To serve, heat a cup of milk in a saucepan or in the microwave. Plop a chocolate square in the hot milk. Let mixture sit for about 3 or 4 minutes. Stir very well to mix the chocolate into the milk. I used a small whisk, which mixed it up a lot easier.
Add your voice! Click below to comment. ThriftyFun is powered by your wisdom!
Add your voice! Click below to comment. ThriftyFun is powered by your wisdom!
Related Content