Julie
Bronze Feedback Medal for All Time! 149 Feedbacks
November 9, 2008
0

found this helpful
Best Answer
Narrow elastic in packs at Walmart craft department in 5 yards length for 99 cents per package. Measure the width of your mattress, cut 2 pieces of elastic that long and pin to each side with safety pins about 1/4 down on each end side to side by running it under your mattress then pinning to your sheets sides. can even leave on while washing your sheets. works great.

April 13, 2017
0

found this helpful
Does 5 yds work for a queensize mattress?
By Michele (Guest Post)
November 10, 2008
0

found this helpful
When I had a set of sheets that did the same thing, I used large safety pins to hold it to the corner of the mattress. It was a challenge to get the pins on and off, but the sheet stayed in place.

November 10, 2008
0

found this helpful
Honey, I have the same problem with the deep ends and the mattress pad. So now I buy the king size sheets and I have a queen bed it works, for the extra stuff I just tuck underneath and get more covers on my side now.
You are right those belts or staps were a pain to me. To tell you the truth a waste of money.
By Carol in PA (Guest Post)
November 11, 2008
0

found this helpful
My sister has twin beds. She uses double bed sheets on her twins and they stay put. Also, they're easier for her to put on the bed and tuck.
Good luck

Holly
Silver Post Medal for All Time! 364 Posts
November 11, 2008
0

found this helpful
Get new sheets at a discount store. It's easier in the long run. From now on, make sure you have a thread count of at least 200 because these have the deeper pockets.

November 12, 2008
0

found this helpful
Sock Tape! I already posted my hint but I'll copy it here. To keep your sheets snug or bedding from falling on the floor, and making the bed in the morning a snap, just use sock tape (clear, heavy plastic tape used by hockey players to keep their hockey socks up) on the two bottom corners of the covers. Start the tape on the top and wrap it straight down, lift the corner of the mattress and bring it up the other side to the top.
I tape the mattress cover on all 4 corners to keep it snug and then tape the bottom corners of the cover sheet and quilt. In the morning all you have to do is pull your covers up. I have a king size bed so this doesn't interfere with my leg room.
On wash day, just peel the old tape and re-tape the clean sheets and blankets. In the past I have saved the waistband off of my boy's underwear if it was in good shape and re-used it for the corners of of my bedding. I'd put the sheets on the bed, pin the stretched elastic to hug the corners tight and take it to the sewing machine for the final stitching. That works okay but I prefer using the sock tape. There is a picture with my original post as well.

Onesummer
Bronze Post Medal for All Time! 219 Posts
December 8, 2008
1

found this helpful
Try deep pockets sheets

December 30, 2012
1

found this helpful
"Comfy-Snug" drawstring fitted sheets stay put better than any other sheet with no need for suspenders or clips. They are tight and smooth all the time and self adjust to the mattress thickness. There is nothing more comfortable than nice smooth sheets. It's like the first time getting in bed with new sheets.
You just slide right in. Drawstring sheets give you that just made feeling night after night. Also the drawstring is tightened at the side of the mattress so there is no problem figuring out where the side is.
http://www.drawstringsheet.com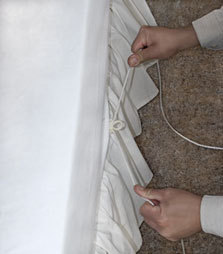 March 16, 2017
1

found this helpful
pull the sheets tight under the mattress and tie a knot. :)