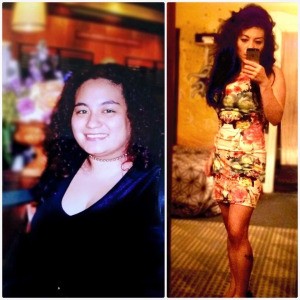 I'd always been a bit overweight growing up. I just thought that was the norm since most of my family members always carried extra weight. "We're a big-boned family," we'd joke. But our appetites were huge, especially coming from cultural backgrounds where food was the primary offering in times of celebration... or any occasion. When I started college, most kids would gain their Freshman 15. Me, I gained my Freshman 50. My weight-gain snowballed from there as it was so cheap and easy to buy junk food while I studied.
One morning, I was getting ready for work and I realized that I could no longer reach my feet to tie my shoelaces. When I tried, it made it painful to breathe. I decided it was time to weigh myself, after avoiding to do so for several years. The scale read 235 pounds. Let's keep in mind I am 5'1" and I definitely did not have big bones! I was uncomfortable with myself, and it was time to take action. My excuses for not doing so before revolved around not having enough money to eat healthfully, and gyms being too darn expensive (and filled with judgmental people). This is how I got around that mindset:

Use a low-cost jumpstart diet. I used something called the 3-Day Diet/Military Diet where you significantly reduce your food intake for 3 days, then eat more freely (but healthfully) for 4 days, then go back to the 3 days; and so on. It was suggested to me by a fashion model who I was friends with who watched me rapidly gain weight over the years. Slim Fast shakes only made me larger, and were filled with ingredients I could not pronounce, so I tried the 3-Day Diet.

Before starting this diet, I'd eat packaged muffins, fast food, chips, and cookies daily. I did not know it, but I was easily eating 3,500 calories per day. The 3-Day Diet cut my calorie intake by more than half, but was keeping me full with fiber and a load of extra water. I only used this as a kickstart, mind you, and it absolutely helped getting me into the right mindset of what it is my body actually needs to function. It also saved me so much money. Here is the diet:

You don't need a gym membership to burn a lot of calories. I started getting active by merely walking around my neighbourhood for 20 minutes a day 3 to 5 times a week. On my second week, I'd add 10 extra minutes and try a hilly area. On my third week, I'd keep it at 30 minutes but speed-walk instead. Every week I'd add some extra minutes and some more energy. In no time, I was finding interval walk-jogging to be no sweat... well, a lot of sweat!

Use libraries and the internet for new workout regimes. Again, no money for cool gym classes, but that's okay. I found a bunch of workout DVDs at the library. They were mostly outdated Kathy Smith workouts, but cardio is cardio. Giggling at the old leotards only made it more fun. I was working out hard and having a good laugh. These days I get most of my workouts from YouTube. Just search what it is you're trying to tone and you will find hundreds of videos, even hour-long ones. Who cares if an ad pops up during? That's your time to have a sip of water and shake out your muscles.

Weightlifting is important. A lot of people ignore weightlifting because they say they don't aim to be muscly. You don't have to be muscly. Weightlifting increases your metabolism, improves posture, relieves stress, and helps you reduce risk of overall body injury by giving protection to your bones and ligaments. Muscles burn more calories, even when you're sitting or sleeping, so keep them growing. I didn't have the funds to get a bunch of weights, so I started with tomato cans, filling water bottles with sand, then eventually buying a pair of 10-pound weights. You can find extremely affordable heavier weights at Walmart. I also got a $2 resistance band to workout my legs. Workouts for these are also all over YouTube!

Track your food: It is so important to track what you're putting in your mouth on a daily basis. Not just for calorie-counting, but also for checking your overall mood and well-being. I weigh/measure my food before I eat to make sure my calorie intake is accurate, and I use a free app and website called MyFitnessPal to log it. If you use your mobile phone with it, you can scan barcodes of millions of items to see their nutritional value against what you're trying to take in. It will also take your weight, height, age, and desired weight loss goals, then give you a summation of what you should be aiming for as far as calories and macronutrients. I have used so many free apps and websites to do this and MyFitnessPal has been the best. Another added benefit is it's filled with like-minded health and fitness people (novices to famous trainers) that you can add as friends for motivation and support. There is also a huge forum that is also free and incredibly helpful. When you realize you are not alone in this, it is so much easier.

Drink Substitutions: I loved soda so much but it was wreaking havoc on my waistline and my teeth. I had to make a slow transition instead of cut it cold-turkey, and there's nothing wrong with that. I switched to diet soda first (which is no better on your teeth), went to flavoured carbonated water, then just switched to water with fruit scraps in it for flavour. The weight poured off. I originally drank at least 4 sodas a day, which translated to at least 4,200 a week. A calorie reduction of 3,500 translates to a pound of weight loss. I was well on my way to faster weight loss, and no more money spent on fizzy drinks. Remember that fruit juices are also filled with sugar and calories and stripped of most of its fiber. It's better to have a piece of fruit than a glass of it.

Food Substitutions: It does not cost a lot to make some healthier choices. That used to be one of my biggest excuses, "I can't afford healthy food." Trying some cheap minimal swaps will make huge changes. Use mustard instead of mayonnaise. Yogurt instead of sour cream. Get a big jug of corn kernels and make popcorn instead of reaching for bags of chips. Sprinkle nuts and seeds on your salads instead of packaged croutons. Use lettuce instead of tortillas. Make "Nice Cream" with frozen bananas in a blender instead of having ice cream. The possibilities are endless and they are not more expensive. If you'd like more ideas for substitutes, contact me and I will give you days upon days worth! :)

Do not deprive yourself of the occasional treat. We are human, and we should act like it! You might have seen some of my recipes on here, and they are sometimes extremely decadent. Will I eat the whole thing? Heck no. Will I try some? Most definitely. It's all a balance. I log what I eat, and I know when I should try to counteract that intake with some exercise.

Get out there. I mean this in a few ways. Get out of the house and do things. See what's out there. Explore this lovely world. You will not only move your body, but you will get a new perspective on life, see what you have at your fingertips, and discover what you can give back to the world. You will feel good inside and out, and you can share that with everyone you know. When I lost all my weight, I told everyone. Sure, some of it was because I was proud, but mostly because I wanted to help people who might be hiding the fact that they need help, too. I didn't mention this, but I did not go out for several years due to the embarrassment of my weight gain, and it took all these steps to help keep me out.

I never regret a thing in my life, so I do not regret gaining so much weight. My life went one way for many reasons, I became so uncomfortable, and I had to handle it. I do wish I did not hide, though. I missed out on so many life events from being embarrassed about myself. Remember that you are the only you on this planet and you are beautiful no matter what, but do be kind to your body. It will thank you by being good to you for the years to come.

If you need any other tips or healthy recipes, I'm always here and I love to help!