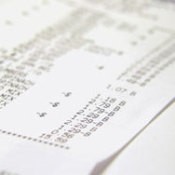 Food is not something we can do without. Cutting back on your food bill, though, can leave you with a substantial amount of money left in your pocket at the end of the month. The problems is that most people do not know what they have to do to make that happen. By creating a monthly food budget can be a perfect way to save.
Take Julie, for example. She is a mother of two and is married to Christopher. They work hard but barely make ends meet. When the two of them sat down to determine just where their money was going, Julie was shocked to see that they were spending more than $170 a week on food. That was $600 on just food per month. So, they decided to do something that most would never do. They decided to track their food budget.
For the next month, Julie and Christopher kept a small notebook with them and any time they bought any type of food product, they jotted it down. In fact, it became a competition to see who was spending what and to see who was doing a better job keeping track. At the end of the month, the results were in. They had spent a total of $853 on groceries.
They found that some was going towards the grocery store, but they spent a considerable amount on restaurants, coffee shops and at the gas station when they just stopped in to get something for dinner. Now, what would you do with this information?
Julie did something she had not done before. She decided to create a monthly budget for food. What she found was that it was not difficult to do. Here are some steps that she followed.
Track spending to determine what areas you are spending your money on.
Determine ways to cut. For example, Julie invested $26 in a coffee maker and bought flavored coffees that she and Christopher enjoyed and saved the $58 they had spent on coffee shop money. Stopping at the gas station where things were more expensive was important to them as well.
Make a basic weekly grocery allowance. Since they were already established, she had most of what she needed to cook available the first week such as spices and basics. By making a menu for each week, she saved herself time too. She knew what to pull out for dinner and have no worries about having to run out to pick something out. She found that she could cut her grocery budget down to about $100 per week.
Later, she started to cut back on foods they didn't need and made them herself. For Sunday breakfast, she made French toast and made enough for another meal down the road. She also baked a batch of cookies instead of buying packaged and the kids loved it.
By taking the necessary time to track spending and then in making a monthly budget, Julie found herself saving money. They actually treated themselves to dinner out at the end of the month since they had save several hundred dollars and now could say they could afford it.
Ok, I think I spend a lot on groceries. About 400 to 500 dollars a month for a family of 3 (and that's not counting eating out a few times a month!). I am pretty sure this is quite high? More than that, we are living paycheck to paycheck and I want to have some savings. Our child is now 4 and I am wondering what you folks do to cut costs? What would be a more reasonable food budget? And what are some tips for planning meals, grocery lists, etc. I really don't know where to start on this but this seems like the right place to look, I have already found some useful tips on this site.

Thanks!

Marcee
Answers
By Jodi from MI (Guest Post)
July 21, 2004
0

found this helpful
Marcee:
It would be high for my budget (boys 8 and 4 husband and myself). You are wise to break the chain if you feel that you're currently spending more than you want to spend.
My best advice would be to start by looking at:
(1) What you purchase at the store.
(2) What you have in your pantry.
(3) What your calendar looks like.
You can easily follow why I suggested the first two of my three suggestions.
#3, the calendar is very important.
If you know that you have dinner plans on Tuesday night and a party that you've committed to making a pan of brownies for, you need to know what days you "NEED" to have which items in the house.
If daughter has dance every Thursday at six, you may be swinging through a drive through to pick up a happy meal. When you know that the expense is there you can plan for it and won't have a meal going bad (money wasted).
However, if you purchased $125 worth of perishable food and then go out to eat, some food may spoil and your out both grocery money and "entertainment/recreation" money.
Whether you are a SAHM, WAHM, WM, I don't know. I work four days/week and try and bring my lunch at least 2-3 days, splurging the 4th. Your lunch budget would likely vary, depending on your situation. Today, I brought a PBJ sandwich to work and purchased a fountain beverage (1/2 price for our office) from a local restaruant that delivers.
Knowing what you have in your pantry and using up as much of what you already have will likely save money, as it's money already spent. Make a grocery list of remaining ingredients needed to make a recipe.
We have company coming in a couple weeks, and I just realized that I have all of the ingredients but the meat for a dish that will feed all of us for two meals.
Hope it's helpful!
By Brenda (Guest Post)
July 21, 2004
0

found this helpful
Watch the sale ads; that's important to my budget. If chicken is on sale then I buy more of that and find "interesting" ways to use it. Even if you work it's pretty simple to make a extra batch of pancakes, muffins, etc. to freeze. They are alot cheaper and that really helps the budget. Buy in-season fruits, and vegetables. That saves a lot. Have one soup/sandwich night a week, one night go "meatless". Buy in bulk when possible. In my area there is a no frills store that you can save 40-50% you can't buy everything there but it helps alot. Use up the "left-overs". Make your own pizza (you can make and freeze the pizza crust)--that way it's faster to get dinner on the table on those nights when things are very rushed. Have acouple simple casseroles in the freezer and when you are tempted to go through the drive-thru you won't have to :)
Hope this helps.
By Ann (Guest Post)
July 21, 2004
0

found this helpful
well, I live in the NW area WA state and only shop at the Grocery Outlet store (in 8 western states including Hawaii) or buy store brand name products at the regular grocery store, and I am spending at least $300 a month doing that, and I have a hubby and a 5 year old, plus two cats and a rabbit that I also have to buy food for. so your bill doesn't sound that high for my neighborhood.
and also, looking in the store ads for great sales (we only buy chicken breasts when they are on sale for either $1.99 or $2.79 a LB. and stock up on it because it will be at least three weeks before we see another good sale on it.
By Nancy (Guest Post)
July 21, 2004
0

found this helpful
I found a website that has helped me a lot with menu planning, shopping, etc. This makes it so easy. Take a look at http://www.savingdinner.com. There is a sample menu there. Also some more sample menus on the flylady.net website. Since I started doing this, I've saved lots of time and money at the grocery, and the meals are easy to fix.
By Rene (Guest Post)
July 21, 2004
0

found this helpful
We are a family of 6 (mom, dad, 4 kids ages 4 - 13). We live in a remote part of coastal Canada where food is quite expensive. Since we are so remote, we get shopped food only once per month and spend about $350 - $400 per month. From this, I have learned several things that might be of help to anyone wishing to reduce their grocery budget.
1. buy staples and make it yourself as much as you can
2. plan ahead and shop less frequently
3. eat only at meals (snack only for special occasions)
4. reduce the number of meat meals per week
5. look at each food item and ask yourself how much nutrition you are getting for the price. (1/2 lb cheddar cheese for $6 vs 3 doz. eggs or 1 pound raw almonds. They all cost the same. Which provides the most meal and nutrition for the same buck?) Look at how much each snack item costs and ask yourself how much "staple" you could buy instead. For example how much flour, or potatoes, or milk or eggs could you buy for the same price as a bag of chips? How long will the snack food feed you as compared to the bag of chips?
6. plan ahead for those times when you need a quick meal. We can't run out for a burger but we can grab something from the freezer and pop it into the microwave or pop open a jar.
7. Plan ahead
8. Plan ahead
9. Plan ahead.
10. Choose one small area. Work on that. When you have it mastered, choose another. It won't be stressful that way and as you gain confidence you may find yourself having so much fun with the money you saved that you will want to save even more. Remember you are eatingprimarily to nutritionally sustain your body and secondarily to please your tongue.
Rene
By sandy webber (Guest Post)
July 21, 2004
0

found this helpful
I live in north central Alabama and spend around $300 for groceries and that includes things such as dish detergent, laundry detergent, shampoo, conditioner, soap, fabric softener (although I have not used this lately and clothes are still soft) and bleach. My advice would be to plan menus and cut out all the junk. My family has very little stuff that we call junk. We buy popcorn for snacks at night and little debbie cakes for snacks during the day or dessert. I fix a lot of casseroles and since we now have a garden I have canned and froze lots of veggies for winter and have been cooking out of the garden. We eat a lot of chicken and ground beef as that is what my family prefers. I watch the sales and try to buy several of those things that I know we will eat and store it in a pantry. Hope that helps
By Michelle (Guest Post)
July 21, 2004
0

found this helpful
Check your weekend paper every weekend-plan your meals around what is on sale. Clip coupons and use them everytime you shop. There are 3 in my family and I spend 30-50 dollars weekly. That includes milk, bread, eggs, meat and snacks and ice cream. If it's on sale-stock up-meat can be frozen. Paper products don't go bad. Stores often offer buy 1 get 1 free items-use a coupon-save BIG!
By Tawnda (Guest Post)
July 21, 2004
0

found this helpful
Like Rene from Canada, I live in Alaska. Although we are not in a remote area of Alaska, it is still expensive for groceries and we still have to drive an hour to get to a bulk food store.
I have read that if you start keeping a spending diary and sitting down with your spouse each night or once a week and agreeing on what is needed verses what is wanted and make those changes in your spending habits that will help a lot. We don't realise what we throw our money to. A latte here, an ice cream there, eating out for lunch and dinner on a regular basis, etc.
We go to the bulk food stores and this saves tramendously. It took us a long time to work up to where we could do this, but if you work it out to go twice a month and divide your grocery lists between pay days, etc. it isn't as bad. But you have to force yourself not to make those trips to the store for one item and buy fifty. And if you can keep the discipline of only going in for bread or milk in between and not the many other temptations you can save. For what it costs to buy one gallon of milk at the grocery store I can buy two at the bulk food store.
Also, avoid a bunch of pre-prepared frozen foods and junk foods like pizza, sugar cereal, etc. Oatmeal goes much further than cereal any day and is much more healthy. Once in a while I get Corn Flakes on sale, but usually my kids have eggs or oatmeal for breakfast. I add cinnamon, vanilla and a little brown sugar to the oatmeal as it is cooking and they devour it! Winter time I pre-cook pancakes and freeze them. They can pull them out and microwave them as they want them. Summer time when kids are out of school they would rather play than eat and tend to eat less. So we usually do taost and fruit or eggs since we have our own chickens.
We also try to plan several meals together with the same ingredients and try to make enough to have leftovers for lunches the next day or dinner the next day. Our older kids have microwaves at school for their use and they love taking food to heat up. Also, a tip to save on school lunches in winter is to make soups and keep in refrigerator. Warm up in the morning while kids are getting ready for school and put in thermoses for their lunches. My 7 yr. old prefers top ramen to anything. It is inexpensive and you can microwave it in the morning and put in the thermos. Not as nutritious, but the kids eat very healthy meals in the morning and evening and they don't have it every day for lunch either so it isn't bad for something different.
My husband saves on his lunches for work by me making iced tea and putting it in one of those igloo cooler thermoses. Or he will drink water. We stopped buying sodas about a month ago and realised we were saving about $30 a month on that alone!
Making your own food saves so much. If you have to work and struggle with coming in from work and having to cook you can spend a few hours each weekend and cook ahead or prepare ahead and freeze. Or have sandwich night one night a week and have that as your cooking night for other days of the week. Have your kids help you make cookies one night a week verses buying packages of cookies.
Something else I do with like ziplock bags. If I use a ziplock bag to put something like bread or a package of crackers to keep them from going stale, I will re-use that bag for something else or sometimes save them to use for bundling toys at my yard sale each summer. My mother use to hand wash every ziplock and re-use them until it would no longer zip, but I just don't go that far, but it is an option in order to save a little here and there.
The big thing is things like chips, snack foods, etc. I buy the big barrel of animal crackers at the bulk store and we use that for an occasional snack and sometimes in place of chips at lunch. I try to have fresh veggies in place of any chips at all, but many times my kids get a sandwich for lunch with veggies or fruit and that is all they need. The chips you buy for lunches only have about 12 chips in them anyway. Not enough to fill them up or curb an appetite. Waste of money and not at all healthy.
By GHT (Guest Post)
July 22, 2004
0

found this helpful
I live in the Philly area and have a family of four. I do one big grocery shopping trip a month and spend about $150, but spend probably another $100-$150 a month buying quick items I've run out of at the local store with not so good prices.
If you don't get a Sunday paper with manufacturer coupons, you should subscribe. Your savings will pay for your subscription.
Check out manufacturer websites for printable coupons or other websites that let you print coupons. But check with your grocery store first because some won't take them--mine stopped a few months ago.
Double coupons are terrific, too. Sometimes my store even offers a week of triple coupons. If they offer a bonuscard, forget about privacy issues and sign up. Not only do you save more, you often get coupons from manufacturers, at the checkout, or for spending a certain amount during like Thanksgiving, you can earn a free turkey or opt for a percentage off your groceries. I've even earned two free turkeys and donated one to a needy family. Who says charity has to cost anything?
Also, check out your grocery store website. They often offer one check rebate programs that they don't advertise in the store or the flyer. This is so simple! Not like the old days when you had to send away for stuff. All I have to do is sign up during each rebate period by submitting my bonuscard number. I can see what items are being offered and print out a shopping list. The grocery store gets the qualifying items from my bonuscard when I shop, notifies me how much my rebate will be, and mails me a check at the end of the rebate period. I usually get at least a $5 rebate per six week period, but have received as much at $10!
Also, don't over pack your kids lunchbox! I work as a lunch monitor and the amount of food these kids throw away each day could feed an entire homeless shelter! Ask your kids to bring home what they don't eat (even if its inedible) so you can see what you're wasting your money on and revise what you send them for lunch.
Hope this helps!
By aeromama (Guest Post)
July 23, 2004
0

found this helpful
Hi! Here in Indiana, the sunday paper in my area costs $1.50 . I'm not sure it's really a good deal anymore because alot of the coupons are for overpriced items that i don't buy. There's also a lot of "junk" such as decorative plates or electronic bug repellant. I only keep the coupons for products i usually buy. :)
July 23, 2004
0

found this helpful
My mom subscribes to the newspaper but rarely uses the coupons, so I pick up from my mother the coupon sections and sale ads every Sunday afternoon. Also, we get the sale ads from our local grocery stores in the mail every Tuesday or Wednesday. I try to combine the grocery stores' sales with coupons from the papers for extra savings. None of our stores offer double coupons so combining coupons and sales help add up the savings.
By MB in WY (Guest Post)
July 24, 2004
0

found this helpful
I was surprised when I went to my local library at how many books there were on this subject. Check it out! Titles I came home with are "Shop, save and share" by Ellie Kay and "Cheap talk with the frugal friends" by Zalewski and Ricks.
By susan_a362 (Guest Post)
August 23, 2004
0

found this helpful
We live in Denver, CO. What I relied upon when I had a small freezer was an organization called "Share Colorado." THIS IS NOT A FOOD BANK. It is located in, I believe, 9 western states with lots of outlets. On Monday afternoon, everything is for sale. Anything not sold on Monday goes for free after at least a $2 purchase from their tiny in-house grocery store. It's a good way to try different fruits and vegetables; also, on Wednesdays, eggs, milk, bread, butter, etc and always changing. Wish I could give you an address, but just moved and don't know which box I put their newsletter in - just dozens and dozens of locations in this town and New Mexico. I spend time on an evening after my visit, putting things away. Will take it back up after we settle into our new apartment and buy a small freezer.
Editor's Note: www.sharecolorado.com/
Read More Answers
Hello everyone:

I have a question. We are now down to the two of us.

How much should it cost for food and basic toiletries (toothpaste, shampoo, deodorant, etc) for a family of two.

I am talking about in-home prepared foods; meat perhaps 2 to 3 nights per week; rest would be cheese, beans, macaroni/dishes).

I live in the NorthEastern region of U.S. and have large supermarkets like, Shoprite nearby.

I am trying to establish a reasonable a budget.

Thanks.
Anjeena
Answers
By jannie (Guest Post)
March 25, 2005
0

found this helpful
I have a family of 3 people, 3 large dogs, 4 cats and a pig (not counting the chickens or turkey or turtle) and it costs about $75 a week for people food and pet food and everything else we need. We have some kind of meat every nite. I shop at Pic-n-Sav grocery and Wal-Mart. I do not buy meat at Wal-Mart, it has too many preservatives in it.
By Ronsan (Guest Post)
March 25, 2005
0

found this helpful
I noted with interest your question because the title asks how much should it cost to feed a family of two and yet your text asks about food and sundries.
First rule of thumb is NEVER to combine these two costs. If you do, you will shop a grocery store for the non-food items and it will cost you more than what you would pay at a dollar store or discount house.
Other variables that would affect the answer you are seeking:
-- do you have a garden?
-- any dietary restrictions (low sodium, diabetis, etc.)
-- do you include snacks and soda pop or beer as part of your food budget?
-- do you eat lunch at home or brown bag to the work site?
-- are you loyal to name brands or do you use generics or store brands?
-- do you have and use a price book?
-- do you use the grocery circular and then make meal plans built around the sales ads?
All that being said, we are a household of two with moderate dietary restrictions. I will not allow myself to spend more than $150 maximum on groceries, which includes our lunches. I allot $15 a month for personal care products and cleaning supplies.
When our income gets tight, I simply cut the expenditures which includes grocery shopping because I have a large back-up of frozen foods. When money in general is tight, I find I spend a lot more time preparing foods and doing whatever it takes to make it taste and look great.
Lunch today would be a good example: we had delicious cream of broccoli soup, crackers, thinly sliced beef roast (deli style) on assorted crackers, and cake. Three-quarters of this meal was planned leftovers, meaning I had the broccoli frozen from the garden last summer as well as the onion, I substituted celery leaves for the chopped celery, added my own homemade chicken stock; reconstituted dry milk, margarine, flour, salt, pepper, and 1/2 cup shredded cheddar cheese. The beef was a leftover that I very thinly sliced it such as a deli would. Cake was last night's dessert.
The cost of this substantial lunch for the two of us was minimal, at best. I was very pleased that I was able to use up that many ingredients that I already had.
To my mind, it's not what you spend but how you spend it and further, how you use it up that counts.
By Allison (Guest Post)
March 25, 2005
0

found this helpful
I live in Tennessee, and I spend about $150 per month to feed myself and my husband, BUT I try to shop wisely-- using coupons, buying the "loss leaders" featured in weekly ads, using a price book to know what a good price is, stocking up when there is truly a sale, etc. We eat meat nearly every day, but I ONLY buy meat when it is on sale for 1.99/lb or less, I just make sure to stock up. I also do some shopping at a salvage grocery store. I hope that helps!
By jannie (Guest Post)
March 25, 2005
0

found this helpful
I have a family of 3 people, 3 large dogs, 4 cats and a pig (not counting the chickens or turkey or turtle) and it costs about $75 a week for people food and pet food and everything else we need. We have some kind of meat every nite. I shop at Pic-n-Sav grocery and Wal-Mart. I do not buy meat at Wal-Mart, it has too many preservatives in it.
March 26, 2005
0

found this helpful
I think Two people could live, comfortably, for £30 per week. (food wise)
(Thats about $55,)
I think, by shopping at bargain stores, making sandwiches for packed lunches, buying cheap meat - freezing leftovvers and not having luxurys you'd be ok......
Baked beans on toast, mac and cheese & fish sticks taste great and cost next to nothing, but think about the quality of your life.....

Julie in London
Read More Answers