I use a spreadsheet I made up to list all expenses and income right down to the penny. The spreadsheet lists income, and then all expenses such as groceries, gas, each utility, eating out, prescriptions, credit card bills, miscellaneous expenses (which I describe at the bottom of spreadsheet), absolutely everything.
It is updated every couple of days and balances with my check register which is kept on an 8 1/2 x 11 inch paper. The spreadsheet shows the whole year at a glance so at the end of the year, on one sheet of paper, you have all your income and expenses, and you can see where your hard earned money has gone, as it is automatically in categories.
By Marti S. from Athens, GA
Read More Comments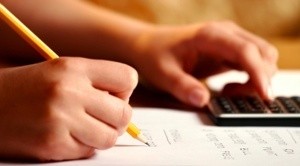 When it comes to our finances, they're very abstract. Check cards and electronic bill paying don't make it much easier; the concept of exactly how much money is spent is a difficult one to grasp. In the days of cash, it was much easier to understand where our money went. We started the weekend with a bulging wallet and ended with a slim billfold.
We could actually see our money disappearing. However, it's impractical to pay this way today, yet it's hard to see the money disappear when there isn't any tangible money changing hands. Here rises the often asked question, "Where does all my money go?" To better answer this question, try to make your spending concrete by making a list.
The List
It's work, but that makes spending all the more painful. Painless spending is what caused the habits that we're trying to break. Keep required bills painless: the mortgage, your car payments, the utilities. However, try to make the extra spending a bit of a chore.
A good way not only to inventory your spending but also to add a bit of tediousness to your shopping is to make a daily list of every dollar spent. Keep a notebook handy to record the spending, and make yourself enter the spending into a larger receipt book at night. A day without spending would be an anxious retreat from this chore as well as a healthy banking day.
List the morning coffee, the gas, the lunch, and every item purchased at the department store that day. Then, in the evening, transpose these totals to a larger receipt book. Keep one page for essential payments that fluctuate like groceries, gas, and doctor's visits. Then, keep another page for all the other spending, the non-essentials.
Evaluate the List
Every so often you'll need to evaluate the list. At first look at it daily. Then, look at the week in general. Eventually, you'll be analyzing once a month. At some point you may be able to get rid of the list altogether; it's a way to visualize spending and shouldn't be thought of as a permanent habit (unless you want it to be). Look for gross overspending in key areas. Without a list, many would never realize that a coffee a day eats up an entire paycheck over the course of the year.
Tally weekly spending and compare it to the weekly paycheck. Are you spending half of your paycheck a week on random items? Cut through the unessential list of spending with a machete and raise your spending. Eventually, tallying will become a habit, and you'll inventory your spending list in our head before each purchase. That's the goal of the list.
Periodically, evaluate the essential but flexible list. You're stuck with the doctor's visits, but would a FSA benefit your family? Could you cut back on the grocery costs each week?
Remember, while most people look for ways to make more money, the easier option is to find ways to spend less. Create a new financial motto: spend smarter, don't work harder.
I am asking for help with my finances. Just recently I stopped working my second job because of the very long house. Now I just have one job and the problem is that it pays bi-weekly. Because I have just one income I have been behind on my bills the credit cards are at the limit and above some are in collection because of late or non-payments. I just need to be able to pay of the bills and save some money. I tried the envelope budgeting. How do I start a basic budget without any large problems, something very very simple on a bi-weekly paycheck of a small amount. Once again, how does the old fashion envelopes work?
Malmal from Boston
Answers
By denise w (Guest Post)
July 21, 2007
0

found this helpful
hi i would be happy to help you with this. i have also had some hardships and needed help with budgeting and a close friend helped me to pay off a lot of bills and start saving right away. i didn't use the envelope method but to save money in what she had me do was write down all my bills in a notebook and using my take home pay build my budget from what i bring in rather than on what is going out.so it went something like this.... i have 600.00 coming in every 2 weeks for a total of 1200.00 per month. my bills equaled 1600.00 per month so i separated my fixed(needs) from my wants needs were rent,electric,phone,gas,insurance,food.
wants was ...credit card bills,fun time out,coffee at convenience store, lunch out..etc... so my needs equaled 1000.00 per month so i had 200.00 for wants fist put 10 percent in an envelope this is your savings next use80 percent or 160.00 on credit card bills paying the most to the smallest one as to pay it off first. this should leave you 20.00 for emergencies in another envelope. this is just an example so use the numbers which work for you and remember to pay everyone something each month so when they call and they will you can tell them you are doing your best to pay them in a timely manner. if you would like to talk my name is denise and my email is warnerd5 AT aol.com i hope this helps you! god bless
July 22, 2007
0

found this helpful
Hi Malmal,
I don't know anything about the envelope method but here's what worked for me. It is not something that will happen quickly but it is something that is definitely worth doing.
Step One
Take all your credit cards out of your wallet, cut up all except one that you will have in case of a serious emergency. Put this card away somewhere safely out of reach, it is only to give you peace of mind, not to be used other than in a real emergency.
Step Two
Get a big notebook and as you spend money record it, then if you could have done without this item or settled for a cheaper alternative put a big red mark after the money you spent. Be really honest with yourself, think of how you could have spent less.
Here are a few ways to instantly save some money.
Bring your lunch to work instead of buying it.
Buy store brands instead of name brands for some things.
If you take a bus then think about walking some of the way to save some fares, this will also get you fitter.
Join the library instead of buying books and magazines.
Cancel your daily paper delivery if you don't read it every day, then just buy it when you really have time to read it.
Spend some time looking for bargains for birthday presents.
Babysit for a friend or family member, that way you will be doing something good as well as getting out.
Unplug all electrical things that are not being used, turn off and unplug the tv and computer each night or when you are leaving the house.
Step Three
Instead of going for expensive nights out, invite your friends around, explain that you are just watching your finances and need to curb your spending for a while.
Step Four
Plan your grocery shopping. Make a list of what you need for the week, and only buy what is on the list. DO NOT SHOP WHEN YOU ARE HUNGRY it is too tempting to buy extras.
Step Five
Plan how you will pay off your debts, every dollar helps, so if you have a few dollars left over at the end of each two weeks then pay extra off your biggest debt.
Step Six
As you pay off your debts you should also save for something you would like to do in the future when you are out of debt, maybe a special holiday. Little by little you will see this money mount up as you are achieving your goal of becoming debt free.
Step Seven
Now that you are not working two jobs you have more time to yourself, use this time to do a complete clearout, go through every box and cupboard in your house and have a yard sale. Then whatever money you make should be divided equally between each of your debts and your savings.
Step Eight
According as you completely pay off a credit card cancel that card.
Finally, congratulations on taking this step to control your spending and shaping the new you. It worked for me and I have never again been in debt in 18 years. It was hard work to get started on but it got easier along the way and was definitely worth it.
Mum
By Marta (Guest Post)
July 25, 2007
0

found this helpful
This is another great article about budgeting to get out of debt...
July 25, 2007
0

found this helpful
I had a budget some time ago like poster number 1. I liked the idea of paying off the smaller credit card first. A step further though is once that credit card is paid off, take the amount that you were paying on that card and add it to the next card. So if you're paying $30 a month for each card and you get the smaller card paid, then add that $30 to the next card, so you're paying $60 a month on that card. As it's paid, add $90 to the next card, etc. Goes much faster that way.
July 25, 2007
0

found this helpful
You might check with Crown Financial Ministries (crown.org), they have a small army of volunteers who will meet with you for FREE and tell you what to do, see all your notes and whatever else you want. A Christian organization, but never pushy, only doing whatever you want. I had great success with them once, and I'm debt free (it was $55K at the time).
July 26, 2007
0

found this helpful
www.daveramsey.com/.../budgeting_3457.html.cfm
www.daveramsey.com/.../index.cfm?intContentID=4123
See if the information given in those links help.
One thing I've had to do is make a "when to pay what" plan. My husband gets paid biweekly, and I get paid ONCE a month. (!) So for each of the three paychecks, I have a list of things that I pay. Here's my list-- maybe it will give you some ideas:
Husband's first paycheck:
emergency savings
tithe (10% of half expected monthly income)
credit card
water bill
electric bill
life insurance
Husband's second paycheck:
save for my masters degree coursework expenses
save for husband's retirement in his Roth IRA
save for Christmas
tithe (10% of other half of expected monthly income)
pay credit card
My paycheck (always the 20th of the month)
house payment
save for my retirement in my Roth IRA
undergrad student loan payment
save a little more for masters degree coursework expenses
save a little more for emergencies
We use our ONE credit card for as many of our expenses as we can to earn the rewards, and we pay it off by the end of the month. I know this is kind of controversial, and I would not recommend it to someone who is not disciplined in the use of a credit card. But we are. We have a budget that we live by and using a credit card does not change what we spend on things. For example, I could pay cash or I could use a credit card, but either way, I will not spend more than $250/month on groceries. Also, a few of our bills we pay by credit card (cable, internet, netflix) and those amounts won't change depending on our payment method. (That's why they're not listed above--they're lumped into the credit card bill.) And as you can see, we save a lot. We basically save the equivalent of my paycheck. We do this by paying ourselves first--as soon as we get paid, we put the savings money away. If we know it isn't available in the checking account to pay the credit card bill with later, we won't run up the credit card bill. We have a savings account we can tap into for emergencies--I would NOT recommend using a credit card for emergencies as a long-term plan.
I am proud of our money managing ability and I'm not ashamed to brag about it, lol. One time I wrote one of those "My Frugal Life" things: www.thriftyfun.com/tf87554363.tip.html
So, anyway, that's what works for us. I hope that helps!
By Diana (Guest Post)
July 30, 2007
0

found this helpful
Always pay your necessities FIRST
house (rent or payment)
utilities
car
food
READ Dave Ramsey! It is a fun read with great ideas for "living like no one else...so you can eventually Live like no one else"
Good Luck! WOrk hard at it an you'll be successful!
By (Guest Post)
August 31, 2007
0

found this helpful
Don't mean to be nosy, but the first thing you need to do is ask yourself what percent your rent is of your take home pay: R/Total monthly take home. What kind of heat do you have, and what do your utilities add up to: lights, heat, water. To some degree utilities can be trimmed by careful monitoring. Phone for now should be basic land line, use calling cards for long distance; the ones at the dollar store will give you 20 minutes/$1 dollar if you use them at home.
Eat very simply for a while, using cheapest ingredients: no box cereal, use hot cereal or whole wheat toast; fills you up more. Eggs and toast. Sandwiches for lunch. Crock pot dinners make a nice lunch next day. NO POP/purchased junk beverages. Water, 100% juice, tea or coffee prepared at home. No ATM withdrawals; that eats away at your account.
Walk everywhere; great for your health, saves on gas. Library for entertainment: movies, books, ideas for stay at home fun. Make your life small. Walk in your neighborhood. Visit with neighbors. Garage sale like a miser...For every coffee cup for 50 cents, there is one for a dime...but you get shopping out of your system.
NO NEW clothes unless you need nylons. Buy clothes at garage sales for a year. It won't be hard, and it's new to you. Add up all necessary expenses to stay alive (literally). Everything else is a luxury. Debt is a luxury you can't afford. If you are alive and healthy you have enough. Use your imagination to fill in the blanks in your life. You would be amazed and astounded at what we don't need.
If you think about what you need, and are honest about what you can pay (ie, I had a big bill and I have 50 cents to my name), I promise you you will find it for 10-25 cents. Trust that you are enough for life and you don't have to buy your place in life.
Write everything down on paper, and add things up in lots of ways. You will start to get a truer picture of your position and suddenly you will know what to do. That may take some days. If someone in your family became ill and you were consumed with caring for them, the last thing you would think of would be spending, and time would pass and you would be okay. We can go days without spending and nothing bad will happen. Read "A Tree Grows in Brooklyn" to see how people micro manage when they have to. That's probably a picture of as bad as it can get and still survive, so anything more is better...I read somewhere the first place to start saving/budgeting is by not spending; I find it to be true also. Because for every dollar we spend we have to earn about 1.35-1.50 before taxes.
Back to the rent per cent of income. If it's more than 40% (even that is really too high), you may have to either do that second job, or be very careful with every penny and watch amounts of water, use of electricity, etc. Dry clothes on lines or in bathroom if you can, at least until almost dry, then you won't use so much electricity. The dryer uses a lot of power.Unplug all appliances at bedtime except clock...They use power.. Sorry to throw all this at you, but as you can tell, I'm from another time, and people used to live carefully all the time, and not too many people know how anymore. Pikka
Answer

this Question

...
Please help me learn how to make a good budget and manage to follow it? Any tips would be appreciated.

Thanks.
Emmanuel Stephen From Blantyre, Malawi

Answers:
Creating a Budget and Sticking To It
I have been watching the Oprah Debt Diet (oprah.com) and there have been many helpful tips. I recently found this website: www.homemoneyhelp.com
I really like it. I hope that some of the things on the sites help you out. I can totally relate to the whole "sticking to a budget" thing. I think it is the hardest thing in the world, I have yet to get my family on a budget that we can stick to. Maybe someday. Good Luck. (03/26/2006)

By Robyn in PA
Creating a Budget and Sticking To It
Dave Ramsey has made a career out of helping people budget money and get them out of debt. Many suggestions and forms can be found at his website daveramsey.com. (03/28/2006)

By Karl
Creating a Budget and Sticking To It
I have to agree with Karl. Dave Ramsey's tried and true methods have saved us. We paid off huge debts in the past year and because of this I was able to quit my job as an RN and stay home with my two kids. His book "The Total Money Makeover" is a "must" read. (03/29/2006)

By Jill
Creating a Budget and Sticking To It
List out your essentials every month: rent/mortgage, utilities, car payments/insurance, loan obligations (like student loans), and essentials. Make sure you have necessary food, then pay the bills on a schedule before you spend money on anything else. If you are really tight and don't have enough for food after the financial obligations, check into assistance/food banks (sometime in life, we all need a little help, just remember to give back).

I am not familiar with the economy in Malawi, but overall, if you have a checking account with a Visa check card, you do not need a credit card. They are okay for starting out a credit history (if you are really careful), but are too tempting to use daily. Most places will accept the Visa card, because it is run like a credit card, but you are not spending money you don't have. Stick with cash if possible to buy food, gas, and essentials so you have to spend a certain amount.

With paying off huge debts, look into professional credit services or maybe check the Dave Ramsey thing (if he wrote any books, chances are they are at the library.) Most credit counseling is free. I can't see placing money down for some book or program that you do not have. You could pay bills with that same money. Kind of like paying for a job.

One more thing, while you are budgeting, always estimate up for expenses, it gives you a cushion. Like if you pay $45 a month for insurance, write it as $50. Helps cover any unexpected fees. God bless and hope this helps. (03/31/2006)

By Kelly
Creating a Budget and Sticking To It
One of the best articles I have found about budgeting is by Richard Jenkins on MSN. I have modified my own based off of his approach, but it's a good framework: moneycentral.msn.com (04/25/2006)

By Robert