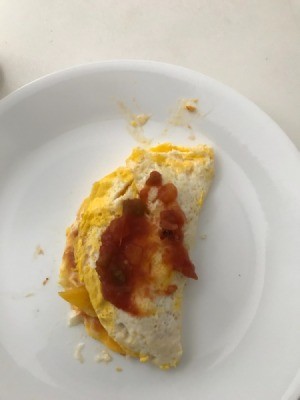 I love omelets, but never made a good one until yesterday. Every time tried to make one, I ended up with scrambled eggs. I belong to a cooking group, and they were talking about the best omelet pans. Apparently the pan is necessary, and I decided I wanted one, but thought the $99 recommended one was too expensive. So, yesterday I was at an estate sale, and I saw an omelet pan, so I bought it.
For the first time in my life, I succeeded in making an omelet. The pictures show asparagus and cheese and a Spanish one with peppers and salsa. I also have a picture of the pan.
Eggs are an inexpensive way to get protein. The omelet will let you be creative and use up all your leftovers. They are quick and easy to make.
You mix up the eggs and add them to a warm pan with melted butter or oil. After a minute or two, add any raw fillings to one half to let them cook. If the fillings are already cooked, wait until the next step.
When the edges look cooked, add any cooked fillings to one side. Lift the other edge with a spatula and fold it over so it looks like a semicircle.
Let it cook about a minute more, and slide it onto a plate.
I paid $2 for my omelet pan. I used to always order omelets when I went to a diner, since I was convinced I could not make them at home. With coffee, the bill came to $10. No more!