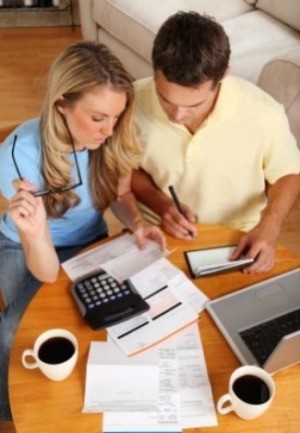 When organizing your household budget, things can get a bit overwhelming. Each purchase usually comes with the belief that you can make payments each month and everything will be fine. While that logic is valid, after five or six payment plans, it starts to fall apart. Add that to the daily lunch habits and other spending patterns and your monthly budget can get out of control.
Have you ever asked yourself, "Where does all my money go?" While the question may be meaningless and asked rhetorically, it might also be serious. Do you know where your money goes? If you can't account for it, try scrapping everything you're doing with your money this month and start over.
Income Awareness
The first step is the creation of income awareness. Tally up your paychecks and any other residual income to create a bottom line for monthly assets. It might help to divide your income into a daily amount to create a more manageable number. If I earn $125 a day and I just spent $150 at the grocery store, I need to spend much less tomorrow to even the playing field.
Prioritize
Subtract from your monthly income the largest, and most important bills first. You must make your house payment, and unless refinancing is an option you can't do anything to get around it. Next, pay your car loans, your student loans, and other important monthly payments. These are your loans, and they have top priority.
Utilities
Utilities are essential, but they can be altered. Evaluate these bills before you subtract them from your monthly income. If one utility is too high, look at the details of the bill and attack those extras with a machete. Do you need the extra channels on your cable? What about the caller ID on your phone? Chop the utility bill so that you can manage it better.
Next are the utilities that are non-essential like cell phones, the internet access, and TiVo. Can you live without any of these? If not, could you live with a smaller plan? Now that you've gotten through your major bills, look at what's left from your monthly income. Are you happy with the amount? This answer might make that cell phone plan with unlimited texting and internet seem a lot less important.
Tally the Dailies
Now comes the portion of your budget that is completely under your control. Whatever you have left for your monthly income is going to drop drastically after this task. Make a tally for the month and write down every penny you spend each day. You'll log gas, groceries, meals, and other expenses. The action alone will actually motivate you to spend less since there is extra work associated with spending. Why stop for that cup of coffee when you'll have to come home and log in the cost? Most importantly, it will create an awareness of where your money is going.
Prepare yourself to feel shock. The list will be extensive, and some of the expenses may seem frivolous once they're actually logged in. The worst feeling will be the one you get when you drop a minus sign in front of your tally. Remember, you're logging in all spending, whether on the credit card or the actual bank account. Don't let yourself get down; you're working to fix your financial health. By opening your eyes to how much you spend a month on lunches or valueless items you'll correct your thinking and your spending.
If you come up negative at the end of one month because of the credit card, you just have to save that much more next month to create not only a positive balance, but to pay off the owed balance from this month. It's the way families were taught to budget decades ago on columned legal pads without online banking that make money into an abstract concept.
Read More

Comments