Diana
Bronze Tip Medal for All Time! 51 Tips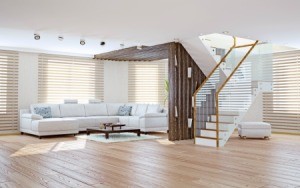 What is the best way to clean Levelor blinds? My small blinds get VERY dusty and the ones in the kitchen are dirty from cooking. I have 38 windows, so need an easy way to get these blinds sparkling clean. I can't go without blinds as I live in a subdivision and have neighbors who could see in.
I love a clean house!
Diana from Prospect, KY
Answers

January 4, 2007
1

found this helpful
Best Answer
I agree with Debbie. I put mine in the bathtub and scrub them with a sponge. I use hot water with a little bit of dish detergent, to cut the grease. I then lay them out on thick towels on the floor with the ceiling fan going and they dry pretty quickly. It's not fun, but it's quicker than doing them slat by slat. I usually do mine only once a year.

January 5, 2007
0

found this helpful
Best Answer
I've always used baby wipes. It takes a little time but well worth it. No spots from water. I only have twelve blinds. So compared to yours mine takes half the time. If you like clean you'll try it. It takes off the dust build up and doesn't leave any heavy residue. I've been using baby wipes for blinds for years. Do a few windows then take five do another. I do this every season. In between I use the hose vacuum for dust.
Jennifer CA
By smokymtns2000 (Guest Post)
June 30, 2008
0

found this helpful
Best Answer
I have Levelor Riverera aluminum mini blinds, they are a hunter green on one side and white on the back side, I have cleaned them in the bathtub before with no problem, but this time, I noticed the finish was dull and chalky ( I only used water) so I called Levelor for a solution to the finish, and here is what the Levelor Rep said " Washing the blinds voids the warranty" and the only solution she offered was to go to Lowes and buy replacements, well that is not a practical solution for me. I bought my blinds 16+ years ago and I had only washed one blind( I am painting so thought it would be a good time to take it down and clean it). Now the paint did not come off but the finish is ruined, so this is what I did to restore the color to my dark Green blinds, I took a metal polish designed for use on cars and used it on my blind and it brought the nice green color back and you can't even tell that it had been ruined, it was time consuming , I had to polish each and every slat, but considering my alternative it was worth it.

June 13, 2010
0

found this helpful
Best Answer
I have a floor steamer that comes apart for hand cleaning. I give them a good blast of steam and wipe with a sock. Works pretty well. According to the Clean ladies on BBC you are never supposed to get the top part with all the clutches and wheels wet.
I also noticed this got the strings really clean, also.

January 4, 2007
0

found this helpful
Hum. if you could take the blinds down and wash in the bathtub. In warm weather you could take them outside and use the hose. Otherwise it is not an easy thing to do. I have blinds all over the house but must admit I don't clean them often.
By Michele (Guest Post)
January 4, 2007
0

found this helpful
My mom washes hers in the bathtub and leaves them to dry outside hanging up. There is a device in a book/magazine that you can put in your shower and it holds the blinds until they dry. I guess you could use it to hold the blinds while you clean them off and then leave to dry.
It is either in the magazine called carol wright or miles kimball...they both have websites, just put the names together and add dot com. Good luck. I hate blinds because they are so difficult to clean...I have room darkening shades, much easier to clean.

January 5, 2007
0

found this helpful
When I had blinds, my husband designed a 'cleaning tube' for me... He took a length of PVC pipe and glued an end cap on one end and we did a screw cap on the end we needed to open.
Simply close your blind (not tight) and put it in the tube. add your cleaner, vinegar with a little dish detergent works well. All you have to do is put the tube on the floor and roll it... Or, you can roll it by hand or even shake. I liked to roll it with my feet while I took breaks and watched TV. When it's done, empty in the tub, sink or yard and rinse. Rinsing is easy if you leave it closed. Stand it on end in your tub until the excess stops running off and they won't drip and hang back in your window to completely dry. Cleaning my blinds was when I got to take breaks. It turned out to be one of my easiest housecleaning tasks... Diane
By Kirby Johnson (Guest Post)
October 2, 2007
0

found this helpful
I tried cleaning mine out in the yard. I hung them on a small stepladder and used Greased Lightning household cleaner. The paint washed off along with the dirt. It turned the whole driveway white, and of course, the blinds were ruined. I called Levelor and got a standard cover your behind answer.
"Oh we recommend wiping soiled surfaces with a soft damp cloth". "You should never wash the blinds." So after the lady parroting the company line for five minutes I gave up.

June 13, 2010
0

found this helpful
I used to hang them on the clothes line & spray them with Scrubbing Bubbles. I'd let them sit a couple minutes & then rinse them off with the hose.
This works on fan grates, lawn furniture & many other things that you think of to clean quickly.

August 29, 2011
0

found this helpful
I put mine in the bathtub with hot water and tide with bleach. Swish them back and forth a dozen times and let the water out. Put in clean water and swish again.
I then stand them on end in a bucket and they dry really fast. just enough water to cover and I do 2 blinds at a time.
Answer

this Question