Where do I buy the special cleaning products to clean Venetian blinds? I'm in Australia.

Cheryl

By Karen Heneghan (Guest Post)
May 1, 2008
0

found this helpful
We all agree, the only way to get really dirty mini blinds clean is to; hang them upright (indoors or outside) where they may be thoroughly washed. Seems easy enough, right? Wrong!
The problem is; where and from what is the consumer suppose to hang the mini blind from?
Answer: MiniMaids® durable, suction-mounted brackets set, securely holds fully extended mini blinds against the firm, flat surface of a shower wall or an outside window, allowing the consumer a convenient, hassle-free way to suspend the mini blind in an area where it may be subjected to a thorough cleaning, including the use of detergent and water, without mess.
Suspend suction-cup bracket set and dirty mini blind from a shower wall or an outside window to be thoroughly washed.
Spray with household bathroom cleaner to melt away dirty build-up on blinds (no need to scrub slats clean, allow cleaning agent to do all the work for you.)
Rinse clean. Wipe dry with clean, absorbent cloth or allow to air dry. Now thats easy!
For product availability email: vsp @MiniMaidsUSA.com or write: VSP, LLC, P.O. Box 661, Mediah, IL 60157-0661.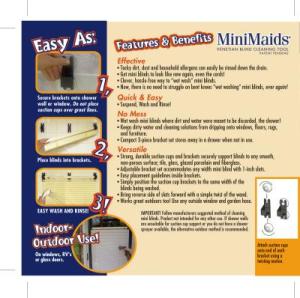 By Ralphy Baby (Guest Post)
August 6, 2008
0

found this helpful
The simplest way to hang blinds over your tub is to get an adjustable, screw type tensioning, shower curtain rod. Buy a new one and use the old one for projects like this. Next, make two individual loops of twine (strong string), each about as big around as a soup can (or as large as you may need for your blinds) and put these onto the rod before installing the rod over the tub. Use your own preference as to how close you may want your blind against the back wall.
Finally, simply lift your blind and place either end of the top, mechanism bar only, into the loops of twine allowing the rest of the blind to hang freely. Wallah ! If you should need any help lifting the blind tell the old man to get off his duff or you'll get Julio, the pool boy to do it for you. Use your own preference as far as cleaning and drying the blind. Use your own preference as far as Julio goes, too.
Just a tip.....let your blind soak in the tub overnight, suspend the blind on the rod in the morning, rinse it off, take your shower, and allow the blind to dry as long as it takes. Personally, I only do one blind per day. Why kill yourself when there's really no need to rush, Ralphy. PS; Just kidding about Julio. Marriage tip: After the old man lifts the blind onto the rod, why not invite him to join you ?