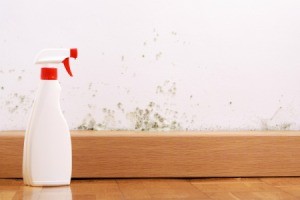 A very easy way to remove mold from the corner of bathtub wall is explained here. Have the Clorox bleach, not the bathroom cleaner, but the laundry bleach, in a small paper cup and pour this on the mold and around the tub corner. Leave it 10 minutes and then rinse the place with water. Then do the regular cleaning with your bathroom cleaner. You will get amazing results.
You can put the bleach in the spray bottles and spray on the shower walls. Then rinse with water. Then do the regular cleaning.
Concentrate on a small area at a time time, because the bleach has a heavy smell. Be careful about getting it on your hands and in your eyes. Do open the door and window.
By chellammal from Alpharetta, GA
Editor's Note:
Use caution as bleach is very toxic, especially in enclosed spaces. Use proper breathing protection and ventilation. Here is some information from the EPA regarding bleach used for mold cleanup:
If you choose to use disinfectants or biocides, always ventilate the area and exhaust the air to the outdoors. Never mix chlorine bleach solution with other cleaning solutions or detergents that contain ammonia because toxic fumes could be produced.
Comments
Read More

Comments