Is there any way to get rid of a bleach stain out of an orange countertop?

Answers
By counter dilemma (Guest Post)
April 10, 2007
0

found this helpful
I need some good advice on how to remove a white stain from my dark green countertop. I've tried vinegar, Oxy-Clean, Household Cleaner, and even Rubbing Alcohol to get it out. I'm not sure what caused it, but looks like the base of a tumbler that kids use when brushing their teeth. Not sure if it is stained from toothpaste or soap, bleach or what?
It's very obvious, except when it's wet, seems to disappear and there is not obvious sign of a stain until the area dries. When wet, the grain and design of the countertop are not damaged, but the 1/2 moon stain will gradually reappear as it dries.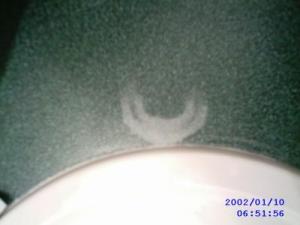 By illiaccrest (Guest Post)
July 25, 2007
1

found this helpful
Use liquid silver polish, tarn-x. Will take it out in seconds.
The only way I sometimes get dye out of my countertops (I dye fabric) is to bleach it, then take out the bleach stains with the tarn-x.
By RichardB (Guest Post)
September 27, 2007
1

found this helpful
Thanks illiaccrest, TarnX did the job. I had tried most other tricks without success.
And I had a big stain on white formica.( It took all of five minutes!)
By Jenye (Guest Post)
November 3, 2007
0

found this helpful
Do not use bleach on your white counter tops. They leave horrific yellow stains. I tried shout and lemon juice and the stains aren't as yellow, but they are still.
I am going to try Tarnex next.
By Elizabeth (Guest Post)
November 4, 2007
0

found this helpful
Hi, I have yellow stains on my white countertop that were caused by a soap dish that I bought from target. I have tried many things to get rid of them, but nothing is working, can anyone help me? I would really appreciate it!
By Bill W. (Guest Post)
December 15, 2008
0

found this helpful
I have a fountainhead molded counter top that has been stained by tea. How can I get the stains out? I have tried comet with bleach and other cleaners without success. Is there a protective coating I can apply once I get it clean. I need help. Thanks bwright @ Abilene.com
By Joyce (Guest Post)
January 29, 2009
0

found this helpful
My white Corian counter has yellowed over time. How can I bring it back to white? I can't afford a new counter and am getting my house ready for this awful market.
By Pinky (Guest Post)
February 25, 2009
0

found this helpful
I don't know of anything for bleach stains. But for coffee, tea, kool-aid, jello, and I-don't-know-what-in-the-world-this-is stains, I've successfully used a paste of baking soda. If mild rubbing doesn't remove it, I'll cover the paste with a wet cloth and leave it until the frustration of failure leaves me -- sometimes overnight (lol).
It hasn't failed me yet for the types of stains I've been subjected to. Good luck.

April 24, 2009
0

found this helpful
I have a solution for the yellow discoloration left by bleach products on formica countertops. Try Silver Jewelry Cleaner. This will remove he yellow discoloration in seconds. I used the liquid stuff with the little basket inside the jar for the jewlery. It can be found at most stores with jewelry counters. I have purchased it at Walmart and Bed Bath & Beyond ($4.99) The brand that I use is Connoisseurs Revitalizing Silver Jewelry Cleaner. Just wet a cloth and rub it on the countertop. The discoloration will disappear in seconds. I have white formica countertops and have also experienced the same yellow discoloration with the use of bleach products. This really works.

July 14, 2009
0

found this helpful
Thanks so much for that information about the silver cleaner. I went to wal-mart right away and could not believe how well it worked. Thanks so much for sharing!

April 8, 2013
0

found this helpful
Thanks, I used Tarnx and it worked great.

May 1, 2013
0

found this helpful
I have a white patterned formica counter top that I've used bleach on many times to get a coffee stain, kool aid stain, etc, and it worked fine with no bleach stains. However, I had a recent issue when I was soaking something in bleach water, and the water somehow leaked on to the counter, then leaving a yellowish stain.
Going to try the Tarnx today. I'll post my results!

May 1, 2013
0

found this helpful
Used the connoisseurs silver cleaner, and it took it right off within seconds! Thanks for the tip!

June 28, 2017
0

found this helpful
After trying multiple ways to remove countertop yellowing from bleach, I found that Connoisseur Jewelry cleaner did the trick. It took two or three applications but the yellow is gone!
Read More

Answers

I just ruined my white counter tops with Westley's bleach white! Nothing works, there are mustard yellow stains everywhere? Please help.
By JEFF from Frisco, TX

Answers

May 13, 2009
0

found this helpful
I would try to clean it all with regular comet cleanser, Good luck!

Elaine
Bronze Post Medal for All Time! 172 Posts
May 21, 2009
0

found this helpful
You might try a cleaner like "Dawn Power Dissolver" or a cheaper alternative and just as effective is a product you can buy at Dollar General and it is called "Awesome". I paid $1 for it at my Dollar General.
A jar of pickled beets got tipped in my frig and the juice stained the white plastic parts of my frig. It took it right off where other products did not.

May 22, 2009
0

found this helpful
Try something called "Bar keepers Friend". I have used it numerous times to get stains out of my white formica countertops, and it works great. You may have to make a "paste" with some water and let it set on the stain for a while, depending on how long the stain has been there. I have great success with this product, works well on sinks too. It is in the isle close to the Comet in your grocery store.

July 22, 2009
0

found this helpful
I freaked out when my I noticed the countertops in my brand-new apartment had turned a disgusting yellow. I could not figure out what it was. I used bleach over and over again...not realizing that it was the bleach that was creating the problem. I have always used Clorox clean-up and had never had a problem in the past.
I googled the problem looking for a solution and found this website. Thank God! One of the users suggested Tarnex and it worked in 30 seconds or less. I was blown away that the suggestion actually worked. I was prepared for disappointment. It worked fabulously.
Read More

Answers