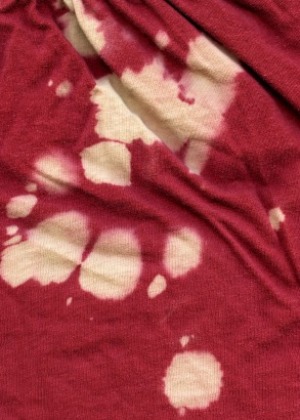 i need help. Every once in a while (more lately) when I do a colored load of wash clothes will come out with what looks to be a bleach stain on them. I have already lost a few shirts and some nice pants and I cant figure out whats doing it. I very rarely use bleach and I know I didnt spill it. I seperate the clothes and follow the lables. I am sick of losing nice clothes. It will only happen to one or two things a load and not every time I do wash. Anyone have any ideas what it could be?? Thanks for the help,
Missy in PA
Answers
May 26, 2004
1

found this helpful
Missy,
This same thing has happened to me. But alas I found out what was causing it. Fabric softener, that you would pour into a dispensor cup ontop of the agaitoter. (WOW what a spellor). If just one drop goes into the wash cycle, it finds you nicest clothes. And then you already know what happens.
Once I stopped fabic softening this way and went to the sheets. No problems, so if this is what you are doing, My advice is get the sheet, not the liquid. And it worked for me.
bobo42
By Gardencraft (Guest Post)
May 26, 2004
0

found this helpful
What type of detergent are you using? Are you pouring it over the already loaded washer? The same thing was happening to my sons clothes and we found it was the liquid detergent "working" before the washer had filled with water, even a worse problem when the detergent contains "brightners or bleach." It was causing bleached stains and streaks. We now put the detergent in first and rinse down the tub with a cup or two or water BEFORE we load the clothes in. Problem solved.
By (Guest Post)
May 26, 2004
1

found this helpful
Yeah, I learned the hard way to always add the soap to the water before putting clothes in. You have to dilute a lot of these laundry detergents before they make contact with your clothes. Especially if you are a bargain hunter and change detergents from time to time when you find a deal.
I had problems with liquid detergent staining clothing and powdered detergent sticking to clothing and not getting rinsed off. Sometimes when you dry clothing without seeing the stuck-on powdered detergent it will set a stain or discoloration on clothing. At best those clothes need to be re-washed. So, I always let the water run for a while, add the soap, then add the clothes and I haven't had a problem since.
The fabric softener may also be the problem.
By Julie . (Guest Post)
May 27, 2004
0

found this helpful
One thing I have been doing for years has saved my clothes and made my washer work better and longer.
Once a week pour 2 cups of household vinegar over your adjitator to clean off all the resedue left by soaps and powdered bleach. Run some old white towels through a short wash without soap. They will come out whiter and cleaner then before but your machine will be clean also. It is a good idea to run vinegar through once and a while by it's self. If I get a real build up I use a entire gallon.
To prevent problems in the future- dissolve your detergent in an old cut off bleach bottle. Rinse one out. Fill half full with warm or hot water, depending on what you are washing and stir after pouring detergent in. let stand while you fill the drum with clothes and water. Don't add soapy liquid until the washer is almost full. Even adding detergent first doesn't always work. Try it
By Linda (Guest Post)
May 28, 2004
0

found this helpful
I always put the detergent in first when I do wash. I pour it (powder) right where the water hits when it fills. Start the water. Then I go get the hamper and start to put in the clothes. By then there are a couple of inches of water in the tub and deterg. is mostly dissoved.
By judy (Guest Post)
May 28, 2004
0

found this helpful
I had noticed some grime on the agitator but it did not wipe off easily. Today, I used the magic eraser and it worked like a charm. All that grime is gone. I then filled the washing machine and let it go one cycle to wash away the dirt.
By (Guest Post)
May 29, 2004
0

found this helpful
This is happening to us too, but never with our old Kenmore machine. We moved and bought a GE from Sam's Club. I think what's happening is that most bleachable loads are smaller than dark clothing loads so, when you add soap and bleach to the tub to do a small whites load, the fill stream splashes concentrated bleach/soap drops higher up on the tub and/or agitator sides than the eventual water level reaches during the whites cycle. These concentrated droplets of bleach solution remain there for your next dark load which is usually bigger, so you pile in the clothes, they contact the bleach droplet and voila-a white spot!
Two solutions for this:
1. Make your whites load the last of the day so the tub dries out completely-dry bleach won't enter the fabric like liquid does, and
2. Let the tub fill with water about half way before GENTLY pouring the bleach in. Pour it in on the front side of the tub opposite the water stream. Then, let the agitator do a couple of rotations to mix before adding the whites. No more bleach stains on the dark stuff.
The Kenmore had a bleach-add cup on the top of the tub area that let the bleach in on the outside of the perforated tub so we never had the problem until now. Hope this helps!
By (Guest Post)
July 9, 2005
0

found this helpful
don't use deoderant that is a clear stick. I had some and it got a white "bleach looking"stain on one of my good light blue tee shirts. I know it was the deoderant because the stain was only under the arms. I retested it by putting the deoderant all over the shirt and rewashed it. Sure enough, there was white marks everywhere I put the deoderant.
By Karen (Guest Post)
November 20, 2005
0

found this helpful
i had a lovely pair of khaki combat trousers which have been ruined by bleach. there are a few purple drops all down the front of them as a result of the bleach in the mop bucket. i am devestated as i loved them. any tips as to how i could go about repairing these combats. they are my favourite. karen xoxo
Read More

Answers
Can someone help a dumb bachelor? I only use bleach when doing whites in a separate load. I notice periodically a small white bleach stain on an item in later loads of shirts and pants. This obviously ruins the item, and is driving me crazy. This has been happening for years, which leads me to believe I'm doing something wrong. And I don't think it's just me, because I'm starting to notice it on others clothes as well. Can someone help. Thanks.
Larry from Clearwater, FL
Answers
By barb (Guest Post)
April 14, 2008
0

found this helpful
Same problem! I have decided my current washing machine does not fill enough on the rinse cycle. Therefore it does not wash out the fabric softener or the soap residue. I'm on the verge of getting a different washing machine. I've tried less soap, less fabric softener, no fabric softener - no help. What seems to help the problem is doing a third rinse.
Fischer/Paykel is currently being informed of the problems.
Read More

Answers
I live in a dorm at school, none of the kids are supposed to use bleach, but of course they do. I've been the lucky person to put clothes in after they are done and have had 3 very nice shirts with bleach stains. How can i prevent this? I don't have the time/money to run just a load before I put my clothes in. Any suggestions?
Kevin from Philly, PA
Answers
By (Guest Post)
December 10, 2006
0

found this helpful
it's worth the money (what a $1 or $2) to run a load ahead of you rather than ruining shirts that cost what -- at least $40 total (ok I guessed at the amount but you get the idea).
Use the extra 20 minutes to study :)
By Grandma Margie. (Guest Post)
December 10, 2006
0

found this helpful
Do your whites in the machine first. If there is any residual bleach in the machine it won't hurt anything. Then you can feel safe washing darker clothes the next load.
By Gib (Guest Post)
December 14, 2006
0

found this helpful
Thanks! My girlfriend set her jeans down on my laundry for a sec and it had bleach on it! I had distracted her with something else and she went back to find 5 bleach spots on her designer jeans! So we are gonna order those Marvy Fabric Pens and everything is ok! Thanks!
By nate (Guest Post)
May 31, 2007
0

found this helpful
to prevent bleach stains is simple... dont use bleach. there are many effective non-bleach alternatives out there without the risk of permanently ruining clothes
By carole Chavez (Guest Post)
April 12, 2008
0

found this helpful
Bleach spots on dark clothes. I have not used bleach in my washer for at least 6 loads and I am still getting bleach spots on my dark clothes. Can this problem be fixed?
Read More

Answers
I am getting bleach stains randomly on clothes in the washer when no bleach was used. Please post other possible solutions you may know of. I've tried with no success. It drives me crazy! I do all my daughter's laundry and have used bleach so I guess I'm going to never use that dispenser again. It is a front loading machine. I was thinking I would pour very hot water down the bleach dispenser a couple of times, then run the machine empty with detergent. What do you think? The other things, I can try?
By Sherry Berard
Read More

Answers
My daughter has a problem with her laundry. She randomly gets bleach stains on her wash. She has stopped using any bleach and fabric softener and it still happens. Does anyone have any ideas what might cause it. It doesn't seem that the machine would hold bleach for months. Very strange.
Thanks for your help,
Sally from South Berwick, ME
Read More

Answers