My daughter has a problem with her laundry. She randomly gets bleach stains on her wash. She has stopped using any bleach and fabric softener and it still happens. Does anyone have any ideas what might cause it? It doesn't seem that the machine would hold bleach for months. Very strange.

Thanks for your help,
Sally from South Berwick, ME

Answers:
Random Bleach Stains on Laundry
Had this trouble with several of my face cloths. Dark colors ended up with light blotches on them. Turns out it was from skin cream with a hydrogen peroxide type of chemical in it. Put the facecloth in the hamper once and apparently it even transferred onto a blouse as it ended up with a lighter blotch on it, too. (03/20/2006)

By Tracy
Random Bleach Stains on Laundry
Is she cleaning with anything containing bleach? One time I cleaned my stove with Soft Scrub and it had bleach in it, and when I threw it in with my clothes it bleached them.
A lot of items have chemicals in them that can bleach clothing, maybe she can watch what chemicals she uses (if any) and pin-
point the problem.
Good luck! (03/21/2006)

By Katie
Random Bleach Stains on Laundry
My daughter had this problem (still does). I figure it's the face creams or perfumes she uses. The stains are mostly up around the neck area on shirts, and on pillow cases, and the tops of her sheets. (03/21/2006)

By leslie
Random Bleach Stains on Laundry
Occasionally this has happened to me. I have found that this blotching can occur when laundry soap goes directly on the clothing versus putting the water and soap in before any clothing. Also, some detergents have a "whitener" in them that can cause blotches when put directly on the clothing. (03/22/2006)

By Sheri
Random Bleach Stains on Laundry
This sometimes happens with my daughter's tees, I'm beginning to think it could be from one of her many hair styling products. (03/22/2006)

By yankeesgryl
Random Bleach Stains on Laundry
I am the daughter! So I stopped using fabric softener and switched to All Free, no dyes or perfumes. Also I started wearing gloves when I clean. I am happy to report that no stains for 3 months or more! (04/03/2007)

By
Random Bleach Stains on Laundry
I heard from my neighbor the other day that some newer washers that have a dispenser for the bleach. Some of them do not completely empty out so they can be dripping bleach onto the next loads. If you use a bleach dispenser or have this type of washer, it's a possibility. Run only water through your bleach dispenser for a load or two and see if it makes a difference. (06/10/2007)

By ThriftyFun
Random Bleach Stains on Laundry
So I only use All Free and Clear, no fabric softener and I clean in one outfit. I am happy to report that almost 6 months have gone by and no more random bleach stains, Woo hoo! (07/23/2007)

By Barbara
Random Bleach Stains on Laundry
We too had the same mystery. Finally I realized it was not only our son's acne wash, but also the Scrubbie Bubbles used to clean tubs and our jacuzzi. Now I leave a special laundry container for these items and the problem has gone bye bye! (12/11/2007)

By Mary
Random Bleach Stains on Laundry
I have this very same problem. It's sending me mad. It started first with our towels, my husband and I had nice brown towels, and they all started to get random orangey bleach marks. Then, it was the hand towels, face towels and even my pillowcase and the top of my sheets. I have since noticed some spots on our carpet in our bedroom (in front of our mirror) and on some of our clothing. I went and stayed at my mum's house one night and she rang me up the next day to tell me that I had bleached her towels too!
Having read what everyone has posted, I am convinced it has something to do with me using Clearasil cream and/or a few face washes. I thought maybe it was Johnson's Holiday skin, but other people I know use it and they don't have any problems. I too don't use bleach products around the house and hadn't really started using any new products, except for Clearasil. I think this could be it for me. The Clearasil is going in the bin. It's wrecked too many of our nice towel sets. (02/18/2008)

By Abby
Random Bleach Stains on Laundry
I think it could also be from toothpaste. When you wipe your mouth of toothpaste on the towel and then it sits there until you clean the towel. (02/23/2008)

By Melanie
Random Bleach Stains on Laundry
Had the same exact problem and just figured out for sure what it is. The cleaning spray I use in my apartment has bleach in it. So, I could have been getting the spray directly on my clothes while cleaning and secondly (definitely more likely) is after I clean I throw the rag I used into the hamper with my clothes! As a test I just sprayed some of the cleaner onto an old black sock, sure enough, it was instantly covered with the orange stain. I feel like a complete idiot now, but at least I know how to put an end to this. (02/28/2008)

By Jeff
Random Bleach Stains on Laundry
I always use the same creams, detergents, etc., but my husband found a large bleach-like stain on my tan pillowcase the other morning. The only thing that has changed is that I had inpatient surgery and was medicated. That night I experienced night sweats partially due to a heating pad I was using. My thoughts were leaning more towards the ingredients in the body/shampoo wash that the hospital provided. (03/15/2008)

By Jennifer
Random Bleach Stains on Laundry
While having lunch with a coworker she mentioned that her dermatologist told her to keep the prescription face cream away from color clothes like towels and pillow cases. I have been having that problem the the towels in the girls' bathroom only. Now I know. There is Proactiv in there and prescription cream. (06/27/2008)

By Noemi
Random Bleach Stains on Laundry
My goodness. Finally, after years of random, bleached out spots on towels. I Googled the problem, generally it is liquid soaps of any kind. I recently visited a friend's home and found the towel I had used the night before after washing my face was "bleached" out in spots. Since the towel wasn't washed in my home, we looked at what I had used. Simple liquid soap we all buy for the convenience and use in lieu of bar soap. To test our theory we put it on a new towel and washed it. Produced the white bleach spots. I have gotten rid of all liquid soaps and with them went the problem. (07/17/2008)

By Rosemary
Random Bleach Stains on Laundry
Same problem here! I'm almost positive my last episode of bleached towels came from my hand soap "Method" located in the bathroom. Don't wash your hands with that stuff and dry your hands on a nice towel. That's the only thing that it could be. (08/11/2008)

By Ashley
Random Bleach Stains on Laundry
So here it is, and I can say this with certainty:
For years I have gotten those random bleach stains. After finding this post, I did some experiments. Here's the findings:

Laundry Detergent: Yes, this can cause the stains. If you have a detergent with "color safe bleach" or a "whitener", be sure to shake the liquid before using, as you can get a concentration of the whitener in a cap of soap. You can also add the clothes AFTER you fill the washer with water and detergent, to dilute the soap issue. If you use powder detergent, I highly recommend the latter.

Acne medication: Absolutely the highest risk, however I think there should be an addendum to this statement (mention it below): Almost all the acne cleansers that are "not" salicylic acid will cause the problem. Proactiv and Clean and Clear are notorious. The experiment I did to test the theory was as follows:

I used Clean and Clear in the shower, then made certain (on an older towel) to dry my face only in one particular area of the towel. Sure enough, that area proved to have stains upon drying. To further test this, I asked a roommate to use his acne product under the same circumstances (area of towel), and the results, not surprisingly were the same (his Proactiv actually seemed to make the stains worse).

Now, what about that addendum I mentioned earlier? Be wary of antibacterial agents in your soaps. Hand soaps with many antibacterial agents seem to cause the same result. Same experiment as above was done to come to this conclusion. My example comes, like a previous person mentioned, from the "Method" brand foaming hand soap from Target.

I feel that the producers of these products should be held liable for the damages caused, as no warnings, written nor implied, are ever given.

I hope this helps people avoid the problem. Do what you can in your own mode of living to accommodate these issues. In talking to my doctor, he actually said that the whole "antibacterial" agents in hand soap are a sham. Soap, in it's most basic form is anti-bacterial by nature. I have switched my handsoap to a nice smelling diluted mixture of dish soap (Palmolive is great on the hands) and water. It's worked great, and no more stained hand towels. I switched acne cleansers to ones which use salicylic acid as the active ingredient, and I always dilute my laundry detergent now, in addition to agitating the bottle to make certain any whitening and brightening agents are mixed well before use. Since those implementations, no problems. (10/12/2008)

By Jason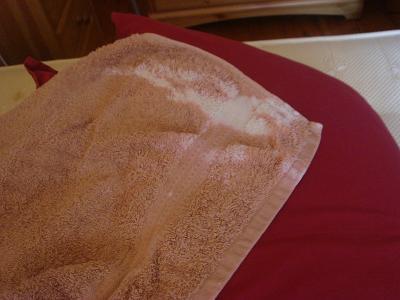 Random Bleach Stains on Laundry
The one common denominator is the fabrics, which I think is the problem. Whether towels or clothing, it never used to be a problem, so what is different now? I think it's the overseas manufacturing processes and dyes. My aunt died 2 years ago and I got a beautiful set of rose colored decorated towel, washcloth, and handtowels. I use the same products on my skin that I use on my Ralph Lauren towels from Kohl's and the color stays true with no spots on the old set, while the newer ones are ruined. The towels, while put away and not previously used, were made in the USA in 1987, while the Lauren and others I've had with similar spots were made in India and other overseas countries. I've always had oily skin and used benzoyl peroxide, astringents, and Retin-A for years also, liquid hand soaps and whitening toothpaste. It's only been in the last several years the problem has shown up. The same is true for pillowcases, old versus new. I've also had problems with sunscreen I use on my neck turning my collars yellow. I think the alcohol in that and colognes is the reason. These things never used to happen to me. I really think it's all the overseas, cheap labor products. (08/11/2009)

By kathy
Random Bleach Stains on Laundry
My sister who is the authority for all my questions said it's certain dyes that react to acidic oily skin, that bleach it that pinky orange color, seen mostly on blues, browns, and khaki. I once stood in acid rain in London in a khaki top and the raindrops turned my top into orange polka dots. Now I know there is nothing that can be done if the dyes are not set by a process which is why your old towels are fine and the new ones made overseas aren't. They obviously don't use the needed process anymore. My blues ones are all ruined and my green ones are fine. Anyone know if something can be added to the first washing that would set these dyes properly so it wouldn't happen later? (06/01/2010)

By Lolly
Random Bleach Stains on Laundry
I have to agree with the folks that concluded the dyes in newer towels (almost invariably made overseas) are inherently unstable. I experimented with brand new hand towels that had never been washed, and was able to produce the bleach stain problem within a couple of days. It never happens on the towels I bought 15 to 20 years ago (yes, I still have some of those.) :-)
I don't use any medications containing benzoyl peroxide. I do use daily sun screens, and I think the sunscreen left on my hands may be the culprit, as I've seen the same problem with sunscreen bleaching some of my less expensive (made overseas) cotton tops.
Bottom line: the dyes used in towels are no longer stable. I may give up and simply start buying white towels. Discouraging. (06/26/2010)

By DeeDee