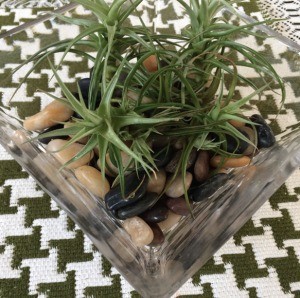 If you do not have any luck with keeping plants alive or you do not have the time to maintain indoor plants, and want some green in your office, or home - an air plant will be ideal for you!
Ideally, air plants only need to be watered once a week. Dip your air plants into water for about 10 minutes and allow the plants to dry before putting the air plant back into its environment. In my case, I like to display my air plants on top of rocks in a glass square vase. Or, you can mist the plant once in a while, if needed.
Honestly, I only dip my air plants once every other week and when I remember, I will mist. So far, still green and looks beautifully displayed.