How to Make Crochet Yarn Pumpkins
Solutions
Share on ThriftyFunThis page contains the following solutions. Have something to add? Please share your solution!

Today I did two pumpkin crafts from yarn that were fun and are very easy. For one, you don't even need to know how to crochet.

Total Time: 45 Minutes
Yield: 2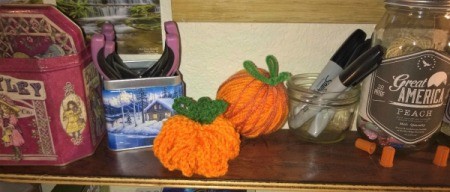 Supplies:
2 oz orange yarn
size I hook
scrap green and burnt orange yarn
scissors
hot glue or straight pin
1 chenille stem
Steps:
For the fist one, make 10 yards of chain. Break off.
Roll the chain around your four fingers. Lay down on the table with a scrap yarn length about 6" long. Cinch up the scrap and tie tight. Work in the tails and trim.
With your green yarn, chain 10 and slip stitch into first chain. Repeat this. Then, chain 6 and make a single, then half double, double, half double and single in the last five chains. Slip stitch into the original chain one and use the ties to tie to the pumpkin.

Fluff out the chains to look like your pumpkin and you are set!
For the second one, grab some foil in the kitchen, or an old tennis ball or wadded up paper sack. Shape it into a ball for a "core". Can you see the difference in the regular ball and the one rolled over the "core"?
Wrap the yarn around the ball and when it's not showing any of the core, break off and work in, glue, or pin. Decorate with some burnt orange yarn if you choose, just to accent it a bit.
With your chenille stem, make two leaf shapes and glue into the top or bottom of the wrap (so the yarn direction is vertical). N-JOY!!
If you have some time, yarn, and a hook you can make this tiny, medium, or larger crocheted pumpkin. I have seen similar ones, but they were a bit complicated so I made this simpler.
Total Time: 1 hour
Yield: 1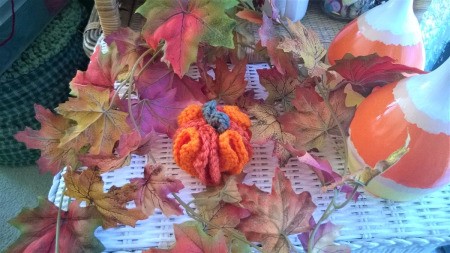 Supplies:
.25 oz orange yarn
.25 oz burnt orange yarn
.10 oz olive green yarn
size I hook
scissors
darning needle
Steps:
With one of the orange colors, chain 2 and make 11 singles in first chain. Do not use the chain 2 as your first single. I find when making singles, it tends to ruffle so I decrease it from 12 down to 11 and it makes a lot of difference. Keep in mind you don't have to have two colors, I just like the way it looked.
Join and chain 1. Make two singles in each from the first row for 22. Join and make 1 in first stitch and 2 in the next around for 33. Join and work in your tails.
Make 3 of each circle and work in all the tails. With your needle, thread some yarn doubled and catch the stitches on the sides of each center hole. Do this staggering your colors till they are all ready to gather.
NOTE: I found that where I joined the circles was a bit noticeable. This can't be hidden. If you want, make sure they are all on the front and then tie a tiny ribbon or yarn scrap between that one and the one next to it.
When they are all threaded, just gather the yarn slightly then a bit tighter. If you do it too tight, it will pucker. Tie the and work in the tails inside the center.
For the stem, chain 16 and join. Then chain 6 and make a single in the 5th stitch, a half-double in the next 2, then a single and join in the base of the stem. Leave a good 6" tail so you can weave them both down the center. Attach loosely to the bottom, making sure you don't draw up one of the orange circles.
To make a larger one, simply increase the rows on each circle to 6 for a medium or 9-11 for a larger one. If your work becomes a bit "loose" then I would simply make 2 extra circles to make the work thicker. N-JOY!
Crochet circles are sewn together to make this simple, cute pumpkin. You can make it in varying sizes. The instructions and photos necessary to a work up this crochet circle pumpkin follow.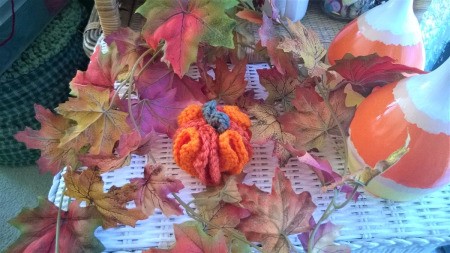 Categories
Pages
More
Categories