How to Make Handprint Winter Cardinals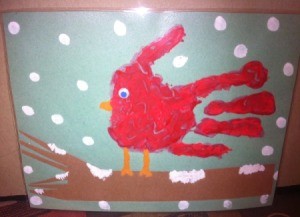 All birds are beautiful, whether it be from their colors, melodic sounds, or graceful flight. But I find the male cardinals breathtaking, especially during a snowy winter. They don't molt and therefore retain that vivid and eye-catching red plumage all year long. If you are teaching children about cardinals, this craft is the perfect choice to incorporate into the lesson. You only need a few items to create a striking winter scene. This craft would also be great to do after reading, "Lewis Cardinal's First Winter", by Amy Crane Johnson.

Total Time: 20 minutes to make and several hours to dry
Yield: 2 scenes
Supplies:
fingerpaint (red, white, and orange)
3 sheets construction paper (black, light blue, and brown)
permanent markers- optional (orange & black)
1-3 paint brushes
scissors
3 wiggle eyes
laminator with sheets (optional)
hot glue gun with stick
Optional: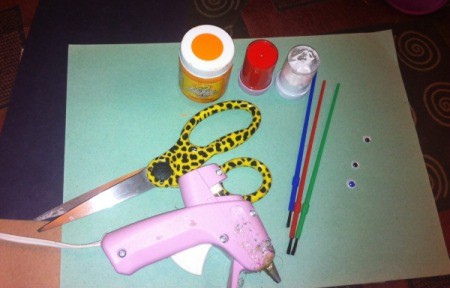 Related Product:

Steps:
Cut out a tree branch from brown construction paper. The length of your branch will depend on whether you want your winter scene set horizontally or vertically. Just make a branch long enough to cover from one side to the other. Glue the branch onto the blue paper, an inch from the bottom.

Cover your hand with red poster paint, including all fingers and the palm. Place your handprint at least an inch above the branch, horizontally with your thumb facing upward. You can fill in any holes with a brush or your finger tip. Also use a paint brush and orange paint to add the beak and legs.

Add snow sporadically along the tree branch with a paint brush. Add falling snow with your index finger.

After the paint dries, Use a small dot of hot glue to add one eye to the side profile. I laminated mine first and then glued on the eye.

Here is an example of a front facing cardinal. A child's hand works out a lot better, but you get the idea. Place you palm, fingers down, over the branch. Then cut out a black triangle for the face. Add two wiggle eyes and a beak from orange construction paper.
Published by ThriftyFun.
© 1997-2023 by Cumuli, Inc. All Rights Reserved.
https://www.thriftyfun.com/How-to-Make-Handprint-Winter-Cardinals.html