By Shauna Smith Duty
Can't afford designer jewelry? Want to have trendy accessories that your friends will compliment? Give new life to your broken necklaces, matchless earrings, and miscellaneous charms and beads from the bottom of your jewelry box. Recycled jewelry can make great accessories for personal use or gift giving. The one-of-a-kind creations you make will become treasured works of art.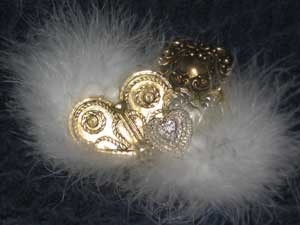 What you'll need:

Unwanted Jewelry and Beads
Large Safety Pins or Pin Backs from the Craft Store
Hot Glue
Lace, Feathers, Ribbon, and Trim Scraps
Cardboard or Foam for Backing (cut into shapes approx. 2" in diameter)
Needle Nosed Pliers
With needle nosed pliers, disassemble all of your scrap jewelry pieces. Spread the pieces on a cloth for easy access. Decide which beads and charms compliment each other, and group them into piles. The sample brooch features a collection of heart shaped charms. On cardboard backing, arrange the pieces so that none of the cardboard shows. Use a hot glue gun to adhere the pieces to the cardboard and to one another. Overlap some pieces and have fun with varying arrangements. They can be glued into shapes, such as half moons, crescents, squares, circles, or lines.

A colorful bead or charm will add zest to your brooch. Add ribbon and lace scraps to the piece for more personality. A few feathers poking upward or fur trim along the edges will make your design scream "original".
On the back of your brooch, hot glue either the permanently closed arm of a large safety pin or a pin back from the craft store. Don't forget to sign the cardboard backing. Your creation is a work of art!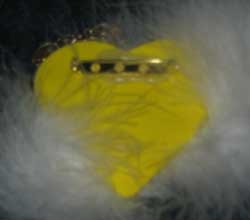 About The Author: Shauna Smith Duty is a freelance writer with a panache for writing family and parenting articles. She composes articles for both print and web publications, reviews children's books and movies, writes short plays, and provides editing services. Visit her online at http://www.shaunasmithduty.com
Answers:
Recycled Jewelry Brooch
This is a great idea, I have a lot of broken jewelry. thanks (07/25/2005)

By Teresa P.
Recycled Jewelry Brooch
One time when I was shopping in a thrift store, I overheard a gal ask the cashier if they had any "old jewelry", then she asked if they sold any "broken jewelry". I couldn't help but ask, what she was going to do with broken jewelry. She replied that she makes jewelry and that she's always looking for bits and parts of other's jewelry to accentuate her pieces. It never hurts to ask. (12/31/2005)

By badwater