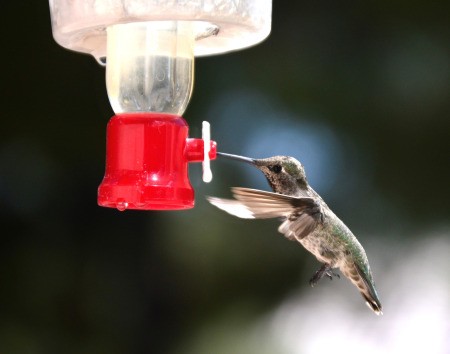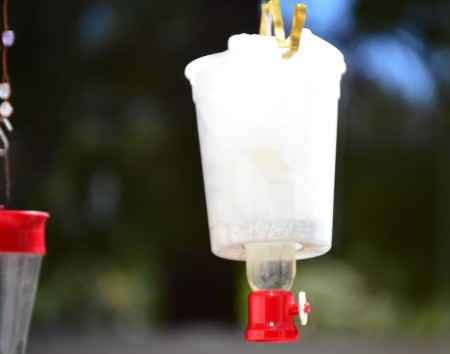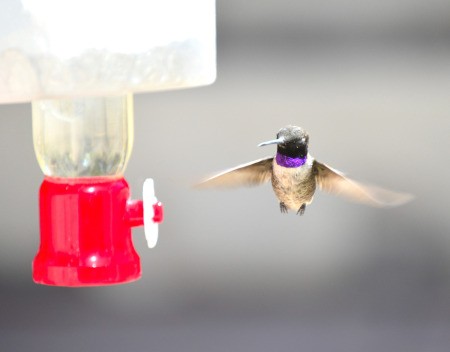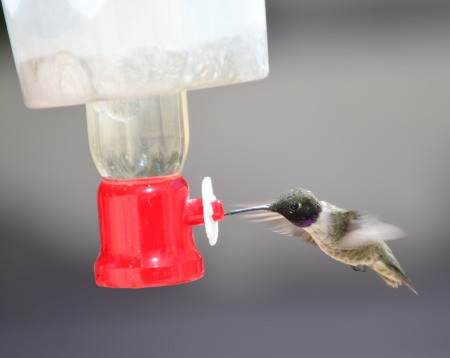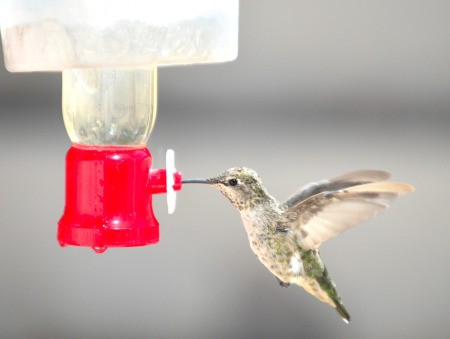 Photo Description
A few years ago when I was changing one of the feeders, I emptied it out to put in fresh sugar water/nectar, and the sugar water was *scalding hot* from the triple digit summer's heat.
So now each summer, I have a plastic container that I'd cut a hole out of the bottom so their smallest feeder will slide into it, and then I ice the surrounding area inside of the container.
Now they have chilled nectar :)
I put a small amount of foil in the bottom of the container because the hole in the bottom I'd cut out was a bit too large, and that helps support the ice from falling out.
With this particular feeder the juice stays nice and chilled for the hummingbirds. Initially I didn't know if they'd even like (nectar on ice) in this summer heat, but they DO! :)
They go nuts over this one feeder, all of the other feeders are within a couple of feet of each other so I was able to see if they kept going back to it or not, and they do prefer their juice chilled.
The ice cubes actually last about 3-4 hrs in full sun too! When it melts, I just put more ice cubes in the container.
Little Tuxie, we call him, is in the third and fourth picture, he's the one with the purple "bow tie" as we say. He's the Black Chinned Hummingbird that flies to south America each year at the end of September and returns about 6 months later. I can see in the picture when it's enlarged, he's got some tiny white spots on his little black feathered face, which tells me he's been fighting and lost a few tiny black feathers or he's getting a few greys, hehehe.
The first picture is a young/juvenile male Ruby Throat Hummingbird, I think/he appears to be.
The last pic, this little sweetness is new to the pack here, we call her Freckles, and we know she's happy like the others because she's been here daily now for over a week and she too loves the "nectar on ice".
Photo Location
In our backyard, Las Vegas NV.

July 24, 2019
1

found this helpful
Thanks, I'm glad I did this because initially I didn't know how important it was to them, but to see them "prefer" the cold drink, helps me know I did the right thing by them.
Those glass and plastic feeders heat up something awful during the summer heat.