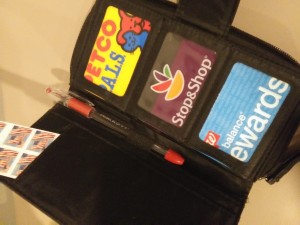 I have a two-fold idea for old wallets (you see so many at the garage sale tables) and old cards that you no longer use - (you know, the grocery store cards, etc.?)
You can use the old store cards that you no longer use to "break in" your new wallets. Sometimes the slots they give you in new wallets are so tight. If you put the plastic cards in them and let them sit a little, you have slots with more give. Almost like shoe horns!
Also, old wallets and cardholders can do just that. Hold cards and business cards that you want to keep, but don't carry around anymore. So, you can use them for storage/filing.
It depends. You can just have fun with them. If they're not old and broken they are useful.
Also, I always have different purses that need different size wallets and colors. :)
Just something to think about for fun!