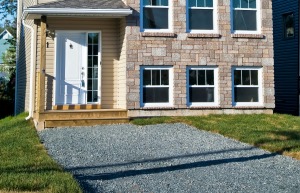 I live in a mobilehome park and the owners don't want us to have asphalt driveways for plumbing reasons.
Does anyone have an idea what I could use that isn't expensive to put down? Right now there are ruts and mud holes.
By Lorraine S.
Answers

Suntydt
Bronze Feedback Medal for All Time! 109 Feedbacks
January 18, 2013
0

found this helpful
There is a stone you can put down that make a good driveway base. I can't think of what they call it but if you ask at a quarry or maybe even a Lowes or Home Depot. It pacts down when it gets wet and kind of hardens but can still be broken up with a shovel if needed.

January 20, 2013
0

found this helpful
The obvious is to use the pavement grade gravel. It is a type of crushed gravel that is utilized instead of pavement. I had it put down once. Any quarry would know which one it is! It is permeable. It packs down very well to fill your ruts. It's the next best thing to pavement. If you want to do something "green", you would dig out your driveway, add a layer of sand, then put in chunks of 6" paving wood.
It's like brick, but round, 6" or so in diameter. These are also permeable. Hard on high heels. You could also lay in brick tire trackways, with grass planted in the middle to soak up rain. Brick must go on a layer of sand also.

January 20, 2013
0

found this helpful
Pea gravel is also nice. It's easier on feet, tires and I think just as cheap. Good luck.

Louise B.
Silver Feedback Medal for All Time! 337 Feedbacks
January 20, 2013
0

found this helpful
Gravel is what you want. It comes in different grades. Regular gravel which has a mixture of sizes of stones and sand is the cheapest, and is quite satisfactory. If you can afford it, crushed rock, which is exactly what it sounds like - gravel made from larger rocks, no sand to track in and lasts longer - is better.
Look up people who actually sell this stuff in your area - who will deliver it in a truck and sell it by the "yard", not in bags. This will be your simplest and most efficient solution. It wouldn't hurt to go look at the product you are buying, and to take someone with you who knows what gravel is.

Nightsong
Bronze Feedback Medal for All Time! 121 Feedbacks
January 3, 2018
2

found this helpful
There is some stuff called Chit tat I would NOT recommend. When we had a garage put in we wanted a concrete drive. The builder recommended Chit. Said it went on loose and when watered down it would become as hard as concrete.
NOT! after 23 years where the grass has not grown it is still loose and crumbly. It tracks into the house still and clings to shoes to mess up the car. Now I can't afford the concrete.

January 10, 2022
0

found this helpful
I had a gravel company deliver stone...size 27 I think. Different sizes. Measure the area you want to cover. The seller will figure the load. You will have to arrange for worker to spread the load.

January 10, 2022
0

found this helpful
The soil type could inform the size gravel or stone you use. I think pea gravel might disappear in really mushy soil.
Answer

this Question

Any ideas for a driveway? I read the one about the gravel which is great except that my driveway is on a slope and a good shower of rain would wash a lot of it to the road.
By Siobhan O
Answers

August 1, 2014
1

found this helpful
I live on the side of a hill and had the same problem! I decided to brick the driveway instead! I watched craigs list for free brick and got quite a bit from there,then I started watching where new houses were going up.When they started bricking I always stopped and ask if I could have their "rejects". A lot were broken in half, but some were not damaged at all.
Never take these brick before asking!
Then, as I got the brick, I would extend the driveway. Just place them closely together. I also used pea gravel to fill in the spaces and holes in the brick. My driveway is over 20 years old now and I've only had to replace a few. Good Luck!
May 11, 2017
1

found this helpful
I recommend concrete resurfacing with decorative Stamped Concrete Overlays. There's no need to tear out the existing slab so you can save time and money. Plus, it's durable and can be customized to match the look of your whole property. You may also apply concrete sealer or polish on top of it to preserve its beauty.
Check out professional Sundek installer near you to get the job done for you! Below is the finished product of our recent concrete driveway resurfacing project in St. Louis, MO.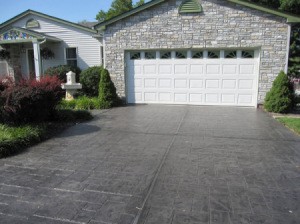 September 15, 2018
0

found this helpful
They were looking for "Inexpensive" alternatives.
Answer

this Question