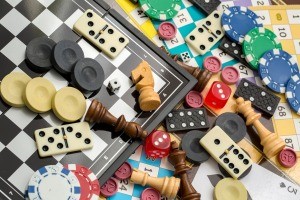 We purchased a game in a thrift shop In VA, which we thought was complete. Back home in NJ we discovered that the instructions are missing. The game is called Poker Tiles Game and it is put out by MasterPieces Puzzle Co. Does anyone have this game and could they give me a copy of the directions? Thanks in advance.
By Anita Geffinger from Montclair, NJ
Answers

September 1, 2009
1

found this helpful
Instructions can be downloaded from Masterpiece Puzzles' website.
Thank you. I already looked there and found no link for instructions. Perhaps I missed it though. I will look again.
Thanks again LLD. I went back on the site and found a email addy for customer service. They emailed me a copy of the instructions.
Now if they only follow up with the point values, I will be all set.. Anita
MaterPieces Puzzles Customer Service came through with the info on point values. How nice of them. Now we can play to our heart's content. Thanks again, LLD, for pointing me in the right direction. Anita

October 22, 2016
0

found this helpful
Hi from fla.
I also was given a set of tiles for the game . Could you email me a set I cannot find them either the instructions thanks Fred ( eileenlundfelt@aol.com ) email God bless from fla
Answer

this Question