Is it OK to put peanut butter in my dog's food? It's the only way she eats it and if I don't put it in she won't eat for days, so I usually give in. Is this unhealthy and is there anyway to make her eat food without peanut butter?
PS. I've tried changing the type of dog food but the same problem occurs.

Lilia
Answers:
Is Peanut Butter Okay for Dogs?
I put PB on my dogs medicine every day and the doc says that is fine. No harm done.

http://www.frugalforlife.com (09/03/2005)

By FFL
Is Peanut Butter Okay for Dogs?
I don't think it will hurt them, but if you're going to feed it everyday I would look for natural peanut butter. All the added salt and sugar in commercial peanut butters aren't good for anybody. (09/04/2005)

By Heidi
Is Peanut Butter Okay for Dogs?
Lots of dog treats have PB in them, but the calories will add up and you don't want your pet to become overweight. I would suggest that if you want to wean her off PB try putting in gradually less and less over about 2 weeks, and, if she is hungry she will eat food without PB. (09/06/2005)
Is Peanut Butter Okay for Dogs?
Peanut butter is a high value treat for my dogs! I stuff Kong toys or sterilized bones with it. Freeze the stuffed toy and it keeps the dogs busy for a while getting all the peanut butter out. Since it is so fatty, however, it is a once a week or so treat.
Try mixing plain yogurt or 100% pumpkin (NOT pumpkin pie filling) with food. My dogs especially love the pumpkin. Both are high in fiber and low fat. (09/07/2005)

By Sharon
Is Peanut Butter Okay for Dogs?
Does this happen with more than 1 kind of food? Maybe she doesn't like the food. Make sure you buy a good quality one without chemicals, unnatural preservatives, & no byproducts or meal. It should contain all whole ingredients. Good food costs more but if it keeps the dog healthy with fewer trips to the vet it's worth it. I also give my dogs frozen pb Kongs as an occasional treat. (09/07/2005)

By Me
Is Peanut Butter Okay for Dogs?
I feed it to my dogs with no problems. Peanut butter is a favorite snack of my dogs and my ferret.
TerryfromChilliOH (09/07/2005)

By terdralynn
Is Peanut Butter Okay for Dogs?
Funny, I called my vet yesterday to ask if it was OK to give the doggies some peanuts. I was eating some peanuts and they went nuts and looked so
pitiful. The receptionist said it was the first time anyone had asked her that so she checked with doc and he said, yes it was fine. Also that most people
give them peanut butter. I sometimes put creamy peanut butter inbetween a couple of mini-bones for a snack. And yes they are spoiled, but they are
my babies. I watch the fats though. (09/12/2005)

By meoowmom
Is Peanut Butter Okay for Dogs?
My dogs, Husky and Trailer Park love peanuts, is it OK to feed them (5-6 each) these or should I for go this process (12/24/2005)

By JPK
Is Peanut Butter Okay for Dogs?
I also give my dog meds on a spoonful of peanut butter. It not only makes him take his meds, but it also makes his coat very shiney. (06/08/2006)

By Megan
Is Peanut Butter Okay for Dogs?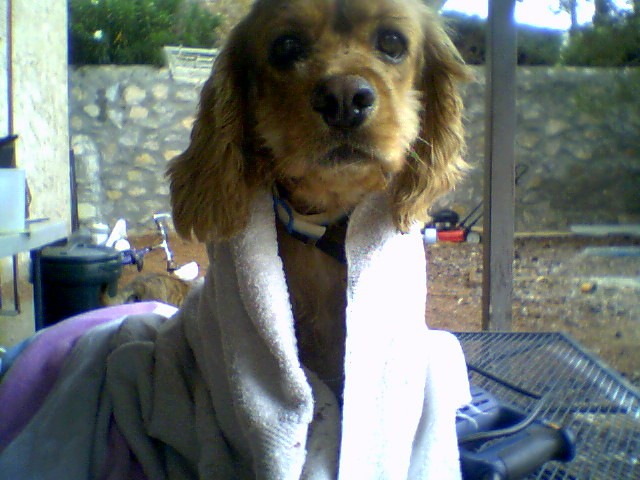 OMG Yah, I feed my dog it all of the time.
hmmmmmmm
I wonder if it's healthy? I only give it to them cause I wanna fatten them up. (08/05/2006)

By sheerah
Is Peanut Butter Okay for Dogs?
If you put it in the dog's food, get Adams All Natural Peanut butter (less sugar) because sugar is bad for their kidneys! (08/05/2006)

By camo_angels