Is roasted honey nut peanut butter OK for my German Shepherd to eat?

By MILLIE HERNANDEZ from Yucaipa, CA
Answers
April 6, 2011
1

found this helpful
Best Answer
Yes, peanut butter is fine for dogs. As long as (as some of these people have said) the dog has no allergies to it or its ingredients. Also I wouldn't give him a whole lot of it. I used to have a Golden Retriever and he got no more than one full teaspoon a day. I used it to give him his arthritis and vitamin pills. I now have 2 Dachsies and they each get no more than 1/4 teaspoon a day. But for them it's not every day since they take their pills easily without it. I use it as an "extra special" treat.
You didn't ask, but I'll say I also give it to my cat, no more than 1/8 teaspoon a day. Again, for my cat it's only used as an "extra special" treat.
The SPCA lists several things that are perfectly OK for dogs, as long as it's given only in small amounts and/or only occasionally.
Garlic is one thing. Most of us down here in the south have discovered the benefits of giving our dogs and cats a small amount of garlic in their food daily because it keeps the fleas and ticks off them.
So the main thing is, contact several agencies and people including vets in your area. Make sure they are in your part of the country because some of the advice will change depending on where you live. But don't depend on just one source either. Contact many sources, and then use your own best judgment.
One thing tho you do need to check on is what plants, both indoor and outdoor that are toxic to pets. Don't forget that!
Answer

this Question

...
Is it OK to put peanut butter in my dog's food? It's the only way she eats it and if I don't put it in she won't eat for days, so I usually give in. Is this unhealthy and is there anyway to make her eat food without peanut butter?
PS. I've tried changing the type of dog food but the same problem occurs.

Lilia

Answers:
Is Peanut Butter Okay for Dogs?
I put PB on my dogs medicine every day and the doc says that is fine. No harm done.

http://www.frugalforlife.com (09/03/2005)

By Dawn
Is Peanut Butter Okay for Dogs?
I don't think it will hurt them, but if you're going to feed it everyday I would look for natural peanut butter. All the added salt and sugar in commercial peanut butters aren't good for anybody. (09/04/2005)

By Heidi
Is Peanut Butter Okay for Dogs?
Lots of dog treats have PB in them, but the calories will add up and you don't want your pet to become overweight. I would suggest that if you want to wean her off PB try putting in gradually less and less over about 2 weeks, and, if she is hungry she will eat food without PB. (09/06/2005)
Is Peanut Butter Okay for Dogs?
Peanut butter is a high value treat for my dogs! I stuff Kong toys or sterilized bones with it. Freeze the stuffed toy and it keeps the dogs busy for a while getting all the peanut butter out. Since it is so fatty, however, it is a once a week or so treat.
Try mixing plain yogurt or 100% pumpkin (NOT pumpkin pie filling) with food. My dogs especially love the pumpkin. Both are high in fiber and low fat. (09/07/2005)

By Sharon
Is Peanut Butter Okay for Dogs?
Does this happen with more than 1 kind of food? Maybe she doesn't like the food. Make sure you buy a good quality one without chemicals, unnatural preservatives, & no byproducts or meal. It should contain all whole ingredients. Good food costs more but if it keeps the dog healthy with fewer trips to the vet it's worth it. I also give my dogs frozen pb Kongs as an occasional treat. (09/07/2005)

By Me
Is Peanut Butter Okay for Dogs?
I feed it to my dogs with no problems. Peanut butter is a favorite snack of my dogs and my ferret.
TerryfromChilliOH (09/07/2005)

By terry
Is Peanut Butter Okay for Dogs?
Funny, I called my vet yesterday to ask if it was OK to give the doggies some peanuts. I was eating some peanuts and they went nuts and looked so
pitiful. The receptionist said it was the first time anyone had asked her that so she checked with doc and he said, yes it was fine. Also that most people
give them peanut butter. I sometimes put creamy peanut butter inbetween a couple of mini-bones for a snack. And yes they are spoiled, but they are
my babies. I watch the fats though. (09/12/2005)

Is Peanut Butter Okay for Dogs?
My dogs, Husky and Trailer Park love peanuts, is it OK to feed them (5-6 each) these or should I for go this process (12/24/2005)

By JPK
Is Peanut Butter Okay for Dogs?
I also give my dog meds on a spoonful of peanut butter. It not only makes him take his meds, but it also makes his coat very shiney. (06/08/2006)

By Megan
Is Peanut Butter Okay for Dogs?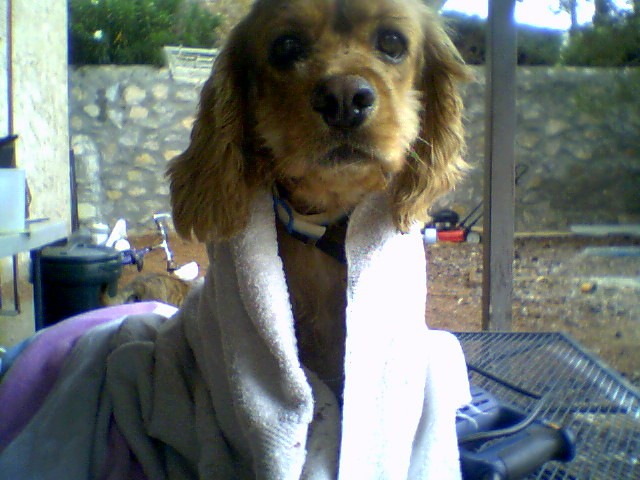 OMG Yah, I feed my dog it all of the time.
hmmmmmmm
I wonder if it's healthy? I only give it to them cause I wanna fatten them up. (08/05/2006)

By sheerah
Is Peanut Butter Okay for Dogs?
If you put it in the dog's food, get Adams All Natural Peanut butter (less sugar) because sugar is bad for their kidneys! (08/05/2006)

By Kelly
Is it alright for a Lab dog to have peanut butter?

By sandra bulson from West Monroe, NY

Answers:
Is Peanut Butter Okay for Dogs?
Yes it is! Tons of benefits come from it, and plus(+), dogs love it. I've done research on it, and a dog trainer mentioned it. (01/20/2011)

By Payton
Is Peanut Butter Okay for Dogs?
One teaspoon a day would be okay, but I would make sure it's sugar free peanut butter because animals can get diabetes just like humans and actually are more prone to it. (01/20/2011)

By Deeli