There are so many people telling me that peanut butter is great for dogs. Are you saying that that isn't true?

Kassie from Robstown, TX

Answers:
Is Peanut Butter Okay for Dogs?
This list is available on aspca.org:

Foods to Avoid Feeding Your Pet
alcoholic beverages
avocado
chocolate (all forms)
coffee (all forms)
fatty foods
macadamia nuts
moldy or spoiled foods
onions, onion powder
raisins and grapes
salt
yeast dough
garlic
products sweetened with xylitol


Warm Weather Hazards

Animal toxins from toads, insects, spiders, snakes, and scorpions
blue-green algae in ponds
citronella candles
cocoa mulch
compost piles and fertilizers
flea products
outdoor plants and plant bulbs
swimming-pool treatment supplies
fly baits containing methomyl
slug and snail baits containing metaldehyde


Medication

Common examples of human medications that can be potentially lethal to pets, even in small doses, include:


pain killers
cold medicines
anti-cancer drugs
antidepressants
vitamins
diet pills


Cold Weather Hazards

antifreeze
liquid potpourri
ice melting products
rat and mouse bait


Common Household Hazards

fabric softener sheets
mothballs
post-1982 pennies (due to high concentration of zinc)


Holiday Hazards

Christmas tree water (may contain fertilizers and bacteria, which, if ingested, can upset the stomach.
electrical cords
ribbons or tinsel (can become lodged in the intestines and cause intestinal obstruction, most often occurs with kittens)
batteries
glass ornaments


Non-toxic Substances for Dogs and Cats

The following substances are considered to be non-toxic, although they may cause mild gastrointestinal upset in some animals:


water-based paints
toilet bowl water
silica gel
poinsettia
cat litter
glue traps
glow jewelry
(12/17/2006)
By Paula
Is Peanut Butter Okay for Dogs?
We bought a Kong toy and put peanut butter inside of it, and Tobey loves it. He spends hours (literally!) trying to get the peanut butter out. I have been told it is very safe and enjoyable for him. (03/18/2007)
By Leslie
Is Peanut Butter Okay for Dogs?
My dog just had a fatty tumor removed from her shoulder and another one from her leg. Fat deposits in dogs (and cats) are really common, especially in older animals (10+ years) and it's called a lipoma. Most of the time, they are benign, but high fat diets (like a lot of peanut butter) can cause an increase in a lot of unfavorable outcomes, including tumors. They don't store fat quite like we do, so be careful. They won't just get fat, they can get deposits the size of basketballs which can attach to muscle and be hard to remove. (03/30/2007)

By McTigerlily
Is Peanut Butter Okay for Dogs?
Peanut butter is OK to feed dogs, but the best thing you can do to your dog is to feed them organic virgin coconut oil. One teaspoon for small size dogs and double for larger dogs. The coconut oil is very nutritious and cures and prevents many diseases in humankind and dogs. My dog suffered for a long time from allergies that led to skin problems and constant scratching.
I found research on the website about virgin coconut oil that said we can also use it to treat allergies and as a supplement in dog foods. The result has been a dramatic improvement in the past few days. I just started a few days ago and can see a huge benefits on my dog, the next day after the first feeding of coconut oil.

I got the oil from the wholefoods store and it's virgin cold pressed and organic. It does not cost too much (7 dollars for a jar of 16oz.) and that saves on vet bills. Now my dog is completely scratch free and happy and pretty with shiny coat and sparkling eyes. Anyone who wishes to have info about this go on the website of organic virgin coconut oil to learn more about this, not only for dogs, but it can help you to improve your health. (12/06/2007)

By Pearl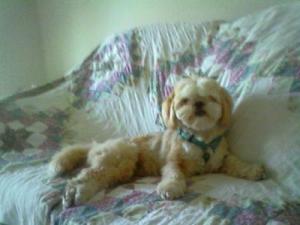 Is Peanut Butter Okay for Dogs?
When I eat peanut butter myself, I eat the natural kind. The harmful things in popular brands of peanut butter (Jif, Peter Pan, etc.) are the hydrogenated and partially-hydrogenated oils. These are bad for humans, let alone for dogs. Fats are not inherently unhealthy. There are many good fats, such as those found in peanuts. Also, sugar is not added to the natural peanut butters. It's simply what it says on the label with minimal other ingredients, if any at all. (01/22/2008)

By Katie J
Is Peanut Butter Okay for Dogs?
Like everything else, moderation is the key. Peanut butter is not bad for your dog in any way other then the fat content. So in moderation like everything else, it is a great treat and I never seen a dog not like it. (03/08/2008)

By Jeff
Is Peanut Butter Okay for Dogs?
I have to give one of my dogs a pill everyday and I give it with peanut butter. They love it, I have asked the vet and he said it is okay. We give them treats of peanuts too which they love, that is only on certain occasions. We do it as a treat. I have 3 dogs and they all wait by my cabinet where the peanut butter is everyday after work so they can have their "medicine" as I call it. (03/20/2008)

By skl
Is Peanut Butter Okay for Dogs?
I work with vets and in a holistic pet bakery and rehabilitation center, and we have a lot of treats with natural peanut butter in them. It is fine to give dogs peanut butter in moderation, but some dogs are allergic to a lot of things (including pnut butter) so you should test it before investing in a whole batch of treats. (05/23/2008)

By Lindsay
Is Peanut Butter Okay for Dogs?
I took my chocolate Lab mix to vet yesterday and he told me to give her the meds he prescribed with peanut butter. (08/14/2008)

By tinaangel
Is Peanut Butter Okay for Dogs?
Peanuts are a legume that grows underground not a nut. I think peanut butter should be fine. (09/27/2008)

By Diane
Is Peanut Butter Okay for Dogs?
Of course it is. I'm training to be a vet and I feed it to my dog all the time. She seems to be happier and more adventurous. Every other day is fine to give it to your own pup. They may seem younger even. (02/28/2009)

By Jacky