Pghgirl40
Bronze Feedback Medal for All Time! 196 Feedbacks
June 22, 2020
1

found this helpful
Best Answer
Bedbugs have 6 legs and feelers. It looks like this has 8 legs and feelers although the pictures are very blurry. It more resembles a tick.
Does it fly? Crawl only? How big is it? Ticks are up to approx 1/2 inch, running from 1/8 to 1/2 in size.

June 22, 2020
0

found this helpful
Thank you for commenting. The bugs are only about 1/1.5 mm long. They do not fly, crawl only. I know the photos are not great but pretty sure the bugs only have 6 legs.
I have added a few more pics, not sure if any better...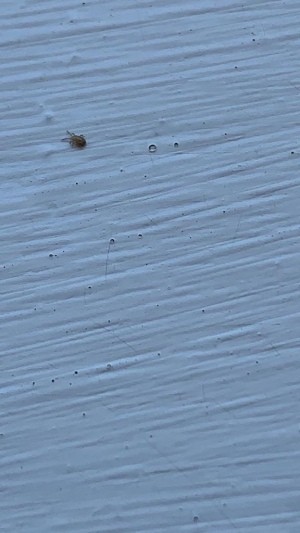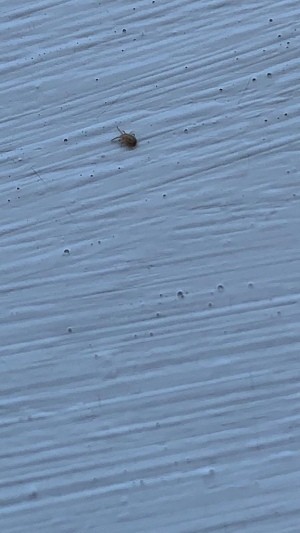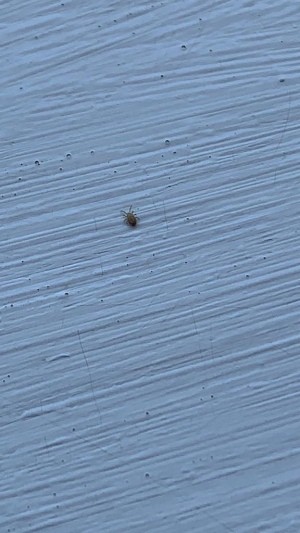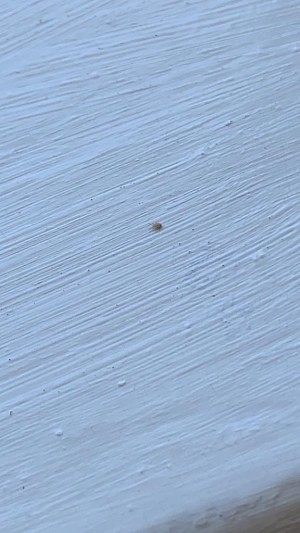 January 3, 2021
0

found this helpful
This definitely looks like a bed bug....

poehere
Bronze Post Medal for All Time! 105 Posts
June 22, 2020
0

found this helpful
Best Answer
This does look like a small bed bug but is sort of hard to tell for sure. The one way you can know for sure is if you can look around and find more of them on the floor, next to the wall, or in your bed. I would get this taken care of immediately. If this actually isn't a bed bug then it is for sure a tick and you still need to get it take care of. Ticks can get on your skin or even in your hair and attach themselves to you.
They do not only attach the the skin of animals but can also get on your. To make sure what it really is take it to a pest control shop. Just try to trap one in a plastic bag or container and take it in. They can tell you what it is but I fear that you may have some bed bugs in your home.

June 25, 2020
0

found this helpful
Best Answer
6 legs means it could be a bedbug and that is not good.
But a believe a bedbug has 6 legs and 2 antennas so some people may think this is 8 legs. Look at pictures to see if they match your bugs.
Have you traveled anywhere that you brought some home with you?You can check all around you mattress - in the creases as this is one of their favorite places.
If it is bedbugs you will have to do a lot of cleaning to get rid of them.
"Bedbugs are reddish brown, oval and flat, about the size of an apple seed. During the day, they hide in the cracks and crevices of beds, box springs, headboards, and bed frames. It's a daunting task to eliminate bedbugs from your home. Professional help is,ay be necessary."
Ticks have distinctive 8 legs - no antennas.
haydemon
Gold Answer Medal for All Time! 617 Answers
June 28, 2020
0

found this helpful
Best Answer
I don't believe this is a bedbug. I sadly do have bedbug experience, and they are not oval unless they are engorged with blood (yeah I know, gross) and you can tell that if you squish it and blood comes out.
When in a non-fed state they are flat as a tiny penny.
Bedbugs also absolutely do not have those long antennae or feelers.
The windowsill is also a very unusual place for a bedbug, unless the infestation were so dire that the condition of your bedding would leave you absolutely no doubt.

June 29, 2020
0

found this helpful
Thank you! At first I only found a couple in the actual bed but they are mainly near the window. I have been vacuuming and spraying non stop. Filled any gaps near the window. They seem to have reduced. At its worst I would kill about 30-50 per day. No maybe 5/10. I have been doing my own research and think they might be bird mites... in might be wrong though.

Ana
Bronze Post Medal for All Time! 140 Posts
June 22, 2020
0

found this helpful
This could be a Tick. There are 850 species of Ticks in the world, but about 90 species are found in the U S . Here is a little more info on this insect/parasite - en.wikipedia.org/.../tick

June 23, 2020
0

found this helpful
It is hard to tell from the picture. Bedbgs are VERY small, tend to cluster together, and move very slowly. You will find them in the corners of things like the seam of a mattress or elastic of a fitted sheet.