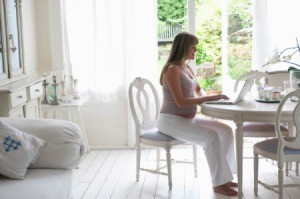 I'm 22 and I have a 3 year old. I just found out that I'm sixteen weeks pregnant. What kind of jobs are out there for pregnant women? Please help me out.
By Ty from Brockton, MA
Answers

July 19, 2010
0

found this helpful
Congratulations! Why not apply at your neighborhood child care center? You could put your 3 year old in an appropriate "classroom" there (if they prefer that you not have your child in your"classroom"). It will give you some good experience in caring for more that your one child. Just make sure your 3 year old and you are up to date on vaccinations and have a recent Dr.s check-up done on the both of you. You could even start out as a teacher's helper if you don't feel confident in taking on a roomful of little ones until you get some experience first. The best to you and your little ones.

Joan
Bronze Feedback Medal for All Time! 186 Feedbacks
July 19, 2010
0

found this helpful
There shouldn't be any more reason that a pregnant woman can't get a job, than anybody else. I know of pregnant women that worked fast food until their due date. The same applies to factory workers, people in the medical professions. A lot will depend on your attitude, qualifications, etc. I had an interview about 15 years ago, for a job that was listed as a receptionist/secretary. I knew it wasn't a high paying job, but it was a job. The man interviewing me looked at my resume' and said "oh,you've taught school" and I said yes back in the 60s and then he said "oh, you have legal secretary training." I said "yes, but that doesn't mean that is the only thing I am qualified for." Basically in a round about way he was saying I was over qualified for the job.
I found I was over qualified for the jobs that were available where I lived, but didn't have the experience. Unless you have a lot of experience in a given field, stick to looking for jobs that don't demand a lot of experience to start with.

July 19, 2010
0

found this helpful
Congratulations! Technically any job would do, but it would be smart to avoid any where you're exposed to chemicals (cleaning products too), loud noise or have to do heavy labor. All those things could have an effect on your baby.
Someone suggested temp work, which would be good. It's flexible and you can take the jobs you want. You might see what agencies are in your area.

PENNY K
Bronze Feedback Medal for All Time! 107 Feedbacks
July 20, 2010
0

found this helpful
Any job that is physically safe for you and your baby, that will hire you. My grson's girl, 6 mths along, just went back to her old waitress job. You don't want to work in a garden center, or around chemicals [paints, etc] because of fumes. Some places won't hire you because of insurance/fall possibilities, appearance, etc, and some don't care at all if they need someone.You just can't tell.
Dollar stores are always looking for someone, and their merchandise is not too heavy to lift. Cashiering anywhere but a convenience store is a possibility, ie how about in places that have cafeteria's like hospitals.

July 24, 2010
0

found this helpful
Do you know how to type? I used to do data entry for a temp agency and made about $10 an hour. Best wishes!
Answer

this Question