Johnson Baby Shampoo will kill fleas on your dog. We had a real bad flea outbreak this week, I had no idea how badly my male was infested out in the kennel. I was desperate and I know liquid soaps will smother fleas usually.
I didn't want to bath my dogs in Dawn, or other shampoos so I decided if baby shampoo was safe for a newborn, it couldn't hurt my dogs, not to mention I didn't want it burning their eyes.

I really didn't expect it to do the job it did. After wetting my dog, I squeezed a line of Johnson baby shampoo from the top of his head to his rump, I smeared it around a little to keep it from running, then I squeezed out more in my hand and started under his neck, I worked from his head to his rump.

I was amazed let me tell you, I rubbed and scratched and worked up a good lather, I saw dead fleas dropping everywhere, I did not see one flea crawling.

He was in such bad shape I bathed him twice. I told my husband I was so ashamed that he had gotten that infested and we didn't even notice.
Anyway, after a good rinse, and I do mean a really good rinse. I pulled him out of the tub, towel dried him and ran the flea comb through his fur, I pulled out fleas, but not one was living.

I ended up bathing all five of my grown Bostons and six puppies. They all had a few fleas, but not one flea lived through the Johnson's Baby Shampoo.

I believe it is very important to rinse them well, even something as gentle as baby shampoo can dry the skin out.

I have been walking around with a flea comb in my pocket so I can do a constant check. We are in the process of treating all the area so the dogs are staying close to the house.

We haven't quite figured out the best yard treatment yet. We want something safe and effective.

By Susan from Millwood, GA

Answers:
Johnson Baby Shampoo Will Kill Fleas
Yes, I've known this for a long time! I can always find baby shampoo for $1 and sometimes less if I have a coupon.

We used to use store-bought pet shampoos, but these can range from $5-10! I always thought they were necessary because of the dog's delicate skin, but a relative told me to use baby shampoo on our pets. Sure enough, both our bulldogs (which have VERY sensitive skin) love the shampoo, and it smells wonderful. We bathe our dogs once every week and it is mild enough.

Additionally, start with the neck and head because otherwise the fleas may jump up to those sites and escape! (Something else my relative told me - I do not know if it has any validity.) (08/10/2008)

By Courtney
Johnson Baby Shampoo Will Kill Fleas
I'd be hesitant to use it on babies then. Doesn't sound to gentle to me. (08/11/2008)
By Cindy
Johnson Baby Shampoo Will Kill Fleas
I have always been told the fleas drown so it really doesn't matter what soap you use. (08/11/2008)

By sandy
Johnson Baby Shampoo Will Kill Fleas
I always had problems with my dog who ended up allergic to flea bites and had to be on predisone because he pulled out so much hair and the skin got so red and puffy, but then they starting having Advantage and Revolution and others and since I have been using them I have never had fleas infest my dog, cats, or get into the carpet. They really are not that expensive if you buy them online....a little over $8 per dose and you really need them during the summer. During the winter months I only put it on every 2-3 months and they seem to be fine.

I highly recommend them because fleas can also give the animal other diseases and worms. Revolution protects dogs from heartworms and ear mites as well.
Harriet (08/11/2008)
Johnson Baby Shampoo Will Kill Fleas
Don't know the size of your yard, but I put Dr. Bonner's Eucalyptus soap in a sprayer, attach to the hose and spray away! Most 'unwanteds' vanish in a day or two! Also takes away the odor from their 'piles and puddles'. Great idea using the baby shampoo; will have to try that. I have 6 Shih Tzus, ages 14 to 4 yrs which I rescued and they have various health/abuse problems. In the summer, I shave them right down and find that helps me find any critters. (08/11/2008)

By Joan
Johnson Baby Shampoo Will Kill Fleas
You can use food grade diatomacous earth to kill fleas/ticks/bugs. It is safe enough for us to eat. Only down side is that if it rains, you will need to reapply to any areas still having problems. I use this in my house and around my yard to control pests. (08/12/2008)
By Melissa
Johnson Baby Shampoo Will Kill Fleas
If you treat your yard with lime in the spring, then spray it into the ground with a sprayer filled with Palmolive dish soap, you will not have any flea problems. The breeder that I got my dogs from told me about this trick and it worked perfectly for us. We also ended up having the best lawn we ever had. (08/12/2008)

By soochatty
Johnson Baby Shampoo Will Kill Fleas
Thanks y'all, my boyfriend stayed with me last night and brought his pitbull over to spend the night and he gave him a good bath and I think he had fleas before he came over because he's an outside dog but I just used Johnson's baby shampoo on my lil man (Loui) who is a Yorkshire terrier and it seems to be working but he's just mostly shaking right now which is usual because thats how he always is after his bath. Thanks for all the input though it helps. (08/17/2008)

By jordyn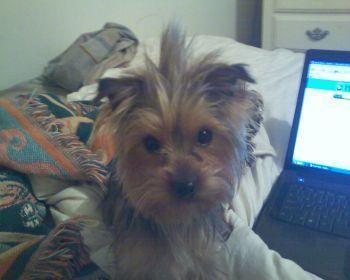 Johnson Baby oil Will Kill Fleas
I shampoo my dog who has had problems with fleas since we moved to Florida this summer and live by a lot of sand. I use original dawn on her; starting at her neck and work down her body and leave on for a good 10 minutes then rinse. In between her baths I put baby oil on her and the fleas come to the surface of her leg fir and die fast..great stuff. (09/02/2008)

By mippyisdead
Johnson Baby Shampoo Will Kill Fleas
Good idea! I will have to try. We are fostering a boxer for the next few months and out of nowhere he was itching like crazy today. Thanks for the advice. Also, someone said they bathe their dog once a week... that isn't a good idea, as the oils found in their coats and on their skin are necessary and you are depleting them. (12/09/2008)

By Bree
Johnson Baby Shampoo Will Kill Fleas
So far, we've been lucky. The dog is on Sentinel Flavor Tabs heartworm and flea medicine. It's not cheap, but it sure beats having a flea problem in the house (fingers crossed).
We were giving him a weekly bath when we first got him, but that hasn't been necessary for a very long time. We've had him a year and in that time he's grown from 19 pounds and every bone sticking out to 60+ pounds and full size after having been a starved to near death, mistreated, abused rescue. Turns out we ended up with a very loving, pit bull mix with a very big woof. Who knew? (12/09/2008)

By Holly
Johnson Baby Shampoo Will Kill Fleas
I have 2 dogs a pure breed pomeranian and a pomapoo, which if you don't know a pomapoo is a mixed breed of Pomeranian and a poodle, anyway I've used baby shampoo on them quite a bit and I will say that Johnson Baby shampoo does kill fleas! It is very good for dogs but make sure you rinse them extremly well! (03/31/2010)

By danielle
Johnson Baby Shampoo Will Kill Fleas
Thank you so much for posting and the additional user feedback! Have a wonderful evening!
(01/19/2011)

By Gina