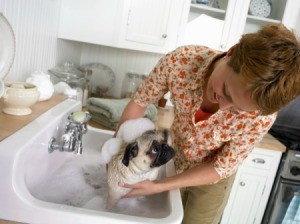 Tip on ridding your pets of fleas! My daughter is a professional dog/cat groomer. When fleas are a problem at her shop, they use a dilution of lemon Joy dishwashing liquid. Take about 1 and 1/2 inches in the bottom of the original bottle and then dilute it with water to fill to top again. Shampoo your pet, using care not to get it in their eyes. Lather them well! You may bath them with your favorite shampoo after the initial Joy bath and thorough rinse! Works like a charm!
By Shirley from Kingston, PA
Read More

Comments

I got Joy dish soap as I've seen on other web sites I'm seeing some folks saying Dawn is what you can use to bathe your dogs. Is Joy (lemon) OK to wash the dogs and kill fleas? So much out there about fleas and how to get rid of them. I'm sick of spending money on Frontline, etc. and it doesn't even work. The vet said your animal can get used to the products and they don't work any longer. So How bout the JOY?
Thanks,
Be Blessed.
Peachee from Byron, GA
Answers
By Becky (Guest Post)
July 15, 2007
1

found this helpful
Joy should be fine, my vet told me that just about any dish liquid is good for dogs and kills fleas on contact, she recommended palmolive but I prefer Dawn myself.
By bfitch (Guest Post)
July 16, 2007
1

found this helpful
I have used joy in the past on my dogs and it killed the fleas instantly.
By Rasta (Guest Post)
July 19, 2007
0

found this helpful
Get Frontline or Revolution from your vet and give your dog monthly treatments. It will keep the ticks and fleas off the animal.
It is a bit expensive but cheaper than having to put up with the fleas and constantly treating your home.
By (Guest Post)
July 19, 2007
0

found this helpful
Honey, there something definetly wrong if Frontline is not working...seriously...are you sure you have the right size for the weight of your dog?!??!
I have never known this product to not work.

July 19, 2007
0

found this helpful
My vet said to mix the lemon Joy with baby shampoo. One part Joy to two parts baby shampoo. I tried this when my dogs got fleas a couple years ago and it worked like a charm. The baby shampoo cuts the harshness to their skin and doesn't dry it out like the plain Joy dishwashing liquid would do.
By Graycrab (Guest Post)
July 19, 2007
0

found this helpful
When we lived in Florida where fleas are huge problem the vet said any shampoo or detergent would work but to make it sudsy and keep working it for at least 10 minutes. Worked!
By Ellen (Guest Post)
July 20, 2007
0

found this helpful
I have used Front line on my dogs for several years, with great results. This year the frontline didn't work on one of the dogs, vet said she had built up an immunity to frontline.
Told me to use Dawn or Joy, will be trying that this weekend.
By (Guest Post)
July 20, 2007
0

found this helpful
ADVANTIX! I too barely got any results with frontiline....WHen my vet suggested Advantix, I was skeptical. BUT...I tried it and it works so much better. It also protects from mosquitos and Frontline DOES NOT... Mosquitos carry diseases for dogs not to mention are pesky and itchy.
Do make sure you get the right weight size. If your weight is borderline, go up....

July 20, 2007
0

found this helpful
The reason Frontline and Advantix did not work was my dog's COAT TYPE! too fluffy, hard for the film to widen under it to reach all the fleas. So now with lots of vacuuming (daily), and with six months of Program, she's okay again.
Consider how much underfluff is under your dog's outer coat!

susan
Silver Feedback Medal for All Time! 472 Feedbacks
July 21, 2007
0

found this helpful
I think a distinction should be made here. Joy or Dawn will kill fleas that are already on the dog, but will not stop new fleas from getting on your dog or kill the new ones that get on your pet. You must rewash the dog to kill those.
A once-a-month treatment will kill the fleas on the dog and continue to work for about a month; they must be used regularly to be the most effective. They do not stop new fleas from getting on pets either, just kill the ones that bite the pet.
To keep fleas from getting on pets, you must treat the environment the pet goes into. Some of these treatments work better than others for specific breeds of pets--animals are a lot like people, nothing works for everyone. And pets build up a tolerance to them, so one might quit working and you'll have to change to another. Fleas are a pain, but once you find something that works for your pet, it is magic.
By jodi (Guest Post)
July 22, 2007
0

found this helpful
We also started using Dawn for our little one..but did notice that her skin was getting dry so now we also spray her with Avon skin so soft an lightly rub it into her skin. does not take much. this is also good to keep the knats an mosquitoes off her.
Read More

Answers
Does lemon Joy kill fleas?
By Kay

Answers

May 17, 2012
0

found this helpful
Best Answer
The chemicals in most dish soaps are very hard on the animals skin, and some may be toxic. I wouldn't trust anything with a lemon/citrus scent. The best thing is to break down and buy olain blue dawn if it is a puppy. If it is old enough for flea treatment then spend the $ on a good one.
Do not use the Hartz brand! Frontline and Advantage are pricey but they work. Also check the local pet supply shops, Petco used to sell an all natural powder that made the dog a little sticky but work really well. It was in a pink container and had peppermint oil and I think cedar oil as the ingredients.
Answer

this Question