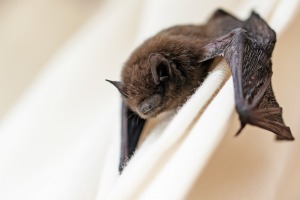 I have lived in my rental house since September of 2007, and have had a total of 8 bats throughout the years come out in my house. I know at least 1 of their roosting areas, in attic cubby hole. Around the chimney there are lot of bat droppings.
My landlord says he will look for the entry spaces and try to seal them again. These bats are a huge problem for me since I am deathly afraid of bats! I like start to hyperventilate and cry and really am petrified of these bats. They are small brown bats. I am scared about bats possibly having rabies.
I was told Bounce fabric dryer sheets will help keep bats from entering my home because of the strong smell of dryer sheets. If this works I will do this around chimney, their roosting place and pray I don't get another bats again flying in my house. Last night the brown bat came out into my daughter's room, she's 11. So can anyone please give ideas? I don't have $500 to have an exterminator to get rid of these bats.
By Heidi
Answers

May 23, 2012
0

found this helpful
Best Answer
Oh wow, GreenerGrass is spot-on!! Your landlord is responsible for this-not you. If he/she balks at the needed remedies threaten to call the Health Department-and if you have to threaten, btw, you probably should be thinking about where to move.
Any landlord who lets a bat infestation continue is courting a VERY costly lawsuit. Bats, including their guano, carry RABIES-do not touch or disturb any droppings you see.
Wow!

May 23, 2012
0

found this helpful
Best Answer
To get rid of the bats you have to close off the entrances the bats use to enter the house. Once you have located the openings you can use wood or metal screen to cover the openings. This is a job for your landlord. If he is not receptive to the idea or drags his feet visit your town hall and ask them for some help. Dryer sheets are useless. Save your money.
Answer

this Question

Is it true that Xmas lights and decorations keep bats away from your home? I have a bat house already, but they keep coming in my house.
I know they keep bugs away, but I'm scared of them. I just put a Xmas tree on my porch is this just a myth? Help! Please.
Answers
May 19, 2017
0

found this helpful
Best Answer
The only way that is 100% effective is to seal off the entire colony.

HerkDia
Bronze Feedback Medal for All Time! 140 Feedbacks
May 19, 2017
0

found this helpful
Best Answer
My dad just had a colony settle in his attic and the only way to get rid of them is with a trapper. He came in and installed some kind of pipe so that they could fly out but not come back in. It took several weeks but they finally got them out of the house. For some reason, every June, he would get bats and by July they were gone. This year though they came in April and we believe it was because of the mild winter we had here in the east and they returned from migration early.
You need to get a professional to take care of the problem. They make a mess out of your house which can cause health issues. He tried all the tricks like noise makers, lighting up the outside of the house, etc. The professional will find where they come in and seal up the holes. Worth the money believe me!
Answer

this Question

We have recently noticed bat droppings on our porch. Does any one have an idea how to discourage bats from hanging around our seating area? We suspect they are in the rafters of the porch.
Sheila from Ontario, Canada
Answers
By Corinne (Guest Post)
August 5, 2008
0

found this helpful
Don't get rid of them, they eat insects, as mentioned before.
You can encourage them to 'roost' somewhere else though. Try an outdoor store or a store specializing in birds and feed/houses... they actually make 'houses' for bats, that will encourage them to sleep somewhere else instead of over "your" territory :)
You could also try buying that plastic spike stripping, that discourages birds from sitting on roofs, rafters, flag poles etc... My guess would be to attach it on the opposite side of the rafter so the bats have nothing to hang onto.
here is a link to Birds Unlimited, a bird store that sells bat houses -
www.shopwbu.com/.../567.0.25796.0.0.0.0
you can order online... or just look at it and maybe have a handy craftsmen try to build one... since its not exactly inexpensive :(
and a link for that spike stripping that birds absolutely loathe - from ace hardware (maybe you have them where you live?) -
www.acehardware.com/.../index.jsp?productId=2406863
Answer

this Question