EllenB
Gold Post Medal for All Time! 858 Posts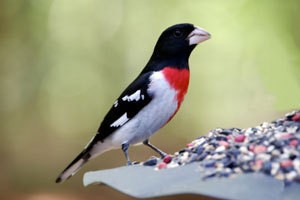 Feeding wild birds is a popular pastime-especially with gardeners. Yet, according to research done by the Wild Birds Feeding Industry (WBFI), one of the top reasons people decide never to start feeding wild birds (or decide they are going to stop feeding them), is because of the mess that accumulates under the feeders. Here are some ways to enjoy feeding the wild birds in your garden, while still keeping things neat and tidy beneath the birdfeeder.
Reducing Waste
One key to keeping things tidy beneath feeding stations is to minimize the amount of waste created in the first place. An easy place to start is with seed mixes. Economy mixes tend to contain a high ratio of extra ingredients that birds simply ignore by tossing to the ground. These mixes also tend to attract large numbers of nuisance birds, which can create "flocks of messes." Native birds seldom favor filler seeds that cannot be found locally in the wild, because they don't recognize them as being a part of their diet. It's often cleaner and cheaper to buy 2 or 3 different types of seeds in bulk that local birds are known to enjoy, than to put out bag after bag of less expensive seed mixes that remain largely uneaten.
Stop Feeding Seeds
It's possible to attract a variety of backyard birds without using any seeds at all. For example, nectar attracts hummingbirds, jelly is favored by orioles, and woodpeckers love suet cakes. Premium suet cakes are also now formulated to withstand temperatures as high as 100 degrees.
Install Multiple Feeders
Another strategy for reducing waste is to install multiple feeders around the garden. More birdfeeders mean more room at each station, which means less tussling about and flinging seeds.
Squirrel Baffles
Squirrels are fun to watch, but when it comes to wasting seeds, they are the worst offenders. Make sure you protect your feeders with a baffle or other device that keeps squirrels feeding on the ground.
Containing Seeds
Many feeders are now designed with built-in "feeding trays". These trays catch seeds as they fall and make for easy clean-up, but they are not fool-proof. Boxing in a 4x4 inch area around the feeding station using landscaping blocks or timber is a much better solution to keeping seeds contained. By creating a 4-6 inch barrier, seldom will seeds ever spill over into the yard, yet it still provides you with plenty of access for cleaning. Let sprouted seeds grow, or add in a little dirt and plant some sunflower seeds of your own.
Preventing Seeds From Sprouting
The best way to prevent seeds from sprouting is to cut off their access to light and moisture. This can be done by applying newspaper, cardboard, or landscaping fabric underneath feeders and then covering them over with a layer of woodchips, coir, or stone. As an alternative to mulch, paving over the the area using tiles, or patio bricks will keep the area looking looking neater and provide you with a flat surface for easy cleanup.
Comments

June 26, 2008
1

found this helpful
A trick I use is to pour white vinegar on the sprouting seeds, it kills the sprouts and inhibits the other ones.
Dorie

Nightsong
Bronze Feedback Medal for All Time! 121 Feedbacks
January 11, 2018
0

found this helpful
I have had good luck by zapping bird seed for about 20 -25 seconds in the microwave. It heats the seeds just enough to kill them from sprouting yet it doesn't affect the seed for eating.

January 14, 2018
0

found this helpful
I have bird feeders and enjoy the sunflowers and other things that come up from the spilled seeds. The weeds, I just pull up. Sunflowers and some of the other things make a lovely spot beneath the feeders and when mature, provide the birds with even more seeds.
I do keep my feeders out in the yard tho, not on the patio.