Stephanie
Bronze Post Medal for All Time! 162 Posts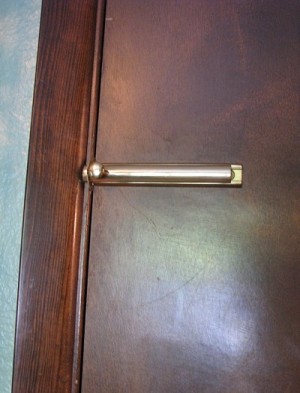 My toddler was constantly getting into the pantry and helping himself to crackers or other snacks the minute I turned my back to focus on dinner (he's self-sufficient to a fault). Between the ruined appetite, spilled boxes of cereal, and dents in the floor from dropped cans, I decided I HAD to keep him out. It seems like toddlers are far more adept at the door knob protectors than adults, and I needed a solution that didn't keep my older children out of the cabinet.
Taking a cue from my day care provider, I purchased a sliding door lock and installed it on the door. Now I can lock him out of the cabinet at will, but my older children still have access. Unfortunately, he's now moved on to the refrigerator :)
By Stephanie from Hillsboro, OR
Comments

October 8, 2010
0

found this helpful
We must have the same son. :) If my pantry had a door I would use this great idea. They sell fridge locks at walmart for $5 and they are not hard to use or install.

October 8, 2010
0

found this helpful
Years ago we had to take the handle off our old fridge & then my husband had to put an actual padlock on the door. We also had to take the knobs off every cabinet in the house, the knobs off the stove & put locking hook & eye latches at the top of the storm doors because said child thought it was ok to wonder outside at 4AM! We had to put padlocks on the side gates to keep him in his back yard, & padlocks on the shed to keep him out-then we had to hang the keys on a nail in the top of the pantry closet, which worked until he was 3yrs old & figured out how to push a chair into the closet while I was in the bathroom & stand on it to get the keys so he could get the lawnmower out of the shed & try to mow the grass!
It's a wonder we're both still alive & that my younger 2 were ever born!