I rescued a kitten one week ago (June 19) which was abandoned by his feral mother. He is now about 5 weeks old and only weighs 16 ounces. He was flea ridden and had one eye that was oozing with a discharge. I have no money for a vet check up. Someone at Petco told me to bathe him in the original Dawn blue liquid dish soap to get rid of the fleas. It paralyzes the fleas and you need to brush with a flea comb until dry. It worked!
He still has the eye problem, though. Any suggestions on what I can use to clean his eye with, and or get rid of the infection? I heard a mix of Boric acid and water is used with cleaning pets eyes, but I don't know the ratio of water to boric acid. I wonder if any human over the counter salves or drops would help.

Thank you for any advice!
Linda from Portland
Answers:
Kitten with Discharge From One Eye
The watery eye could be a sign of distemper. If at all possible, please take the kitten to the vet. I sincerely wish the best for the sweet wee one. (06/27/2005)

By Anonymous
Kitten with Discharge From One Eye
Wiping the kitten's eyes with antibiotic cream (generic or otherwise) should work, or at least has for us in the past, it even worked for a duck's eye. I also use a wet, warm wash cloth with the cream to help spread it. This can be picked up at Walmart in the drugstore area. (06/28/2005)
By Debbie
Kitten with Discharge From One Eye
Neosporin Antibiotic ointment can be safely used in the eye. If the kitten has distemper you should be seeing other signs. (06/28/2005)

By klr2080
Kitten with Discharge From One Eye
The watery eye can cause upper respiratory infection. I had a feral kitten with the eye infection and thought I could cure it myself. It never would heal and I finally took him to the vet and it was a severe case of upper respiratory infection caused by the eye infection, we almost lost him. He had to stay on the antibiotics for the rest of his life. Every time we took him off the meds, the infection would come back. Good luck. (06/28/2005)

By Jannie
Kitten with Discharge From One Eye
I have a Himalayan who has recurring eye infections, I use a warm washcloth and antibiotic ointment. He seems to mind it less when the washcloth is warm. I used to live on a farm with a lot of cats and the really wee ones seem to get eye infections a lot.
Just be warned, I have seen cats with eye infections and had "bad eyes" the rest of their lives, eyes that seemed to get reinfected a lot. I have a friend that had the same situation, and now the cat is huge and so sweet. Good Luck! (06/28/2005)

By Sarah_bellum
Kitten with Discharge From One Eye
Order terramycin ointment from animalrevival.com or from ebay on the computer. This is what vets will give you - if kitten also has a runny nose it'll need oral antibiotics also. (06/28/2005)

By Karen
Kitten with Discharge From One Eye
I wonder if you could contact your local Animal Humane Society. Their primary purpose is to save and find good homes for abandoned animals. They have the services of vets to make sure their found animals are safe and healthy. So the fact that you are trying to save a kitty might prompt them to help you. (07/10/2005)
By patsAZ
Kitten with Discharge From One Eye
Your kitty needs a triple antibiotic to clear up the infection in it's eye. If you wait too long it could get worse, spread, or it could lose it's eye sight. Some vets will actually let you just buy the med without bringing the kitty in, most don't however. (08/27/2005)

By Cindy
Kitten with Discharge From One Eye
I know this is a late post, but thought it could help someone else.

I had a kitten whose eye was watering, getting matted and then bulging. It was a respiratory infection and the cat needed antibiotics. Luckily, she did live. A number of vets (I took her to several) wanted to remove the bulging eye after the infection cleared up. The bulge means the cat has lost sight in that eye. I refused to put her through the surgery since she seemed healthy otherwise. We knew she had no sight in one eye, and were unsure of how much she had in the other. She turned out to be a wonderful pet, and a great mouser. She lived a long and healthy life. However, she needed those antibiotics in order to live.
The sneezing could be an entirely different problem. I worked at an animal shelter. Cats that sneeze will often have something that looks like greenish pus emitting from their noses. It is a viral infection -- Feline Leukemia--extremely contagious, and deadly. I took in one such animal, and love him dearly; he has made a great pet. Vets used to urge owners to have these animals "PUT DOWN," something they do not do anymore. But beware, these animals will have serious medical problems that will cost money to treat down the road. I've read that they will usually live about 3 years. Mine is now 3 1/2 years old, and I've not had any expensive treatment yet. As I said, Feline Leukemia is EXTREMELY CONTAGIOUS. These cats/kittens should NEVER be in contact with another cat/kitten; if they are, they more than likely will transmit the illness to the other animal(s). An entire neighborhood of cats can get ill from a single animal.
I absolutely love cats, but I encourage everyone to take care of any animal they take in. Ownership requires responsibility, and that involves financial responsibility as well. My foster cat has enriched our lives immensely, and I love him dearly. But he is a special needs cat. Be aware. (09/10/2005)
Kitten with Discharge From One Eye
One more thing I forgot to post--NEVER use Boric Acid wash on a cat/kitten. It is poisonous to their system. (09/10/2005)
Kitten with Discharge From One Eye
The symptoms of panleukopenia (distemper) can be similar to those seen in dogs with parvo or canine distemper (vomiting, diarrhea and seizures), which is why the disease is sometimes called 'feline distemper'. Panleukopenia in young unvaccinated kittens is usually fatal.

Young Cats: Many older cats who are exposed to feline panleukopenia virus do not show symptoms. However, young (3-5 months old) unvaccinated cats can become seriously ill. The onset of symptoms is sudden and cats will start out with fevers of 104-107 degrees, depression, and will not eat. These symptoms appear so suddenly, some owners think their pet has been poisoned. Three to four days later they will start vomiting and can become severely dehydrated. Severely dehydrated cats may hang their heads over the water bowl, but not drink. Diarrhea can also occur and may be bloody.

A cat who becomes severely dehydrated may develop a lower than normal body temperature (hypothermia), become weak and even comatose. Such a cat is very susceptible to developing a bacterial infection in addition to the viral infection. Cats who survive the symptoms for longer than five days will usually survive, but complete recovery (regaining of weight) may take several weeks.

Pregnant Cats and Their Litters: Pregnant cats who become infected with panleukopenia may abort or have stillborn kittens. In some cases, some of the kittens in the litter will be born uncoordinated and have tremors, especially of the head. These nervous system changes are caused by the panleukopenia virus affecting the cerebellum, the part of the brain responsible for coordinating muscle movement. Mentally, these cats appear normal. As the kittens grow, they may be able to compensate and lead relatively normal lives.

Kittens may also have abnormalities of the retina of the eye (the back of the eye which receives the light and sends signals to the brain). (09/10/2005)
Kitten with Discharge From One Eye
All stray cats/kittens usually have irritated eyes. Conjunctivitis is very common, very contagious from one cat to another. Just because the little fellow has mucus or a watery discharge from his eye does not mean anything is terribly wrong. I have rescued many feral kittens over the last two years and currently have 15 babies here at the farm. Amoxicillin (the pink liquid antibiotic that is given to kids when they are sick) works great. About one half a cc 2 times a day for three days. You can also get the meds you need from the vet without paying for an appointment less than $20.00. Or, if you are friends with a pharmacist at your local pharmacy. The warm wash cloth to wipe the eye and the antibiotic ointment on the eye is wonderful. Don't use hydro cortisone. (09/11/2005)

By Debbie G.
Kitten with Discharge From One Eye
If the eye lid ever gets stuck closed and starts to bulge, please get a warm wash cloth and get the eye open. It has to drain. The pressure against the eyeball is not good. (09/11/2005)

By Debbie G.
Kitten with Discharge From One Eye
I adopted a 5 week old kitten who was sick too- sneezing, green eye goop, runny nose. She was anti social and hissed at me. I took her to the vet right away and he told me my kitten had distemper. The vet said she may die in a couple days, I decided I would take care of her anyway. I gave her some of that pink antibiotic stuff called AmoxiDrops (10cc per pound), she was three pounds so I gave her 3 ccs. It should have directions in it. Anyway it took about 2 weeks, no more eye goo, no more runny nose, she sneezes less and less but that is taking a lot longer to go away. Get some antibiotic stuff fast if you can't afford a visit, it costs about $17. Give it to her for about 7 days, maybe more, no less. If condition gets worse then maybe you will have to see a vet.
(09/22/2005)

By samus
Kitten with Discharge From One Eye
My husband and I just rescued two stray kittens who have a greenish goo oozing from their eyes. A pharmacist suggested we use a Q-tip dipped in warm water that was made into a medium-strength tea with a teabag. This worked wonders! Apparently the tanins in the tea break down the proteins in the discharge. We also noticed that this treatment encouraged the discharge to drain out of the eye. Regular cleanings (every few hours) seem to do the trick. (05/03/2006)

By Dana
Kitten with Discharge From One Eye
Please don't use boric acid to clean your kitten's eye, you risk blinding them. You can clean the discharge by taking a tea bag (natural tea, no additives), make a strong tea, do not add water or any sugars of course. Wet the little cloth in the tea you made and gently wipe out the discharge from one eye. Make sure the tea is not hot, at least room temperature. The tea also helps to disinfect. If your kitten is playful and is eating well, then the infection will eventually go away, but if you notice that it stops eating and is not feeling well, then you should see a vet and get antibiotics. (11/07/2006)
Kitten with Discharge From One Eye
When I first got my kittens they were 3 days old, and orphaned from their mom. I reared them, and 2 out of 4 passed away. They appeared very sick from day one. Mother cat was nowhere in site. Come to find out, the mom cat was poisoned. After several trips to the vet, I found out 2 of the kittens passed away from the poison, and the other 2 dear little angels held on for dear life.

Anyway, here it is now, 2 years later and I have the kittens still (the remiaining 2). One of which had a constant problem with drainage in her eyes. She also appeared to have upper respiratory problems. After visiting the vet, she informed me (after some testing) that a runny nose and watery eyes (symptoms which seem to us like a respiratory illness) in cats, can sometimes be Herpes. When the vet told me my kitten had Herpes, I couldn't help but laugh. It was the silliest thing I had ever heard, but it's true. The Vet gave me a prescription for some vitamins to make her immune system stronger, and Antibiotics, and sent me on my way. So now, when she has these same symptoms several times a year, I know exactly what is wrong. Only 1 kitten from this litter had the Herpes virus. The other may be a carrier, or later develop symptoms. (03/29/2007)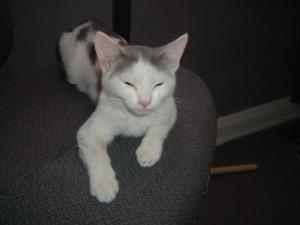 Kitten with Discharge From One Eye
Our family has recently been taking care of a feral family. One kitten has the same symptoms: pus oozing from eye, etc. I've used the warm towel and neosporin treatment as well, and things should be fine. (03/30/2007)

By feytr
Kitten with Discharge
I've taken care of hundreds of kittens on the farm, and they often get a "goopy" or "snot-like" discharge that crusts over and causes their eyes to close. This often happens a few days after their eyes open. If one kitten gets it then the entire litter soon has it. It's not a big deal--there's no need for an expensive vet. Just dissolve a small amount of Epsom salt in warm water and dab the kittens' eyes until they're clean. You have to do this twice daily for a week to 10 days. They usually grow out of it without permanent damage. Good luck. (05/03/2007)

By thylacat
Kitten with Discharge From One Eye
My kittens have the same problem. I soak a cloth in warm water then set it on their eye. Usually it will go away for a few hours then come back, but with my older cat I did that for about a week then he was fine and hasn't had that problem again! (06/05/2007)

By Mary
Kitten with Discharge From One Eye
Hi. I just spoke to my vet because my 10 week old kitten started discharging from both eyes three days ago. Warm water is all that is recommended for use to treat at home. Your kitten should be seen ASAP because yellowish green discharge signals infection, and there are several types of infection. Also, if you have other cats watch for symptoms in them as well. We have three kittens, and only one has had a problem. (06/06/2007)

By smtreptow
Kitten with Discharge From One Eye
I have three 3 1/2 week old kittens, and they have the infection. What you need is tea bags, cotton wool, and cold water.

What I do is dampen a tea bag (it can be the cheapest priced tea bags), then rub the tea bag onto your kitten's eye. Then with the cotton wool, dampen it in water then wash the eye. Do that twice a day. It will be cleared up in in no time. (06/14/2007)
Kitten with Discharge From One Eye
Do not try home remedies. Eye drops from the vet will vary between 10 and 15 dollars. This may be a reoccurring problem and should not be treated lightly, find a discount program through your county animal shelter and get medical attention. The kitten will go blind eventually if not treated correctly. Also, instead of dawn, spend approximately 10.00 for a tube of advantage flea protection for the kitten. This is safer, and only buy from a vet (07/07/2007)

By Nan
Kitten with Discharge From One Eye
Because the mother cat is feral, it's very important for you to get your kitten a complete veterinary check-up. That kitten needs vaccinations and testing for the many life-threatening diseases feral cats carry. In addition, a vet needs to examine the kitten for that eye infection. Home-remedies won't get rid of the infection.

If you can't afford veterinary care for your pet, then you may consider signing over the kitten to your local ASPCA shelter. With due respect, even though your intentions are good, if you can't afford the proper veterinary care for your pet, it may be best for someone else to adopt it. It's the right thing to do. (07/07/2007)

By sylviecyn
Kitten with Discharge From One Eye
Remedy:

Rub eyes nightly with warm water soaked gauze, making sure to soften crust and cause eye to open. Any draining pus should be removed. Apply first aid cream (called "Triple Antibiotic Ointment: Bacitracin" available from your vet) to the eyes at this time.

Every twelve hours, very young kittens should receive one drop of Amoxisolution (an animal version of Amoxicillin) that will clear up any infection in the kitten. This should be done for 14 days.

I have cured two kittens and speak from experience. I am an animal rescuer who consults with veterinarians regularly. I actually received the medication and ointment free of charge from a 24 hour animal clinic who was impressed with my efforts to save the kittens.

Enclosed is one of the kittens, 10 days old, that I was able to cure. Good luck. (09/08/2007)

By Trish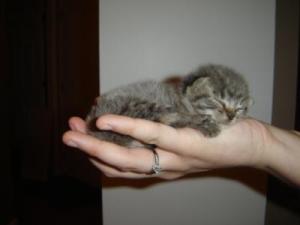 Kitten with Discharge From One Eye
My 3 week old kittens developed goopy eyes. Simply put, we all get colds. From being raised on a farm I know that going to the Vet every time your animals get sick is not an option. There are a few different things you can do in this case.

First, go to the pharmacy and purchase some Bacitracin (antibiotic cream). Secondly, you can buy some polysporin drops. If the problem persists and you can get on petmeds.com, buy some Gentamicin.

My daughter gets an eye infection every year so I am always stocked up on eye treatments. Common sense tells you to keep the infected area clean. I have had many "barn cats" throughout my childhood with the same problem. If you clean them and support a healthy immune system they will be fine. (09/26/2007)
Kitten with Discharge From One Eye
Unfortunately I experienced the same situations a while ago, I have a nine week old kitten and it developed the same symptoms. The best way to treat them and to help them get better, is to take the kitten to the vet. (10/06/2007)

By victor
Kitten with Discharge From One Eye
My cat who is now 3 had that same problem when he was a kitten. He too was a baby of a feral mother. A dear friend who runs a local pet shop suggested as someone stated above getting Gentamicin from petmeds or a similar site. It worked perfectly. (10/06/2007)

By ~Sasha~
Kitten with Discharge From One Eye
I just got a kitten last night from a friend of a friend and the kitten has green discharge coming out of both eyes. I went to take him to the vet today and they could not give him his shots because of the discharge. The vet is not positive what the discharge is from, but he gave me Terramycin Ophthalmic Ointment to put on my kittens eyes 2 times daily. He says if it clears up in 2-3 days that he will be fine.

I just looked online and you can order the same exact medication for around $10. All the directions are on various websites and this also cures cuts and any other eye problems. It is an antibiotic and it's better to buy it offline then fit the bill I had today. Please anyone who doesn't have the $75 for the vet, get Terramycin. I can already see the discharge pouring out of his eyes as if the infection is getting better. (10/11/2007)

By Totem's Mommy
Kitten with Discharge From One Eye
If the kitten is sneezing constantly, has horribly foul smelling feces, and has the awful runny eyes, please rush her to the vet. I found out mine had feline leukemia (I had rescued her from the cold last winter). She had to be euthanized because she was found to be pregnant and suffering worse each day. I couldn't handle allowing a number of babies to be born sick just to be put down. I loved her dearly. (Hope you are happy in heaven, Chloe) (10/31/2007)

By Rachel
Kitten with Discharge From One Eye
What I would do about the eye is bathe it in salt water. We have a cat that is only 4 weeks old and had to have an eye removed today. We bathed it in salt water and it took away some of the pain and made it better. My mum could take her to the vet without the worry that her eye would fall out. Her eye was literally popping out of her head and when my dad bathed it in salt water, it took away all the puss and goo that was on her eye. I think it might help with your cat. (01/14/2008)

By Olivia.
Kitten with Discharge From One Eye
When kittens or cats have runny eyes and look like they have blisters on their eyes, they have Feline Herpes. Despite its name, this is actually a respiratory disease, which also causes the blisters on the eyes. I lost a young mother and her entire litter before I found out what the disease was. I have since lost several kittens to the disease.

They need an antibiotic for the infection. Bacitracin or Neosporin will clear up the blisters. I use the regular Neosporin (about a quarter-inch length) in the infected eye, then I gently rub it on with my finger. The eyes clear up faster than the respiratory problem. Sometimes, the respiratory ailment doesn't get better. Smaller, weaker animals may not survive. I have learned this first-hand and it is heartbreaking. I hope you can save your babies. (02/17/2008)

By Micki
Kitten with Discharge From One Eye
My mother cat had 6 kittens 3 weeks ago, and now two of them have eye infections in one of their eyes. I tried a warm cloth to clean it, but it's not working. Is there anything I can do other than this, so the other doesn't get it? Please help, as these kittens are the cutest. (02/18/2008)

By concern
Kitten with Discharge From One Eye
You can buy Tomlyn Veterinary eyewash called Opticlean for under $3.00 at pet supply stores. It says: First Aid for eye irritations. Used to wash away dried mucus secretions and discharges from animal's eyes. It is soothing to them. (05/18/2008)

By sassiekat
Kitten with Discharge From One Eye
Hi, My name is Stephanie. I have 2 six week old kittens, 1 eight year old cat and a three year old black lab. I hate to say it but I found this place because I am concerned about my new kittens. We got them Friday afternoon from a lady that works at our local Animal Protection League. They both had some greenish discharge in the corners of their eyes. The lady said that the discharge was okay.

After getting them home I noticed that one of them has a serious problem with the discharge. When he sleeps for long periods of times they glue themselves shut. I have been putting warm (not hot) rags on his eyes a couple times a day to keep all the dried stuff off his eyes. I have two children that have fallen in love with these cats and I am worried that something is wrong or that the kittens will give them something.

I know the lady said they were okay, but what do you think? I know it is hard to say without seeing him, but in general is discharge normal in kittens? Otherwise they seem fine. Thank you so much in advance, I hate to join and ask this in the same post but I really do not want to pay for an emergency clinic to see them and it be nothing to worry about. (05/26/2008)
Kitten with Discharge From One Eye
All you need to do is get a topical ointment called, Erythromycin, from any place that sells pet meds. You clean the eye with a soft damp tissue and apply. That will take away almost immediately and you will see improvement. Check out this link: http://www.petplace.com/drug-library/erythromycin/page1.aspx, and then find it at pedmeds.com or something. It's only 4-5 dollars and it worked to treat the same (not as advanced) kind of condition when I got my 6 week old kitten (it too was feral). (06/15/2008)

By Tatiana
Kitten with Discharge From One Eye
Hi Guys,
Just yesterday I had to take my kitty to the vet. She is 13 weeks old and I noticed one eye with dried goop on it, so I called the vet and was able to see her straight away. After her examination, he prescribed some eye drops that I have to apply 3 times a day and some penicillin twice a day.

Her Symptoms: In the last week I heard her sneezing a few times and light goop on her left eye, according to my vet, these are serious signs of beginning symptoms of an upper respiratory infection. If you have a kitty with these types of symptoms I suggest you take your kitty to the vet straight away. (06/26/2008)

By Syboney
Kitten with Discharge From One Eye
Neosporin regular formula will solve the infection. Same thing a vet will give you. (07/14/2008)
Kitten with Discharge From One Eye
My cat had six kittens about fifteen days ago, and all their eyes opened but one, on that one cat, the eyes did open, but it kept getting like glued shut with some puss stuff. Well, I found out that at any of your local IFA (Inter mountain Farmers Association) Store, they have an ointment called terramycin. Where I live, (SLC, Utah) it's only 12.59. It saves a trip to the vet and the money! Most vets will prescribe it anyways. Good luck. (08/14/2008)

By Sky
Kitten with Discharge From One Eye
Wipe/pat the kitten's eyes with warm damp cotton ball. It also helps to bathe them in Johnson's baby shampoo. (09/03/2008)

By anonymous
Kitten with Discharge From One Eye
My kitten is 6 months old and has a discharge from one eye. I called my vet and she recommended
L-Lysine (vitamin), 250 milligrams twice a day ground up in soft food. You can buy it at any vitamin store or drug store. I spoke to a clerk at my grocery store and many of her customers that buy this product buy it for their cats. I suggest before anyone uses this method to first call their vet. Mine did not need to see my cat. I just started using it today. She is currently taking Amoxi antibiotics for an incision infection and I think that is how she got it. She was fine before she started it. I know in children Amoxicillin can cause upper respiratory infections. Wish me and my cat Artamis luck. (09/10/2008)

By loism
Kitten with Discharge From One Eye
We just got our new kitten, Saffron, from our neighbors next door. She is about 1 month old and we have already had her for about two weeks. When she eats her food, she growls, even if no one is near her. Over the past week, she started to have an eye problem, where her eye would get very puss filled, and close all the time. She also sneezes frequently and her eye keeps closing shut. :(
We have tried using a baby-wipe to clean it out, but it keeps coming back. (10/13/2008)

By Ella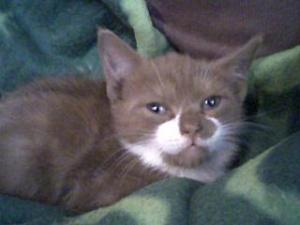 Kitten with Discharge From One Eye
I have a kitten about 8 months old. He has an eye infection and I can't take him to the vet because my mom says it's nothing, but it's not. I tried putting a warm tea bag to his eye but it still comes back. He does not sneeze or anything, but he does have an eye infection. Please help me. I really don't want my kitten to go blind. :'( (12/01/2008)

By ceren

Kitten with Discharge From One Eye
Homeopathic pink eye drops can work well with general issues, but if it is an infection, you can get antibiotics terramycin from amazon for 10 bucks, or call farm supply stores in your area and they will have it.

A vet can prescribe Vetropolycin HC which works well too.

Keep the cat clean, warm, fed well, plenty of water and some fresh air, but try to keep them inside only.

Amoxicillin will not cause a respiratory infection as someone stated, if anything, augmentin, a popular rx for infection is just Amoxicillin with an added booster. Amoxicillin can be obtained online as well for cheap. Google for dosing information.

To all those people saying 'just go to the vet', not everyone is that fortunate to be able to do that. (01/13/2009)

By arthur
Kitten with Discharge From One Eye
Any cat or kitten with eye discharge should see a veterinarian. Infections are nothing to ignore. If untreated, they could lead to blindness or even death. Your veterinary bills will be lower if treated sooner. (01/14/2009)
Kitten with Discharge From One Eye
For anyone who doesn't have money to go to the vet and their cat/kitten has discharge coming from one or both eyes, I urge you to go to Walmart/CVS/Walgreens and buy Equate Triple Antibiotic Ointment or Neosporin. Clean the eye/eyes of all pus (I used several Q-tips wet with hot water, it makes it easier to remove the dried on pus if they are wet), then take a clean Q-tip and place a pea sized amount of Ointment on the end, apply liberally around infected eyelid/s (I made sure to get a small amount in the eye itself). Repeat as needed. If within 3-4 days it doesn't look like it's improved any you may want to order Terramycin Ophthalmic Ointment offline or go to a vet.

I adopted a feral kitten (about 1-2 months old) that was living outside my apartment complex (which is near several busy roads) to make sure he had a safe place to call home. My kitten's right eye had discharge like many people here have described for about 2-3 weeks (ever since I adopted him). I thought it might go away on it's own at first since it was only one eye and he showed no other symptoms.

I searched on the internet for solutions and read about the use of Neosporin to cure it. Luckily I ignored all the people on the internet who were saying Neosporin was dangerous for the cats eyes and that "people medicine isn't kitty medicine". I bought the Equate Triple Antibiotic Ointment from Walmart for about $2.60 and did as I described above, my kitten's eye looked noticeably better within 6 hours and within 24 hours looked 100% healthy! It was WELL worth the money. I wish I would have done it sooner. (05/12/2009)

By AnyaAndJack
Kitten with Discharge From One Eye
I used salt water on mine. It worked, just don't use that much salt. (06/07/2009)

By Spuddy004
Kitten with Discharge From One Eye
You know, I would never do to an animal something that I wouldn't do to myself. Some people have a huge heart for animals without the hundreds of dollars to spend on the vet. Sometimes simple home remedies can do the trick. Well I use baby wipes to remove my make up, and I used baby wipes to clean my kittens eyes, who is an adult now and has had her own litter of precious kittens, and has no vision problems.

If I know that my cat/kitten isn't improving, because it takes common sense to tell if a remedy is working or not. If you can't do anything, try and find a professional to help. People have they're own ways of doing things, and sometimes what works for them, won't work for you, and vise versa. I remember I took a dog I adopted many, many years ago to the vet and they didn't help at all, I wasted all my money on taking him to the vet, and he still died. So hey, what guarantee is there really?

I don't recommend using baby wipes on kittens still nursing, or using baby wipes always on your cats, in fact you probably shouldn't, but I did and it worked for the kitten that's a big cat up there in the photo.

One of the kittens in the photo has a slight inflammation of the eye and some discharge, and I used a tiny bit of salt (2 shakes from the salt shaker in a small cup of water) with warm water, a cloth, and Q-tips to take away the discharge. I'm using the antibiotic ointment, and it seems to be working. So good luck to anyone with the same problem. Whatever you do, I hope it works for you. (06/20/2009)

By myxtiza101