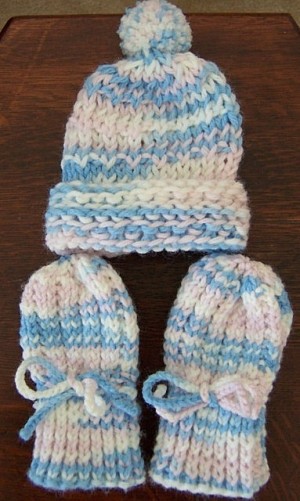 This is the perfect gift for a baby born during the winter months.
Infant's Thumbless Mittens
Size: 6 months to 1 year
Use 4 ply yarn (approx. 2 oz.) and 1 pair standard No. 3 needles
Modifications have been made to pattern.
RIGHT MITTEN: Cast on 36 sts. Work in ribbing of K 1, P 1, for 15 rows. Work beading on next row as follows: *K 1, Y O, K 2 tog.; repeat from * across row. Work in ribbing of K 1, P 1, for 2 rows, then work in pattern as follows:
Row 1 (right side), knit.
Row 2 - * K 1, P 2; repeat from * across row. Repeat above 2 rows until piece measures 2 1/2 inches from ribbing. Decrease tip of mitten as follows: Row 1 - *K 2 tog., K 1; repeat from * across row. Row 2 - P 2 tog. across row. Row 3 - K 2 tog.
across row. Draw remaining sts tog. and fasten off. Sew side seam. Using an E or F crochet hook make a chain 16 in. long to draw through beading on mitten.
Leave long tails on both ends of chain and using a yarn needle weave in ends along back side of chain, clip off yarn.
LEFT MITTEN: Work as given for right mitten. I knit right and left mittens at the same time.
Infant Knitted Hat
The pattern I used was Bev's Knit 'Kid-Lid' (pattern by Beverly A Qualheim - (C) 2002 - 2008
I used size 13 knitting needles and knitted the hat until it measured 6 1/2 inches long.
Source: Mitten pattern from Jack Frost Two-Needle Mittens, Copyright 1955.
By Marjorie from Lewiston, NY