I recently got a Lab Pit mix puppy. I am having trouble training her. She keeps going to the bathroom in
my house. I take her out on a regular basis, but she continues to keep doing it. She also rips up boxes,
there is trash all over the house. I'm wondering what I can do to train her better? Where I can leave her
alone at my house?

Terrene from Latham, NY
Answers:
Lab Pit Mix Puppy
A friend who recently bought a Lab puppy has been reading up on the subject of training and here is
something she's been doing, which she says takes patience, but works well since these dogs are so smart.
Whenever she takes the dog outside to use the bathroom, she rings a bell that she has hanging on the
door. The idea is to train the dog to ring the bell on its own when it needs to go out. It won't work of
course until the dog has complete control of it's bowels, but it would be worth a try. (02/11/2007)

By holgad
Lab Pit Mix Puppy
Perhaps I can help; like babies, puppies' digestive systems aren't quite fully developed. The best way,
I've found to get them to understand house training is to keep it regulated along with mealtimes. (I'm
assuming that you don't leave food out all the time). Take them outside first thing in the morning, give
lots of praise for doing what's to be done and then, after every meal, repeat the same routine. It helps
if mealtimes are at regular times and if supper is well before bedtime, to allow time for nature to take
it's course.
Try to make sure your pup associates a certain word or phrase with each action, ie., dinner, walkies,
toilet, etc., and after a few days of sticking rigidly to the routine, puppy should associate each one of
his/her newly learned actions with the appropriate keyword followed by your response. At mealtimes, make
sure the puppy knows that it's time to eat up, give him/her adequate time and then take the food away if
it isn't all eaten. This way, you know how much he's consuming and it also helps save on the pet food
bills. Hope this helps. (02/11/2007)

Lab Pit Mix Puppy
If you're not already, read up on crate training. I raise Labs and have always raised my pups this way.
You and the dog will be very happy! (02/12/2007)
Lab Pit Mix Puppy
We have a black Lab, he is almost 1, the best thing you can do for your dog is crate train him/her, that
worked like a charm for us. Labs instinctively like to chew or eat anything, so make sure your pup has a
lot of different chew toys. Our dog had a few accidents in the house when we first got him, which is
normal, just keep taking her outside, we got good at recognizing when he looked like he was going to go,
and we would quickly get him outside. Don't get discouraged, Labs are so much fun and they are quick
learners. (02/13/2007)

By Karen
Lab Pit Mix Puppy
I would say crate training is good. I have a Pit/Lab mix who is 1 1/2 old. I house trained him by talking
him out every half hour, I used the phase "go pee", and gave him treats when he used the bathroom
outside. Now I just open the door and say "go pee" and that's what he does. He is one of the biggest
90lbs Lab dogs around. (01/14/2009)

By Rachel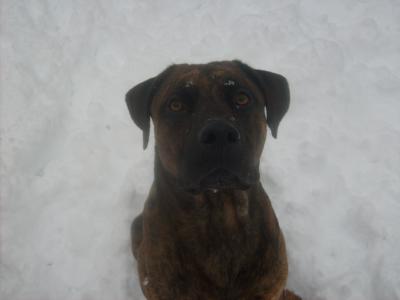 width="400" height="300" alt="RE: Lab Pit Mix Puppy" />
Lab Pit Mix Puppy
My boyfriend and I found Ringo, our black Lab, Pit mix puppy in the middle of the road when he was about
six to eight weeks old. We potty trained him in about a month. We took him out constantly and whenever he
used the bathroom we went "go pee pee" and cheered and clapped. He already knows sit and speak. He also
knows "drop it" when he has something. He is the sweetest craziest dog ever. We have lots and lots of
toys for him to play with. He does have a habit of chewing things he shouldn't, but immediately drops
them when I say "drop it". I guess it's really all about patience.

I never get stressed out with him. I am calm and he listens to me. Walking him is a challenge (during
certain parts of the walk) he just loves to meet new people and new doggies. He's so friendly and we
socialized him like crazy from the get go. For example, we walked him around downtown Asheville, NC for
hours and had a hundred or so people play and pet him. We take him with us everywhere. Get your dog out
of the house. Take him to the park. He is such an awesome dog to have. I just wonder if he will be
protective when he gets older. I will just have to find out. He also loves the car. It took two weeks for
him to not whine while in the car. I was just patient and though freakishly annoying, he eventually got
used to it and loves it. It all takes time. (06/01/2009)

By Rebecca C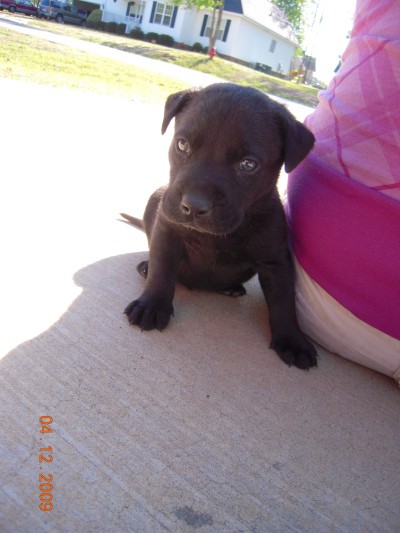 height="533" alt="RE: Lab Pit Mix Puppy" />
Lab Pit Mix Puppy
I just recently got a Lab Pit mix puppy. Her name is Delilah. She is the most well trained dog I have
had. She is about 16 weeks old and I've only had her 1 week. She already knows how to 'sit' and 'shake'.
She is such an intelligent dog. I recommend anybody to get one. She is so precious and sweet.
(11/21/2009)

By elle_press
Lab Pit Mix Puppy
First, I must say you will be very happy with your dog once it is trained. I have a Lab Pit mix and he
is the best dog! I had some problems training mine because they are stubborn! My friends thought he was
nuts and me as well for keeping him, but they are shocked at how well trained and what a wonderful dog he
is.

To potty train every time he would go in the house I would take his paw and scratch it on the door
over and over to show him how to tell me that he needed to go. Then I realized I did not want him
scratching the door so I would tell him "door, door, door" when he would have an accident. Now he stands
by the door when he needs to go.

For the tearing stuff up, I totally understand. I came home with my entire carpet (entire apartment)
ripped up and the padding in shreds along with my favorite heels. Get a bone, problem solved! I got him
rawhide bones on a regular basis and never had a problem again. ever. (11/23/2009)

By gabsjudas
Lab Pit Mix Puppy
As long as you let him know who is the alpha dog you are alright. Best dog I have ever had.
(11/25/2009)

By balabin
height="300" alt="RE: Lab Pit Mix Puppy" />
Lab Pit Mix Puppy
If we do not walk Charlie at least once a day he chews anything in his reach. His behavior is stellar
when we exercise him often. (11/25/2009)

By balabin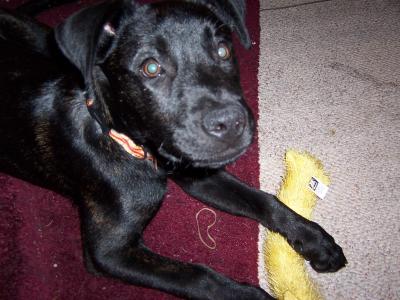 height="300" alt="RE: Lab Pit Mix Puppy" />
Lab Pit Mix Puppy
I have a Lab Pit Bull mix too. He is definitely a chewer, but we have gotten him to focus on chewing the
right stuff. You have to set them up to win. Puppy proof your house. Put up anything that she can chew.
Put the trash up high if you leave the house or room and leave plenty of interesting play toys around in
random places to keep them busy. Even tie up some old clothes since chewing naughty toys is what they are
more interested in. Remember they only chew when they are bored, so keep them interested. And the soup
bone idea is a great idea too, soup bones are only about $2 at any market and they last forever. They are
good for their teeth too.
(04/07/2010)

By Kylie17
Lab Pit Mix Puppy
My husband and I got a Lab/Pit mix, Trixie, from a local shelter going on 5 years ago, now. She is the
best dog, but because she is extremely energetic, we did have to do a little extra. When we first got
her, Trixie was so crazy it was hard to even have her in the house, barking, tearing, and chewing things
up when we left her alone (even for a few minutes), and racing around our house (which is full of
breakable, delicate things). With training, she does not go up on the furniture (except "her" windowseat
and our bed).

We crate trained her for when we are both out of the house, using the largest dog crate available. She
knows it is her "time out" space and goes in willingly for a treat, then naps, or relaxes. Also, and this
was the biggest thing, we invested in an invisible fence around our property. We have a big yard, and
she has the full run of it. These dogs have a lot of energy. She gets it all out outside and then is calm
indoors. Even though she loves being walked on a leash, sometimes she needs to run full out.

Don't worry too much about temperament. Trixie was found in the Bronx, so we always joke that she was
bred to be the ultimate fighting dog who also goes in the water. What she is is a huge mush, totally
gentle with children, friendly with other dogs and extremely affectionate with all, but completely afraid
of water, like she won't even walk through a puddle. We have a pool, so this is very sad. She prefers to
lay out and sun herself by it instead of swimming. (08/06/2010)

By LealandEve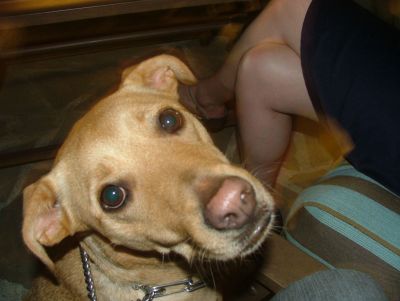 height="301" alt="RE: Lab Pit Mix Puppy" />
Lab Pit Mix Puppy
I'm a 22 year old college student who lives in an apartment and just recently got a Lab/Pit puppy, and I
think the most important thing is being ready to put in the energy she needs. She is great with my 16
month old nephew, but she gets really excited around new kids she's not used to and could potentially knock
them down trying to play.

House training her took a couple weeks and patience. Monitoring her water intake, and getting her on a
schedule was vital. When she was three months we took her out every hour, now that she's four months,
it's three times during the day, and once right before bed. I can leave her at home for hours now and she
will not have an accident.

Every day I take her on a 2 mile morning run, and play a long evening game of fetch with her.
Chewing on things was a big deal when we first got her, and it's still an issue, but not as big. It's
just a matter of making sure nothing chewable is on the floor and making sure she has chew toys that are
hers. The big dog bones are the best at keeping her occupied.

She's also very intelligent. She's trained not to go on furniture, in the bedrooms, or to run outside
when the door opens; she waits until she's told she can. She can also sit, lay, and stay on command. It
just took time and consistency to train her. Although I'm still working on getting her to come to her
name.

She's the sweetest puppy, great with my nephew, but requires a lot of time and energy. If you have the
patience and time to work with a Pit/Lab puppy, I would definitely recommend it. Just know: it takes
time, time, time! If she is full of energy, you have to get up and go run with her. If you can't, because
you don't have time, you're disabled, or just lazy, this is not the dog for you. (09/09/2010)

By katarina88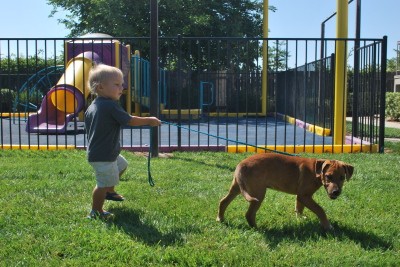 height="267" alt="RE: Lab Pit Mix Puppy" />
Lab Pit Mix Puppy
My Lab Pit mix is amazing he was potty trained at 10 weeks old and is now only 6 months old and knows how
to sit, shake, speak, and almost roll over. (01/04/2011)

By bestdogs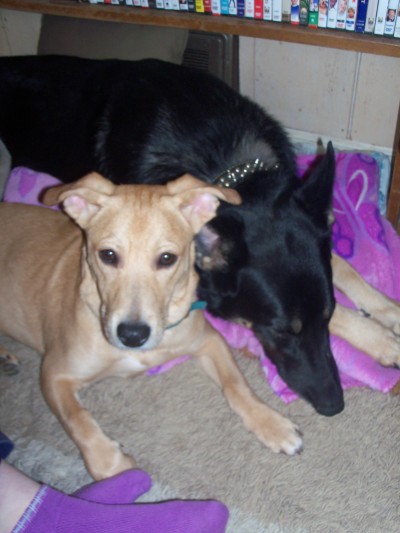 height="533" alt="RE: Lab Pit Mix Puppy" />